"Postcard from" is my occasional series of weekend non-recipe posts. This postcard comes from my recent experience travelling on the overnight ferry to France.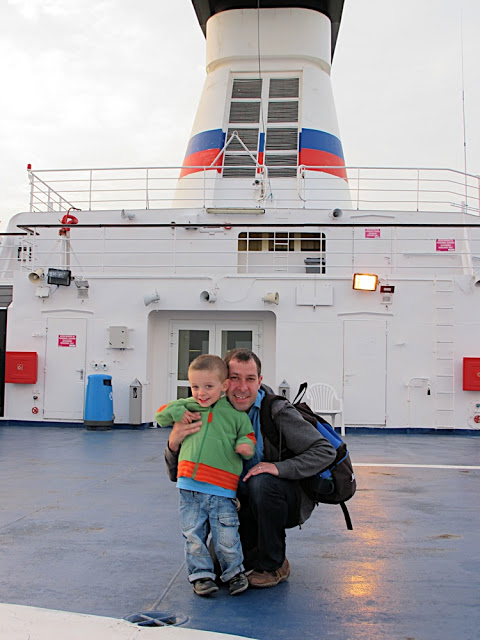 For peak holiday times, you have to book very early to get a cabin on the overnight crossing from Portsmouth to St Malo. It's not cheap but when you consider how pricey a Dover Calais crossing can be during school holidays (£90 each way sometimes) and bear in mind the extra petrol costs, motorway tolls and an extra night staying in a hotel to break up your journey, actually the £200 extra you are likely to pay for the longer crossing becomes more tempting.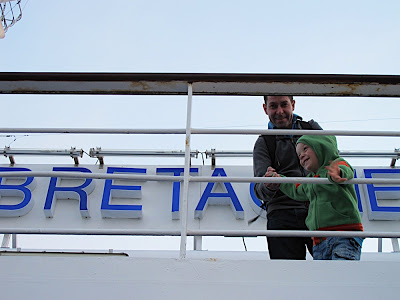 We've previously travelled on the overnight ferry from Portsmouth to Cherbourg. Big mistake. Driving down the Cherbourg peninsula is like going from Dover to Birmingham without motorways. It's a long, dull drive. Plus you've only had four hours sleep on a six hour crossing (they wake you up at 5am British time, an hour before you get into port at 7am French time).
However the Portsmouth to St Malo crossing is around ten hours and arrives in port at 8am French time so you get more sleep and do less driving. It's a win win situation, especially if you have a toddler who doesn't like sitting in the back of a car for more than two hours at a time (less if hungry).
So with much excitement we boarded Brittany Ferries' Bretagne en route to L'Ile de Re which would be four hours further drive from St Malo the next morning.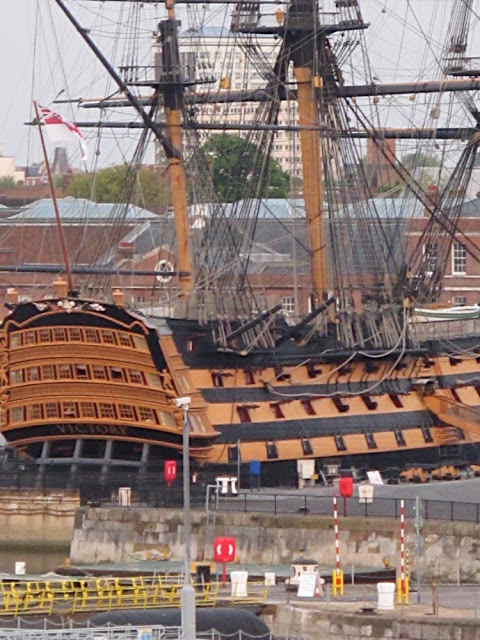 There are a few sights to see on the way out of Portsmouth…. HMS Victory got my dad rather excited.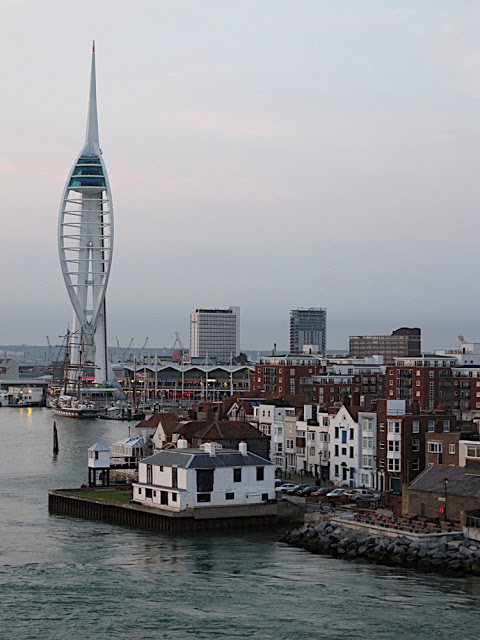 The Spinnaker Tower and harbour side bars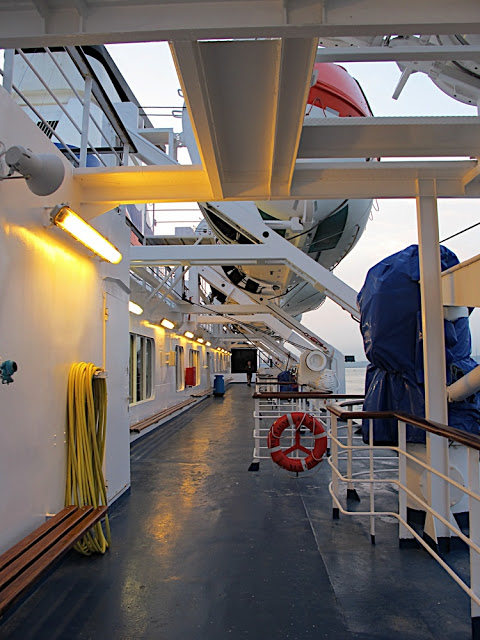 I dislike planes and avoid flying. Truth is though, I'm not wild about ferries either. I guess I like my feet on the ground. Walking along decks like the one shown above and I have scenes from Titanic with Kate Winslet debating numbers of lifeboats running through my head.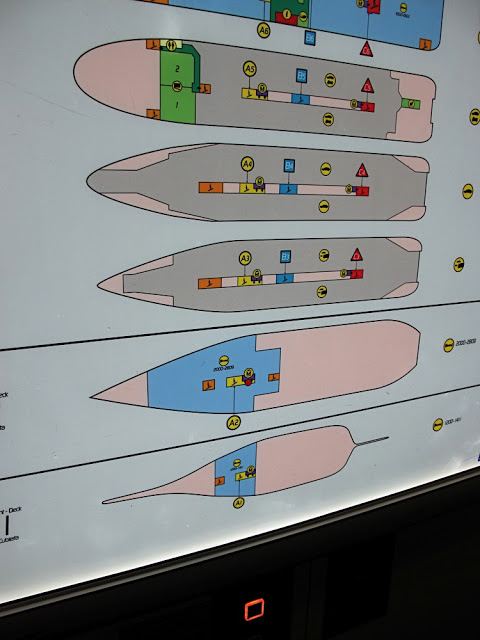 "We don't need a window" I told my husband.
"But Teddy could have looked out of it at the sea."
"It's cheaper to not have a window and we will be asleep when we're in the cabin anyway."
I hadn't bargained for this. Rooms without views are not confined to the inner corridor of the upper decks where we'd stayed last time.  They put you down there. As in, under the cars down in the hull of the boat. I didn't even know that was possible.  All cabins were sold out so we were down in third class.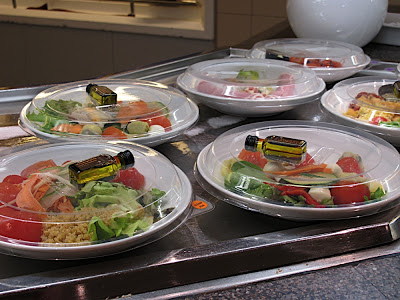 The food lifted my spirits, I had one of these salads.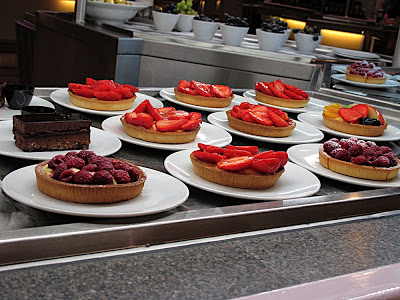 The desserts looked very tempting too.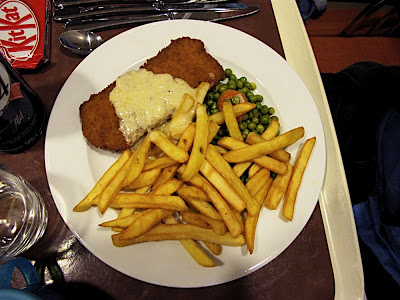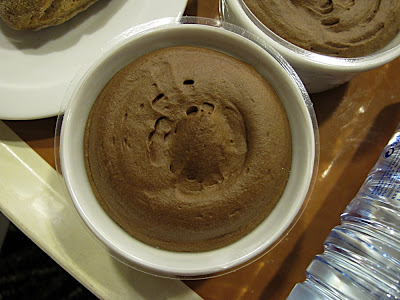 The photo of the chocolate-mousse-to-die-for is rubbish.  Imagine though if you will, that scene in Pulp Fiction where John Travolta tells Samuel L Jackson that "it's the little things" that make Europe special i.e. the glass of cold beer in the cinema, mayonnaise on the fries etc.  Well the little thing that I thought made these chocolate mousses special was that they were served in china ramekins.  A totally unnecessary touch since they were in plastic pots as well but it's these details that make eating on a French ferry company more special than the service station service you get from the British equivalents.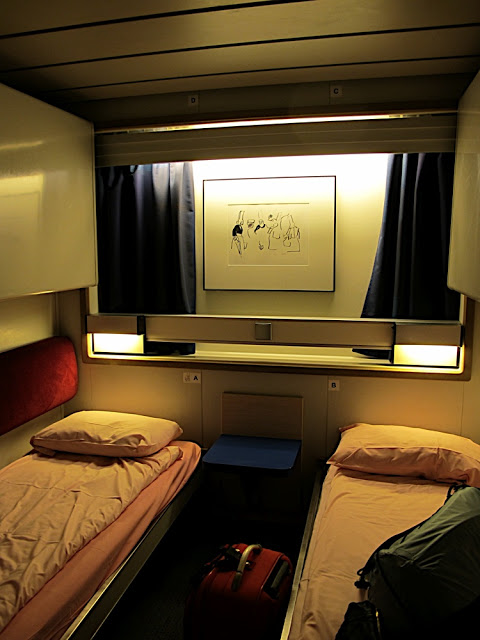 Off to bed.
"It's rather nice" said my father, impressed it had a telly.
"It's like a mausoleum, " I replied.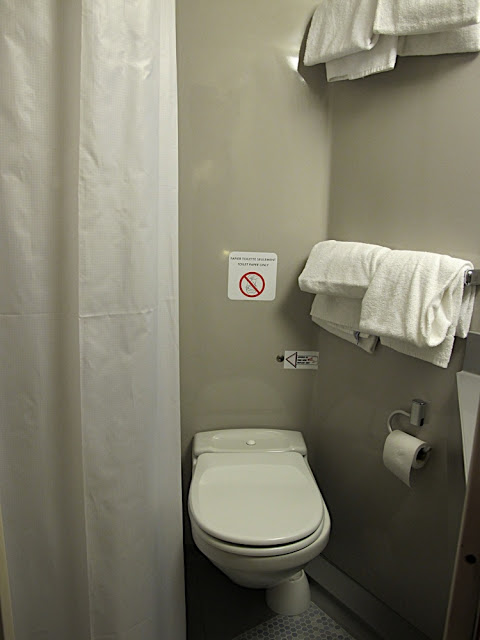 The bathroom was predictably tiny but serviceable. It reminded me of the scene on the train in Sex and the City where Sarah Jessica Parker and Kim Cattrall are travelling with Amtrak to LA and have a toilet situated underneath their shower.
So down in the bowels of the ship how did I sleep? Not very well. How much this was to do with feeling like I was in
K19: The Widowmaker
and how much to do with fretting that Ted would roll out of bed I'm not sure.  It was extremely dark in there as well and there were loud noises. I was mentally calculating how far away we were from water and visualising the murkiness out there.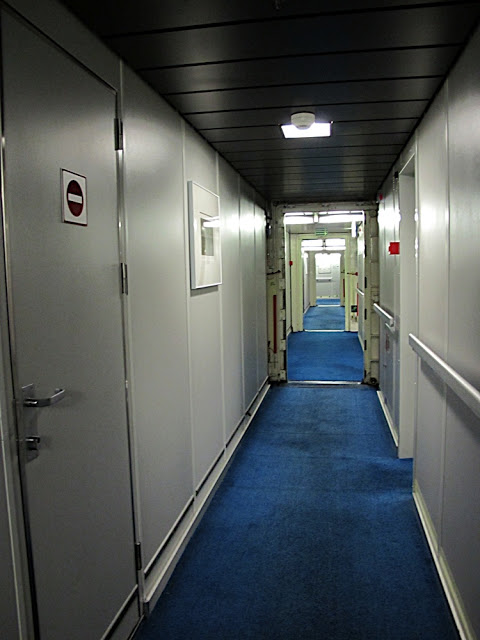 I wanted to go and pace the decks upstairs in my slippers, even if it meant dashing down a corridor that looked like another scene from Titanic, the one where Leonardo has been chained with handcuffs to a pipe and Kate dashes off to get help. But I couldn't as my husband and father were on the top bunks and there was only I to stop Ted rolling out.
Which he did, with a loud thud, head first at 4.30am. None of us went back to sleep after that.
We will be travelling with Brittany Ferries again this summer, but not overnight. If I were travelling Portsmouth to St Malo again, I would make certain I had a room with a view as that was I could be sure it was above the waterline.