A quick and easy chorizo canapes recipe suggestion perfect for summer parties.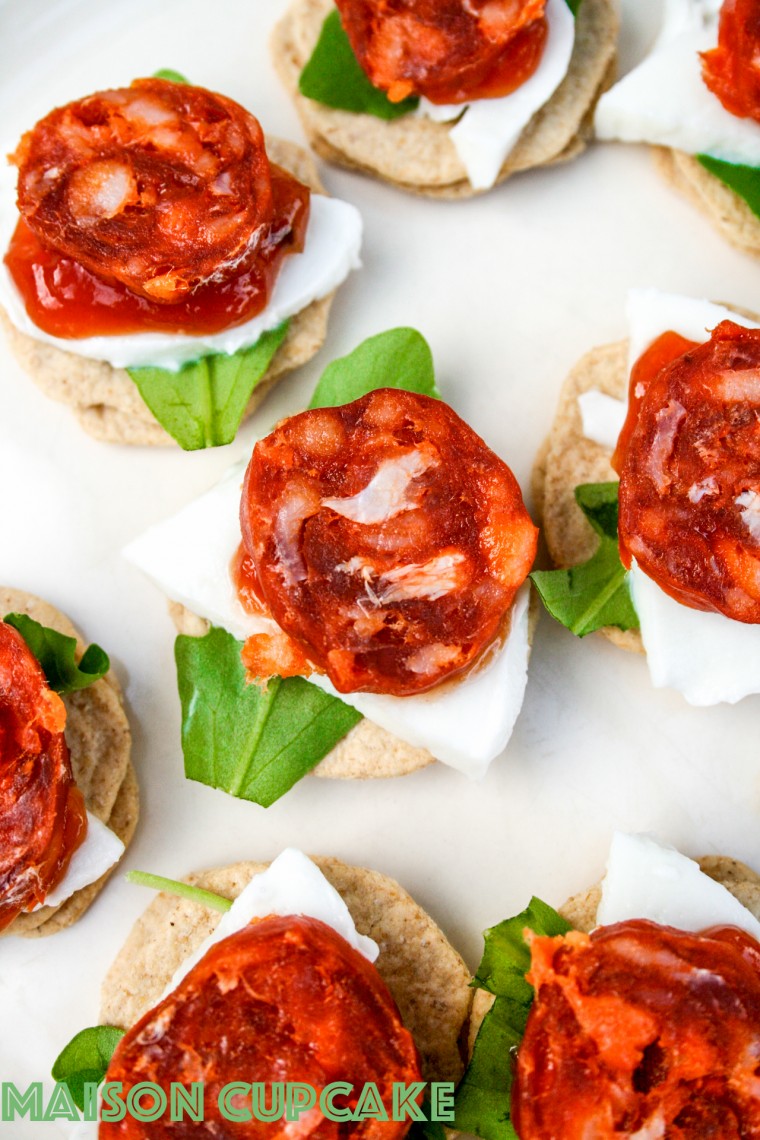 The red, white and green of these colourful chorizo canapes has great visual impact before you've even tasted them. These chorizo canapes require no advance cooking or specialist preparation. They are very simple to assemble before any party.
Here I have used a tomato chutney but you could use any tomato based or onion based chutneys or relishes. The chorizo and mozzarella contrast each other bother in texture, colour and flavour. The rocket leaves finish off the pretty red, white and green effect evocative of the Italian flag (although admittedly chorizo is Spanish rather than Italian).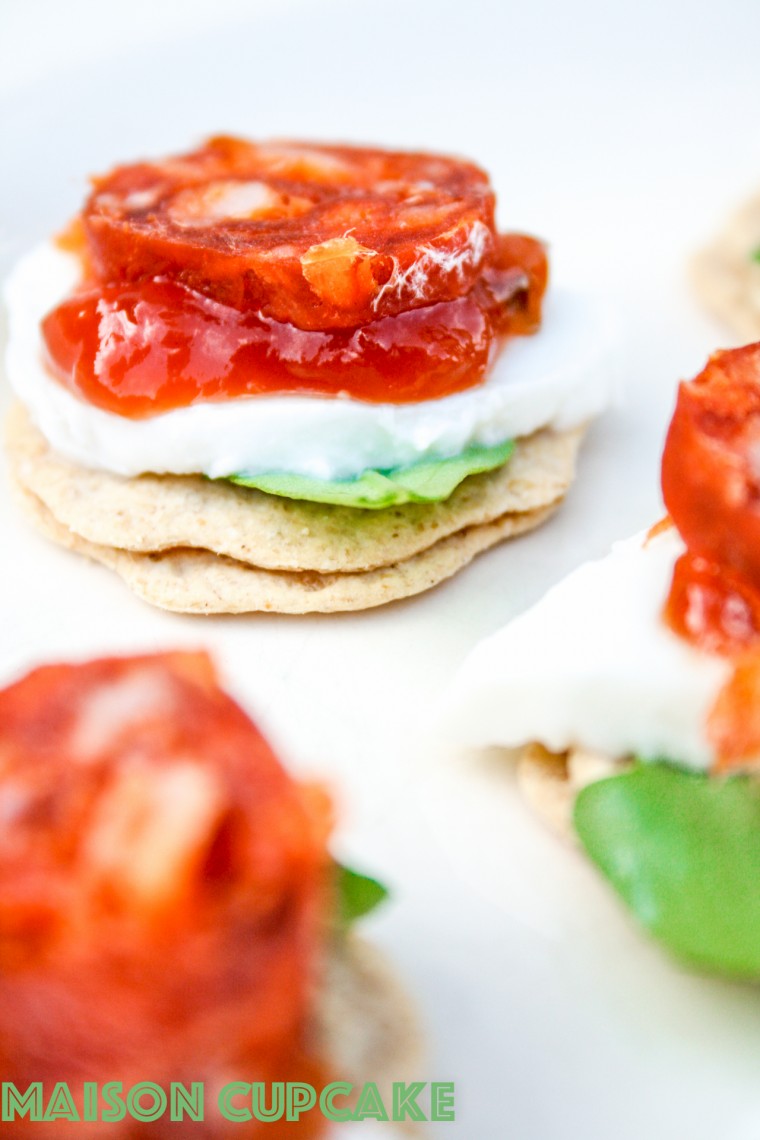 Here I have used mini oatcake bites (sold amongst the crisps and snacks) but you could use any canape base such as crostini, blini or vol au vent cases. Another alternative would be these shallow mini cup canape cases by Pidy.
The golden rule with canapes is that you should be able to eat them with one hand and one bite. By using mini oatcake bites, this chorizo canapes recipe scores top marks on that front. Your only problem will be managing to resist taking another one as the tray sails past!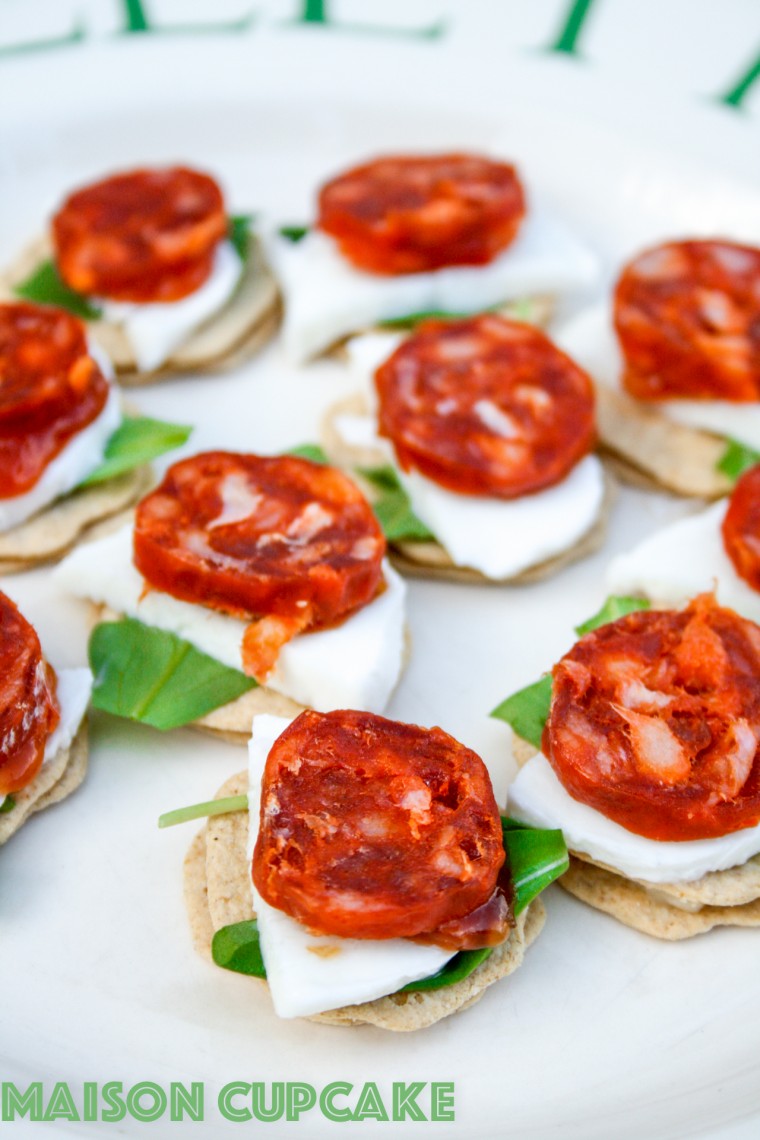 This serving suggestion was shown to me recently at an afternoon tea party hosted by Baxter's, the Scottish pickles and chutney brand. I'm sure any kind of chorizo canapes would be more-ish enough but these taste as good as they look.
Do you have any favourite ingredients to combine with chorizo? Let us know in the comments below!
Chorizo canapes recipe with mozzarella and rocket
Author:
Prep time:
Total time:
A quick and easy chorizo canapes recipe idea suitable for any party.
Ingredients
2 small bags of Nairn's Oat Bakes or 2 dozen mini oatcakes
80g (3oz) cream cheese (spreadable soft cheese)
110g (4oz) buffalo mozzarella cheese
80g (3oz) chorizo sausage (Spanish salami)
60ml (4 tbsp) tomato chutney
A small handful of rocket (arugula) leaves
Instructions
Dab some cream cheese between pairs of the Oatcake bites if using or on top if using mini oatcakes.
Top each little sandwich (or biscuit) with a slim disc of buffalo mozzarella. Add 1tsp of the chutney and a slither of rocket to the top of each one, then top with a disc of chorizo.
If you are looking for other easy party food ideas try these roast beef wraps with cranberry relish and spinach: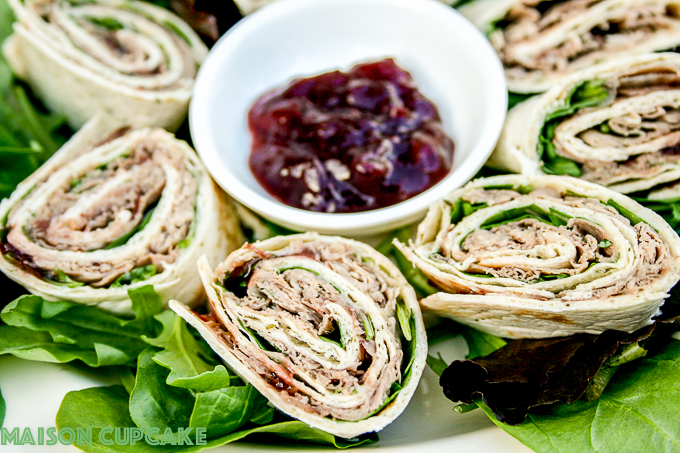 Product samples originally provided by Baxters.