An advance apology. Blogger double spacing between paragraphs is still driving me crazy. Solutions welcome. Second advance apology. This post involves cruelty to animals. But I know better now.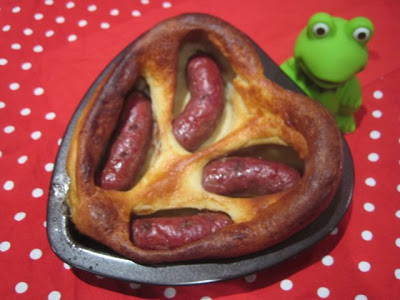 Kissing frogs has been in the news this week.  Apparently, children, inspired by the new Disney movie The Princess and The Frog have been giving our amphibious friends big smackers in the hope they turn into princes. This is not advisable as you can catch salmonella doing that. Plus a few other things I imagine.


I never kissed frogs as a kid. Bleugh. But I did throw a few. Fifty-one of them to be precise. When I was twelve, we moved somewhere with a revolting slimy pond. It was to be drained and filled in but was full of frogs. Using one of those fishing nets on a stick I was charged with catching the frogs and plunging them into an old plastic Mothercare nappy bucket with a lid on it. Twenty six frogs and one very full bucket later, myself and two neighbours' children dragged the contents to the nearby canal, ostensibly to release them "back to the wild".


Pouring the bucket of frogs gently into the water seemed a dull send-off so my friends and I had a competition to see who could throw them furthest across the canal. This probably didn't do them much good.


One week on, the frogs had returned. Hopping mad with no pond. Probably not the same ones as they were more likely dead from impact. We caught another twenty-five and staged frog throwing contest part 2. They never came back after that.
Frogs? Toads? What's the difference? Neither go in Toad in the Hole anyway.  I put another Disney favourite, Bambi in mine, in the form of venison sausages from the
East London Sausage Company
and baked it in a heart shaped tin for valentines although it doesn't look that great in my pictures today. Since I was baking this and feeding it to my husband on the same evening I have not been able to do any razzle dazzle pictures so instead we have Toad on spotty apron with Ted's squeaky frog. I should have been sharing the other half of the Toad with my husband but sausages are outlawed for me right now so he assured me it tasted very nice.
Matt at
Amuse Bouche UK
is holding a Toad in the Hole challenge.  This is my entry. It's only the second or third time I've ever made it even though it's so easy.  I cheated with my gravy and used Bisto granules. I don't make real gravy on school nights!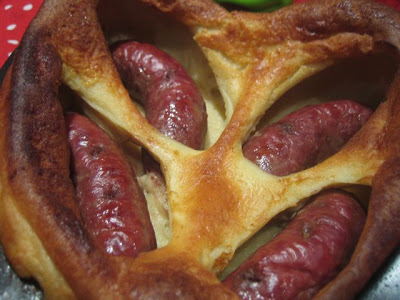 Toad in the Hole
Serves 2


Ingredients:
4-6 good quality sausages 
1 tbsp lard or vegetable fat such as trex
100g plain flour
Large pinch salt
1 large egg
250ml milk
1 tbsp melted butter
Method:
1. Set oven to 210c (Gas mark 7). Arrange the sausages in a non-stick deep oven dish approx 20 x 20cm. Prick them and dot the Trex or lard on the surface of the dish. Bake in oven for ten minutes.
2. Meanwhile, prepare your batter. Sift the flour and salt into a bowl (or directly onto the scales if you are saving on washing up like me). Beat the egg and milk together in a jug.  Tip in the melted butter and stir quickly. 
3. Spoon the flour and salt into the milk mix. Stir in. It will probably be lumpy so I give mine quick whizz with hand blender to remove lumps.
4. Take the sausages out of the oven and pour in the batter.  Return to centre shelf in oven for 30 minutes.
5. Keep an eye on your toad, cover with foil if it looks like he is burning. After the 30 minutes are up, turn down temperature to 190c (gas mark 5) and bake for another 15-20 minutes.