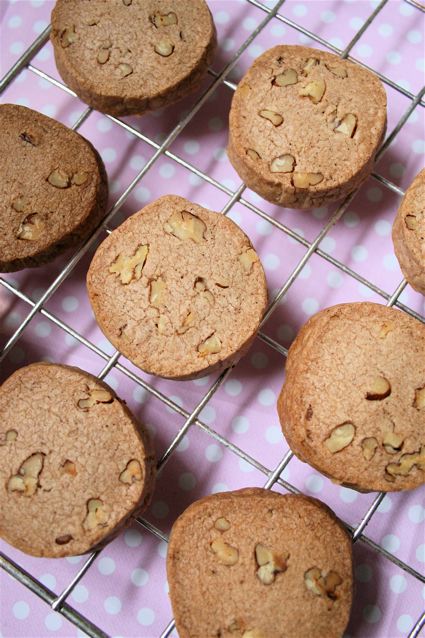 These are lazy cookies.  True, they were quite easy to make but I am doing a lazy post as there are a couple of bumper posts in the pipeline and I need to save my energy!  I'm really excited about the posts I have coming up and hope that you enjoy reading them as much I enjoyed doing the stuff and taking the pictures.


It may astound you to hear that between February half term and two weeks ago I barely cooked a sausage.  I don't mean sausages literally, I mean that I didn't do an awful lot of cooking and even less that was blog-worthy. There were a lot of microwave pouches of rice being thrown around my house and I know you don't want to see those. Happily these cookies kick started me getting back into a-cooking and a-blogging. Since then I managed to make three flavours of cookie, caught Ottolenghi fever, got out the house and took oodles of pictures with my new camera and then settled down to make some Rachel Allen goodies.


So this holiday, I have been a lot better prepared having loads of things ready to blog about whilst still getting out and having fun with Ted. You wouldn't believe where I took him today but it will amaze and amuse you when I get around to posting it (a lofty promise, yes, but I am confident it will). Meanwhile, we have biscuits, cookies, whatever you want to call them.


My dad is visiting this week. He brought with him a copy of "A Nice Cup of Tea and a Sit Down" that I'd left in the Midlands. It is a tome to all things tea and biscuit related. The writers started with a blog that you can read here.


This week I have also been exchanging tweets with Alison at Deer Baby. I won't go into what we were tweeting about but she started with "Sorry to bang on about my working at The Beeb but.." and I replied "Bang on as much as you like, it's way more exciting than any tales I might tell of TUC conferences."


Seriously, I am not about to bore you with any tales from the TUC conferences which featured heavily in my former working life.  But I can tell you that the high point for me, of any visit to TUC Congress House was the BISCUITS. I wish I could eulogise about them with the efficacy of ANCOTAASD (or Alison at Deer Baby for that matter). I've never found the same biscuits in the shops. They were thick discs that you really had to bite into. I don't drink tea or coffee so cannot comment on their dip-ability but can tell you they were served in several varieties; a chocolate version, a buttery version that left pleasing stains on doileys, a version with chewy bits of dried cherry and they invariably left you with a lot of crumbs in your lap. Better than that, they almost made debates by irate postal workers' union members bearable.


These slice and bake cookies from Australian Women's Weekly remind me of them a lot (the biscuits, not the irate postal workers), they have the same substance to them.  I love that you can keep the dough in the fridge for a week until you are ready to bake them, or even freeze it.  I can bake a dozen biscuits fresh if a couple of friends are coming round. This, rather like fresh muffins, gets met with far more appreciation than it deserves. But you might want to keep that to yourself.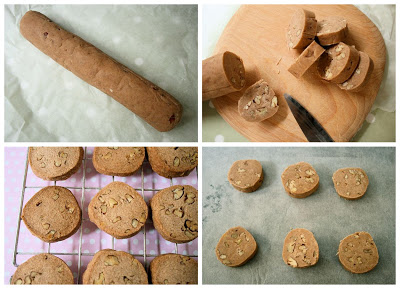 Pecan and Cinnamon Slice and Bake Cookies
Adapted from Australian Women's Weekly "The Complete Book of Cupcakes, Cheesecakes and Cookies" (I would give you a link but bizarrely, Amazon don't appear to stock it)
Ingredients:
2 tbsp milk (you may need slightly more)
A little extra sugar for sprinkling (optional)
Method:
1. Using the food processor, mix the butter, icing sugar and vanilla extract until light and fluffy.  Add the sifted flours and cinnamon and pulse until the mixture resembles bread crumbs.
2. Tip into a large bowl and spoon over the milk and bring the breadcrumb mixture together into a ball as if making shortcrust pastry.
3. Divide into 2-3 balls to make the mixture easier to manage. Knead the balls of dough on a floured surface until smooth then roll into logs around 6-7cm in diameter.  Wrap each log with parchment paper and place in a freezer bag in the fridge for about 1 hour until firm.
4. Meanwhile pre-heat the oven to 160c and line a couple of baking trays with parchment paper.
5. When the logs have firmed up, unwrap them and using a sharp knife cut into slices 1cm thick.  Place about 3cm apart on the baking trays and bake for around 18-20 minutes until just golden.  Cool on wire racks.