These cauliflower fritters are the latest Ottolenghi recipe I have tried from Ottolenghi the cookbook.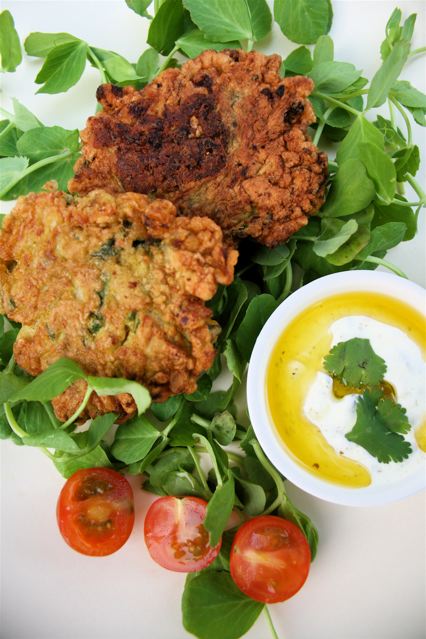 Easter has come and gone, tomorrow my husband will be back at work and I'm on sandwich making duty again. If only I still had a few of these cauliflower fritters knocking about and I'd have another easy lunch ready made for him.
My parents in law visited today and we ate a Middle Eastern style meal from
Ottolenghi: The Cookbook
.  I am continuing to work my way through all the recipes that appeal to me before their second book "
Plenty
" comes out later this month. I've done around eight savoury recipes mostly from the pulses and vegetables section now but apart from two batches of macarons haven't even started on the baked stuff.
As predicted, this Easter weekend the weather was wet. We went to Bath and got so drenched that we might as well have been in one. On Saturday we went to Canary Wharf to take Ted riding up and down on the Docklands Light Railway then yesterday we went to Cambridge and wandered about in a bemused state because everything was shut. Next year I vow to book a trip somewhere sunny!
The recipe for cooking these fritters says to fry them in 1.5cm of oil, anything which creeps towards deep frying scares me. Having tried it and discovered that like pancakes, they worked best when the pan was really hot towards the end of cooking, I think next time I would try frying them with far less oil and using my cast iron omelette pan. I'm not convinced the depth of oil really achieved anything other than spitting fat and me hopping about with hot spots on my wrists.
How do you spell yoghurt by the way? It's one of my spelling blind spots, I always used to spell it yoghurt with an "h" but then noticed that pots in the supermarket said "yogurt" so dropped the "h". The Ottolenghi book spells yoghurt with an "h" so I feel vindicated after years worrying I'd spelled (or is it spelt… another blind spot) it incorrectly. A quick visit to Wikipedia has set my mind at rest that both are acceptable in the UK.
But you don't care about that. How do they taste? Crisp, mildly spicy and although I never would have thought to pair cauliflower with lime, it works beautifully.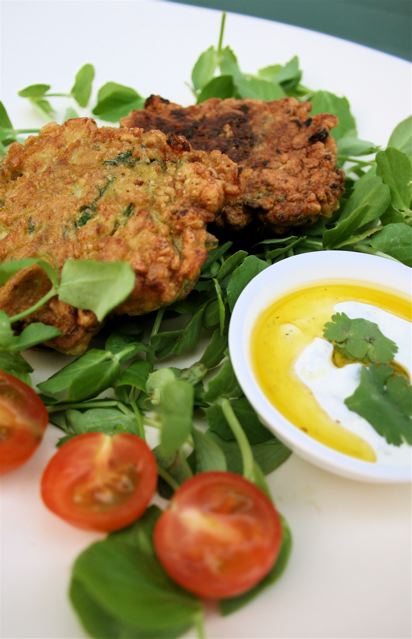 Ottolenghi cauliflower fritters recipe with lime yogurt
From Ottolenghi: The Cookbook by Yotam Ottolenghi
Serves 4
Ingredients:
For the cauliflower fritters
1 small cauliflower (about 320g)
120g plain flour
3 tbsp chopped flat leaf parsley plus a few extra leaves to garnish
1 garlic clove, crushed
2 shallots, finely chopped
4 free range eggs
1 1/2 tsp ground cumin
1 tsp ground cinnamon
1/2 tsp ground tumeric
1 1/2 tsp salt
1 tsp black pepper
500ml sunflower oil for frying
For the lime yoghurt
300g Greek yoghurt
2 tbsp finely chopped coriander with a couple of leaves reserved to garnish
grated zest of 1 lime
2 tbsp lime juice
2 tbsp olive oil
salt and pepper
The original recipe text is available in Ottolenghi The Cookbook.
Take a look at other Ottolenghi recipes previously featured on this site.