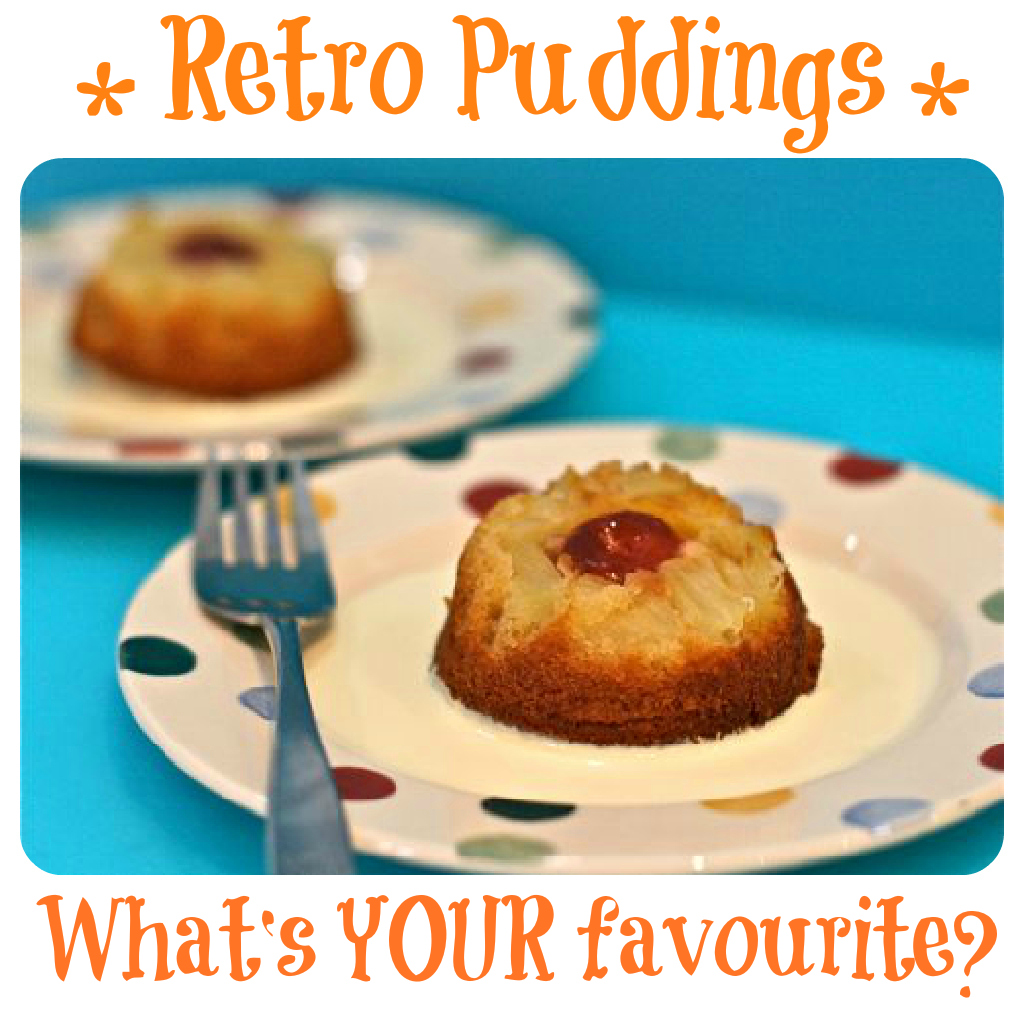 Well the weather outside, to quote the song, has been frightful.  I've been cooped up indoors drumming up these dinky mini pineapple upside down cakes for BabyCentre.
My mum always used to make pineapple upside down cake and it was one of the first things I learned to bake at school.
I have been reminiscing about the fabulous retro pudding choices I used to enjoy at school. I wonder if they were the same for you?
Chocolate concrete with mint custard
Forget brownies – these looked like brownies but were rock hard shortbreads with a pattern scratched into the surface with a fork. If you stuck your own fork in them, they'd probably fly across the dinnerhall – hence the addition of custard to glue them to the bowl. Or we used to pick them up and eat a square of it like a giant biscuit. Mint green custard, like it's pink partner is something I've not seen in the twenty five odd years since leaving school. I must ask my son if they still make this.  Sadly I suspect the answer is no.
Apple and blackberry cheesecake
Ok so I imagine this might have been a recipe unique to my own school. It's certainly not a classic per se. My school served a lush cheesecake with digestive biscuit base that was topped with squares of lightly cooked apple stained purple with blackberries. I would kill to eat a slice again.
Trifle… and jelly with thick swirled pipings of cream
This is where it gets a bit Enid Blyton. Not just for parties, my school used to serve TRIFLE covered in sugar sprinkles. There'd be a riot if this happened now.  And if you couldn't handle actual trifle, there was jelly with a piped swirl of thick cream on top available EVERY DAY.  Jamie Oliver would not approve.
Coconut Pudding
This wasn't actually served at school but it seems as good a time as any to share an anecdote that has had myself and my best friend in stitches for nearly thirty years (gosh we're old). The two of us were having Sunday lunch around the house of another friend and had been whipped up into a frenzy over this show stopping coconut pudding that her mother was very proud of. To be honest, for two giggly fourteen year olds, this much hyped coconut pudding didn't stand a chance, by the time it was served we could barely keep our faces straight. I will never forget how the giant domed coconut meringue pudding was met by ooos and arrrs at the table only to deflate flat like a balloon the second a knife was stuck into it.
Bakewell Tart
Yet another mighty tray bake that my school did extremely well – the wonderful wonderful thing about Bakewell tart served as tray bake is that the ratio of sugary almondy jammy bit to pasty is far far higher.
Lemon meringue
My father's favourite at home apparently although it's the school version which is strongest in my mind. Ridiculously yellow lemon filling, stupidly high white meringue. Once again served in tray bake format with less pastry to chomp through. I can still see the giant rectangular tins, still remember the giant battered tin jugs the custard came in.
Chocolate semolina with mint meringue
This wasn't a school pudding either. Whenever my grandmother asked me what I'd like her to make for pudding, this was my choice. Honestly, I can't say I ever ate semolina any other way but I remember Grandma's version was dark and chocolatey, served warm and had choc chips in it with a thick semolina skin and a mint flavoured meringue on top. To my regret I never asked for the exact recipe although I could probably recreate it. But the comfort of having it served by Grandma is something I could never recreate and so I never bother.
If you have a story to share about one of your favourite retro puddings, do post it in the comments or even the linky below.