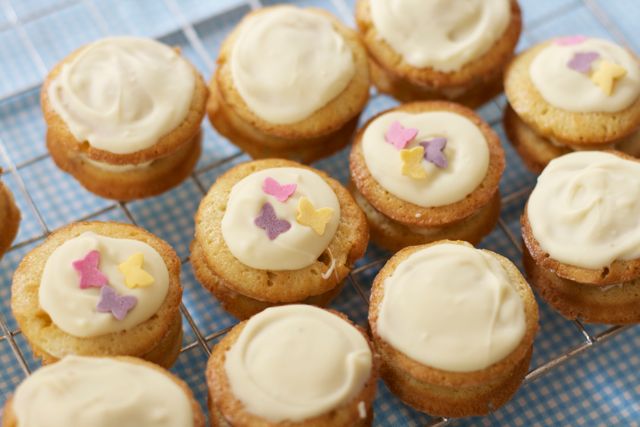 Well I'd be telling fibs if I said these lemon whoopie pies came out of my new kitchen but after a month of building work, a week of Olympic guests and a week's holiday in France with Siblu, I'm ready to get back to baking.
The thing is, a new kitchen feels like wearing new back to school shoes; all shiny and smart but awkward at the same time. I'm still finding boxes I've not unpacked yet, still retracing my steps back from drawers that don't exist anymore.
I'm not ready to share pictures of the new kitchen yet as it's all looking empty and unloved until I get baking again.
Meanwhile I hope you enjoy these dinky lemon whoopie pies.
Ted has revelled in helping me organise the new cupboards. I couldn't resist showing you this picture of him playing with my mountain of silicon bakeware!
Two blissful weeks of school holidays left which mean lots of fun for little people and very little work getting done by big ones. But I intend to enjoy every minute before I come back to you with recipes from my new kitchen and pictures from my holiday in France.
I hope you are enjoying the holidays too.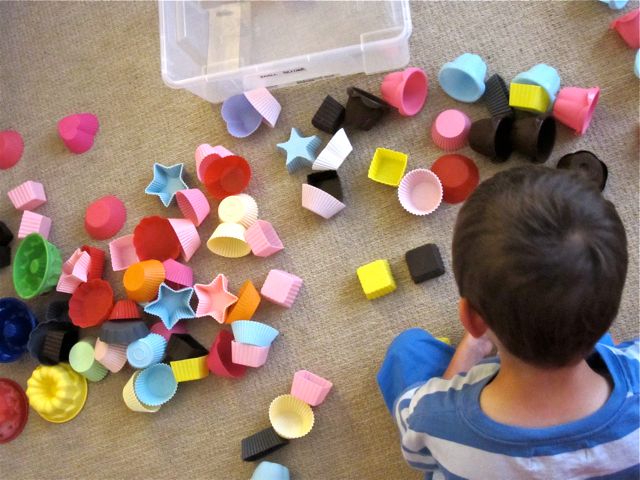 Cream cheese and lemon whoopie pies
Author:
Prep time:
Cook time:
Total time:
Makes around 36 mini whoopie pie "shells" or 18 pairs. (Or 18 standard size i.e. 9 pairs)
Ingredients
150g plain flour, sifted
1 level tsp bicarbonate of soda
large pinch of salt?90g soft butter
140g caster sugar
130g crème fraiche
½ tsp lemon extract
1 large egg, beaten
100g white chocolate
75g lemon curd
75g full fat soft cheese
spike of lemon juice
sprinkles to decorate
You will need a baking sheet lined with parchment or a greased mini whoopie pie tin.
Instructions
Preheat oven to 180c/ Gas 4.
In a large bowl, sift the flour, bicarbonate of soda and salt.
In a separate bowl, using an electric mixer with large bowl, cream the butter and sugar until pale and fluffy. Beat the egg into the batter followed by the crème fraiche and mix until just smooth.
Stir in the dry ingredients until just combined. Chill for at least 30 minutes.
Using a pair of teaspoons, drop heaped teaspoons of batter onto a baking sheet or in a mini whoopie pie tin.
Bake the shells in the centre of the oven for 7-8 minutes. Cool on a wire rack.
When the shells are cool, melt the white chocolate (in the microwave is fine) and dip the tops of half of them in it. Add sprinkles whilst wet if you wish and allow the white chocolate to set.
In a small bowl gently fold the lemon curd into the cream cheese and sandwich the shells together in pairs and serve.
Notes
Due to the cream cheese content, store these whoopie pies in the fridge rather than a tin. They will keep for 3-4 days.