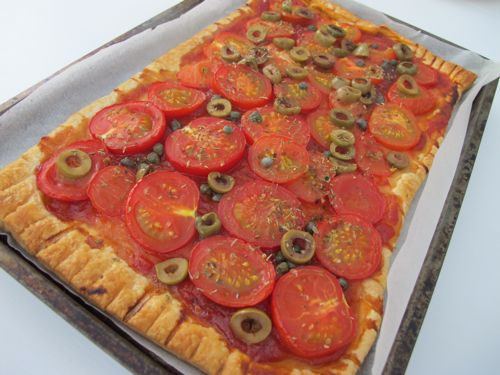 Twelve months ago I was acutely aware that my little boy would be starting school any day yet I'd been so busy working on the book that we'd barely had any fun in the holidays. This was something I was determined I'd make up for this year.
Hence things have been a bit here and there on and offline over the summer.
Done:
1 episode of Great British Bake Off watched.
1 kitchen completely renovated (yes I will show you soon)
5 Babycentre posts written
1 child's bedroom completely tidied up after being dumping ground for 5 years.
1 NCT Nearly New Sale prepped for
1 trip to Warwick Castle.
1 trip to Clarks for school shoes
1 trip to Milton Keynes to see friend who was over from the States
1 trip to Grandaddy in Birmingham.
1 trip to Kew Gardens
1 girls' night out before one friend moves away
1 press trip to Siblu, France
1 visit to Greedy Gourmet
1 visit to Fuss Free Flavour to make pizza
1 brunch with friends at Eat 17
1 lunch for the veggie in-laws at home (I fed them the tomato tart above with Nigella macaroni cheese)
1 wedding anniversary celebrated
1 lunch at Wahaca
1 tour up and down the DLR to look at the Emirates cable cars (we're returning with Daddy to ride on them)
2 visits to Westfield
2 Skype calls to Australia with pregnant oldest best buddy shortly before she gave birth
1 trip to Bluewater with Grandma
5 episodes Downton Abbey watched on ITV3 reruns (my first time seeing it)
500+ emails deleted.
2000+ blog posts read in my reader yesterday (I may not comment as much as I'd like but I still read everything)
Not yet done:
2 (nearly 3) episodes of Great British Bake Off not watched.
1 round up Zero Baking Required with announcement for next event
6ish blog posts outstanding (this is a huge improvement)
1 editing of video of press trip to Siblu, France
2 pairs trousers to be let down for school now he's grown.
1 trip to Buckingham Palace/Tower of London (we haven't decided yet).
103 emails to be acted upon.
As you see, the second list is much shorter than the first so I'm not doing too bad really.
In the meantime please enjoy this (ridiculously easy) tomato tart I baked for my weekly slot on BabyCentre.