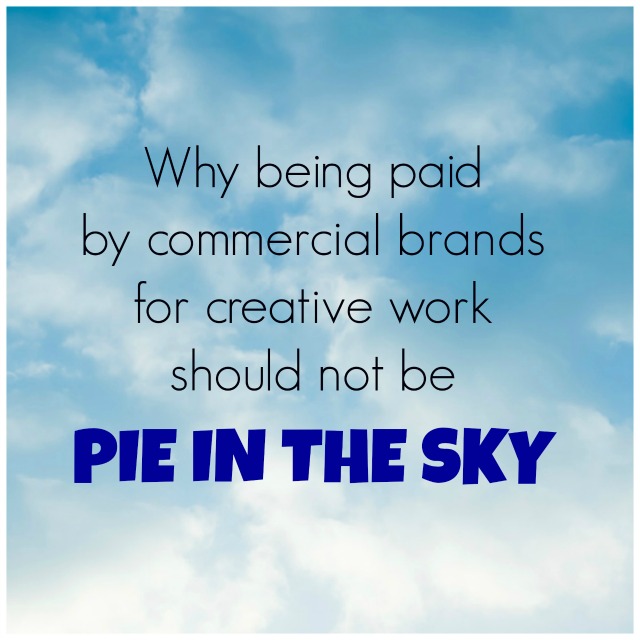 I may mutter and roll eyes at my inbox regularly but taking to my keyboard to complain I should probably do more often.
Twice in the past 24 hours commercial brands have asked to republish my content (recipes and prose) within their Facebook apps.  Both claim they have "no budget" for these projects.
We have "no budget"
Brands often tell bloggers they have "no budget". But brands invest heavily in their Facebook presence. They have a budget, they're just being picky who they spend it on. Facebook is a difficult platform for brands to get traction on and even smaller brands are likely to have budget to accommodate this. Big fat brands on the other hand? No way do they not have budget for Facebook.
Now I have a line in my personal blogging sand. If a brand wants to give me samples of their product in the hope I'll promote it on my own platform that's one thing. Assuming the product is relevant to my audience and/or the brand makes it worth my while I am often happy to do this.
But say the same brand wants me to provide creative material to publish on their own platforms – their website, their publicity materials, their email newsletters, their Facebook apps, whatever. My bottom line is if a commercial company wants to use my material on their stuff or to benefit them, they have to pay me*.
Everyone else is being paid…
The reason I'm annoyed here is that everyone else in this commercial project is getting paid. The software developer creating the Facebook app gets paid. The agency looking after the brand's communications is paid (a hefty sum covering several peoples' salaries). And in this case, the person curating the content for the brand's Facebook app is getting paid. So doesn't the person actually creating the pretty content that folk are reading deserve to get paid too?
I have the same view of any third party publisher who wants to publish my material without paying a decent fee for it. Why should I spend 5-6 hours creating engaging content when the person spending 10 minutes copying and pasting it into the back end of the other website gets paid but I don't??
And what I'm going to say may sound harsh. If you are someone who persists in doing stuff for brands for free or extremely low compensation, you're undercutting the market for everyone else. "It's the amateurs who make it tough for professionals" as Harlan Ellison so eloquently expressed in this viral YouTube video I've embedded below.
I've not reached this conclusion the easy way. On occasion, it's dawned on me half way through projects that whereas everyone else on the team was getting a salary or a daily freelance fee for their contribution, I was the one trying to catch a few fish biscuits.
…So why am I the only one not being paid?
A few years ago, I gave up an entire Sunday to "work with" a particular  supermarket on a Christmas publicity exercise. I'd agreed to spend a day working in their premises, for their benefit and didn't agree a fee for my time. Stupid eh? During the day it occured to me the foodie celebrity drafted in for the same event regularly benefited from paid commissions in their magazine, the magazine editor was obviously on a sizeable salary meriting working out of hours and the two home economists were definitely on a paid fee that justified them working all day on a weekend.
What did I get for donating my precious weekend family time to this multi million pound company? Not even a sodding DIY Christmas cake kit.  Thus I resolved that if I were ever asked again to contribute to a commercial project where everyone else taking part was on a pay roll that I would not work without there being a tangible benefit to myself.
Not everyone has had their fish biscuit awakening.
There will be bloggers flattered by big companies who take the bait how being "featured" will bring blog traffic – which incidently, (even if you are displaying monetised ads or selling e-books etc etc) is never going to come close to converting into the market rate for your work.
Don't fall for the "exposure" pitch
Exposure doesn't pay the bills. Next time a PR says you'll get lots of exposure why not point out to them that being promoted on social media instead of being paid is like their boss offering to recommend them on LinkedIn instead of getting a salary. Sure you'll get lots of "exposure" – to other brands who see you as a sucker who'll do stuff for free. Why would they pay you either?
Here is a wonderful post that spells out why bloggers should be paid for their work.
And you might have seen this video before but it's the last word on paying for creative work.  Watch this video and you'll NEVER AGREE TO WORK FOR FREE AGAIN.
*Preferably money although on occasion I'll trade my time for gift vouchers or gadgets. But never fish biscuits.
Would you give away your work to commercial brands?