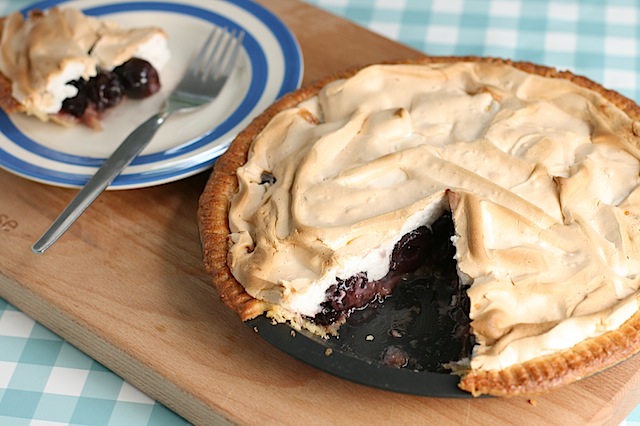 Why is it always lemon meringue pie? Don't get me wrong, I love lemon meringue pie to bits. But we seem to overlook other fruits that work really well.
I'm not as obsessive as Nigel Slater and his step mother in Toast (brilliantly depicted by Helena Bonham Carter and Freddie Highmore) who memorably pitted themselves against each other making magnificent lemon meringue.
The only pitting I'm doing today is cherries. It occurred to me that cherries would make a mighty fine meringue pie.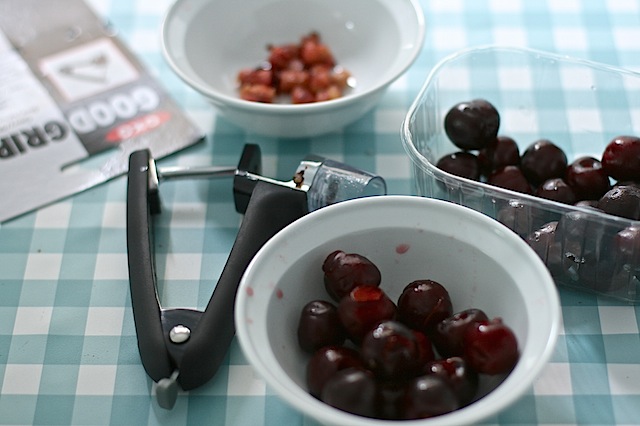 I was road testing this new OXO good grips cherry pitter which doubles up as an olive stoner. My existing plastic cherry pitter is more like a pair of big scissors and although it pops out cherry stones well enough, you can't use it as an olive stoner.
The OXO one takes up less space in the cupboard (there's a lever to clamp it shut when not being used) and has around 85% success rate at popping the stone out first time without tearing the fruit. Plus it's strong enough to pit olives. I have pitted my cherries for years and can't bear faffing and fiddling getting stones out whilst you eat them.
Once you've pitted your cherries before you eat them, I don't think you'll go back if you've one of these gadgets in your kitchen drawer.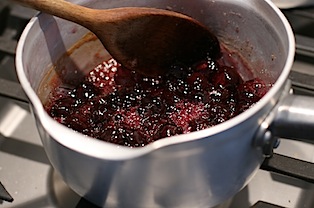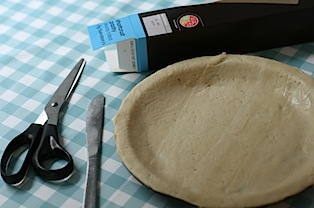 Once stoned, I simmer the cherries in a few spoons of water with two dessert spoonfuls of caster sugar. My pie dish is quickly covered with some ready made pastry (it's been so warm it's hardly pastry making weather).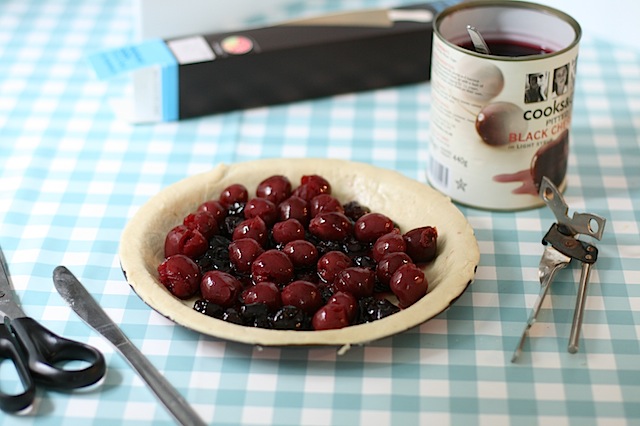 But disaster strikes. My 300g pack of cherries, nicely simmered and syrupy are nowhere near enough to fill my pie plate.
Handily, I have a can of pitted black cherries to hand which I use to pad out the fresh ones.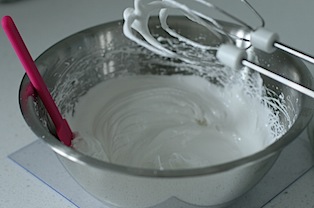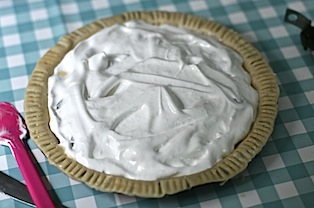 It all gets topped with some meringue mix.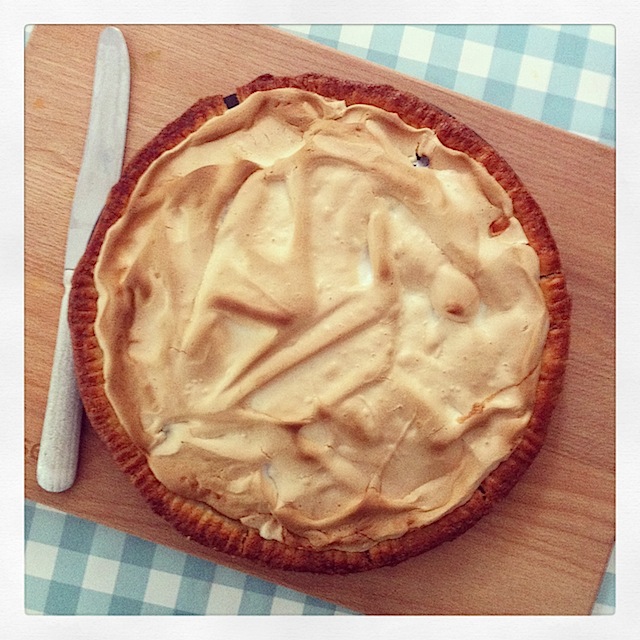 And baked at 160c gas mark 3 for 25 minutes until golden brown on top.
On cutting open the pie, I honestly couldn't tell the fresh cherries and the canned cherries apart. So if you wanted to ditch messing about with pitting cherries altogether, you could use canned ones on their own. Which turns this into a potential store cupboard dish and we like those very much.
Cherry Meringue Pie
Serves 6-8 using 9 inch pie plate.
Ingredients
600g ripe cherries or same amount canned pitted black ones
2 tbsp caster sugar or 2 tbsp jam if using canned cherries
1 roll of shortcrust pastry
a little milk to brush the pastry
For the meringue topping:
2 egg whites
80g caster sugar
Directions:
1. Line the pie plate with shortcrust pastry and preheat the oven to 160c gas mark 3.
2. Pit the cherries if using fresh ones. Scantly cover the base of a small saucepan with water and simmer the cherries. Add the 2 tbsp caster sugar to make it syrupy. Heat until barely cooked through. Allow to cool slightly.
3. Meanwhile whisk your egg whites in a large mixing bowl and gradually add the remaining caster sugar to form a meringue standing in soft peaks.
4. Spread the cherries onto the pastry base. If you use canned ones mix them with some jam before spreading on the base.
5. Top the cherries with the meringue mix and bake at 160c gas mark 3 for 25 minutes until golden brown on top.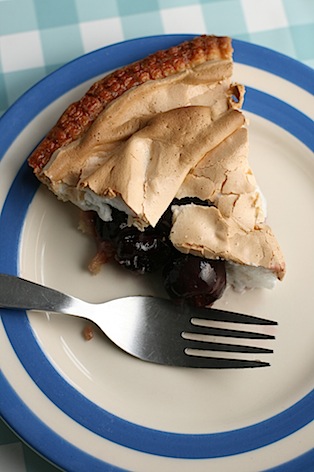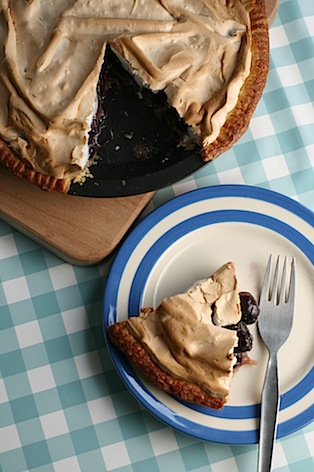 With thanks to Cooks and Co for canned black cherries and OXO for their good grips cherry pitter/olive stoner.