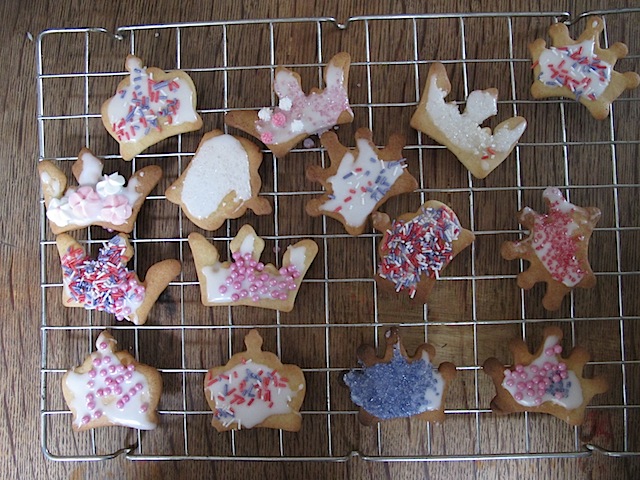 Incase you're wondering, I didn't do these. Ted did.
It's only a matter of time until Ted has a blog of his own, tonight I even caught him lining up a silver cake board as a reflector leaned up against some baked bean tins.
Meanwhile, despite best intentions, I did not manage to blog my Forever Nigella entry on the first day or the first week of the month and yikes it is already the 18th.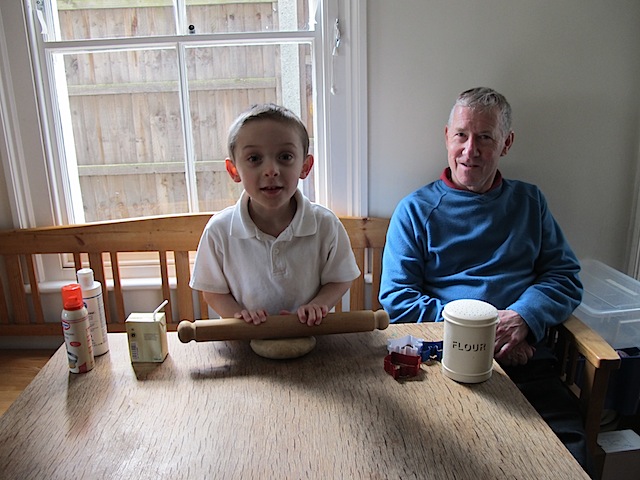 This is a team effort therefore of mummy making cookie dough and icing, Ted doing the rolling, cutting and sprinkling and Grandaddy sitting watching.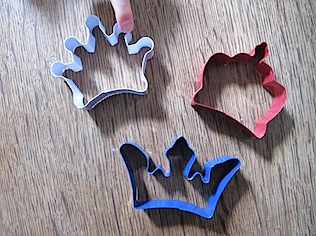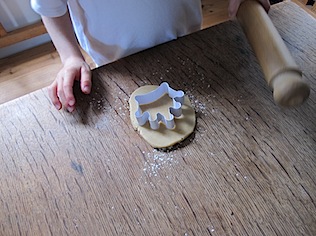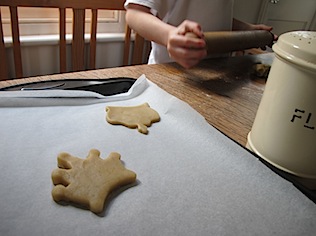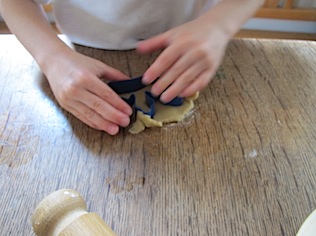 We are using these splendid crown cookie cutters from Lakeland and the dough from Nigella Lawson's Butter Cut Out Biscuits from How to Be a Domestic Goddess.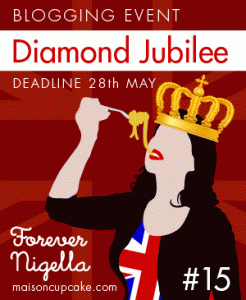 These are my, well, Ted's really, entry into this month's Forever Nigella which is hosted by Nelly at Nelly's Cupcakes. You still have until 28th May to submit any new posts featuring Nigella recipes done jubilee style or suitable for street parties.
It was with Nigella's line about children having "very bad taste indeed" in mind that I submit Ted's cookies!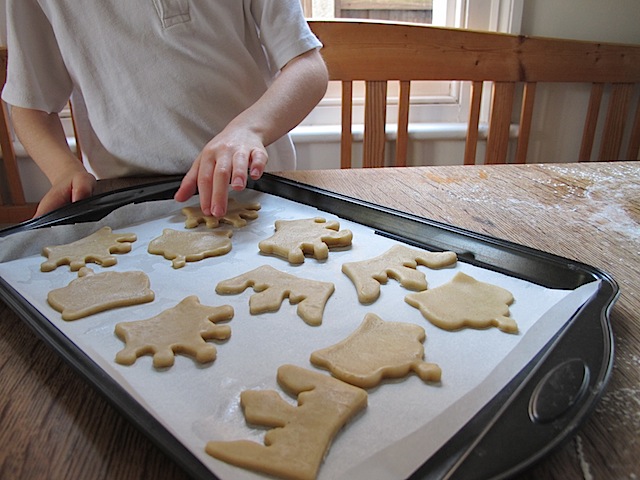 It's also great timing to tell you about World Baking Day on May 20th which is being celebrated by Stork. All you need to do to take part is bake a cake, photograph it somewhere interesting and tweet it with the hashtag #Caking that day. The results will be tweeted by World Baking Day's Twitter account @worldbakingday and published at World Baking Day.
Core baking ingredients such as butter, eggs, sugar and flour have increased by around 60% since I started this site nearly 3 years ago. Baking margarine remains far cheaper than butter and I happily use it for biscuits and bake sales.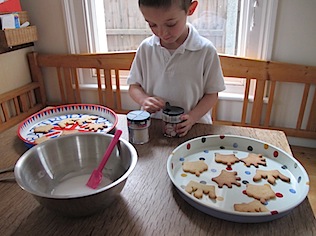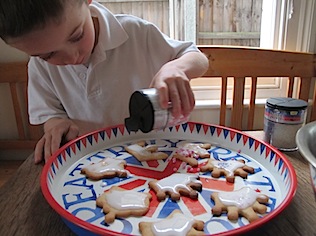 After the biscuits are baked and cooled it's time to get busy with those sprinkles. I have jubilee coloured sprinkles although Ted also has his eye on some pink ones too.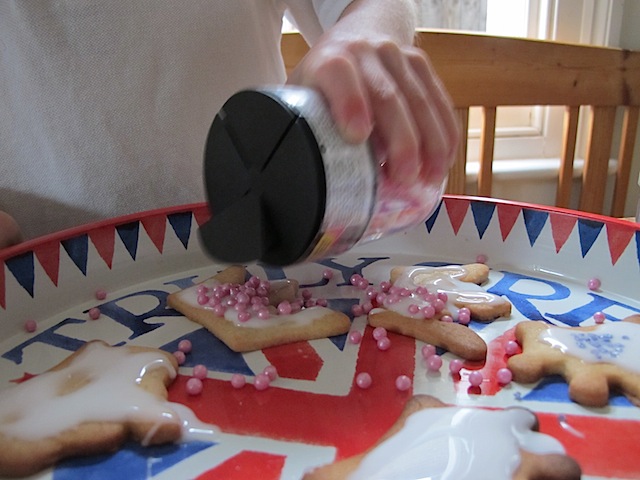 Go easy pouring them out Ted…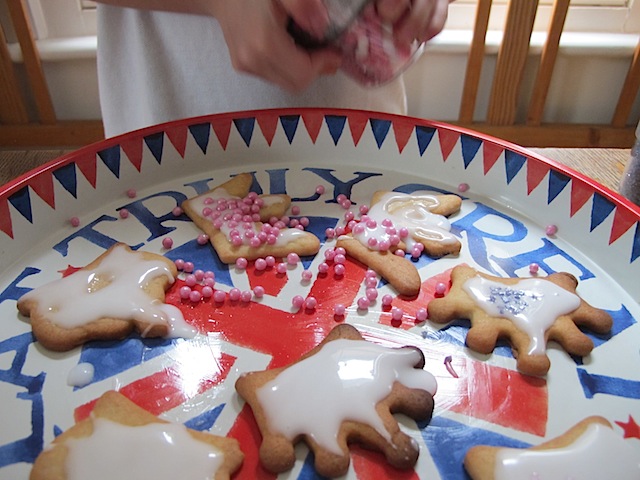 Ok maybe not.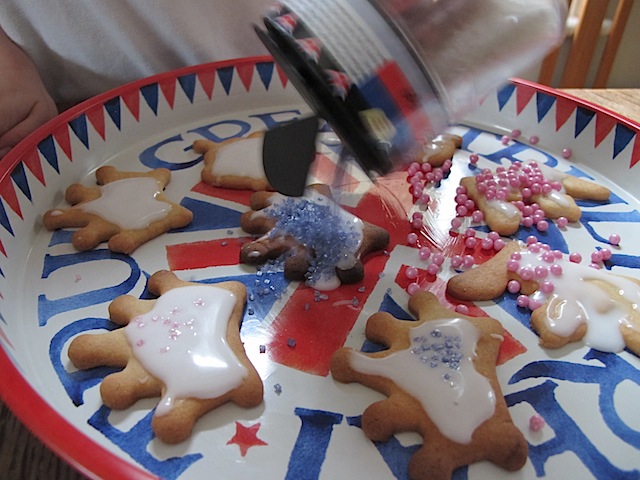 The burnt biscuit in the middle gets drowned in blue sugar crystals!
I bought these British Sparkles in Waitrose, they're a timely selection of red, white and blue sugar crystals conveniently stored in separate compartments so I thought they were worth an investment for future biscuit projects. There's also a compartment of red, white and blue mixed hundreds and thousands.
My only issue with them is that instead of a round penny sized hole to pour, there's a whole quarter's worth of the canister. Which is why Ted ended up drowning his biscuits – I imagine I'd have easily done the same.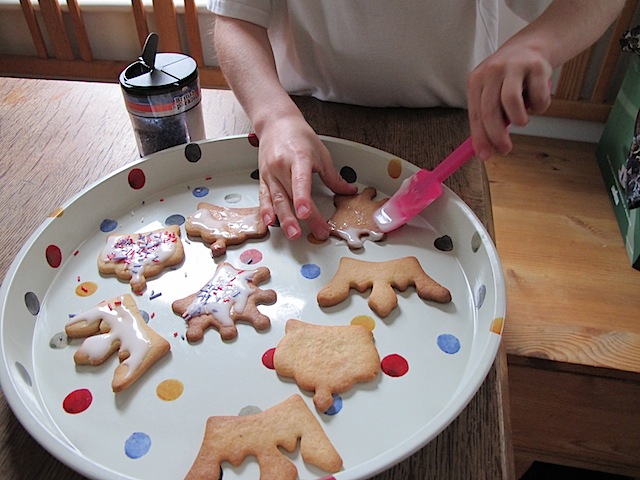 And just to prove, he's a dab hand getting the icing on – favouring the mini spatula spreading technique rather than mummy's pair of teaspoons.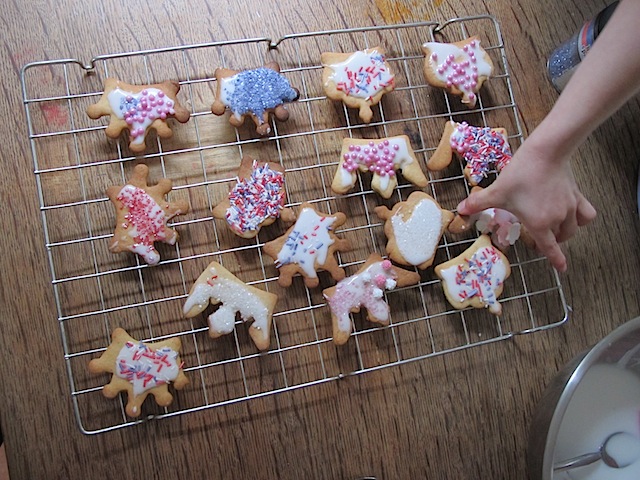 All Ted's own work. I let him dive in right away!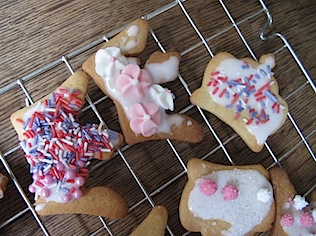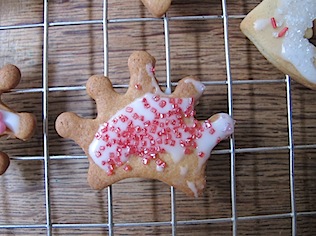 Truth be told, actually I rolled these biscuits a bit thin today. Ted's version (above right) was much fatter and despite my fears they would spread in the oven they actually came out better than mine!!!
I let Ted go wild with the sprinkles which accounts for the decidedly casual appearance of these biscuits. I especially like how he crammed six of the big sugar rose sprinkles onto one single crown biscuit. Way to go.
And of course, more interesting than the rack of biscuits he'd laid out, were the two trays of discarded sprinkles.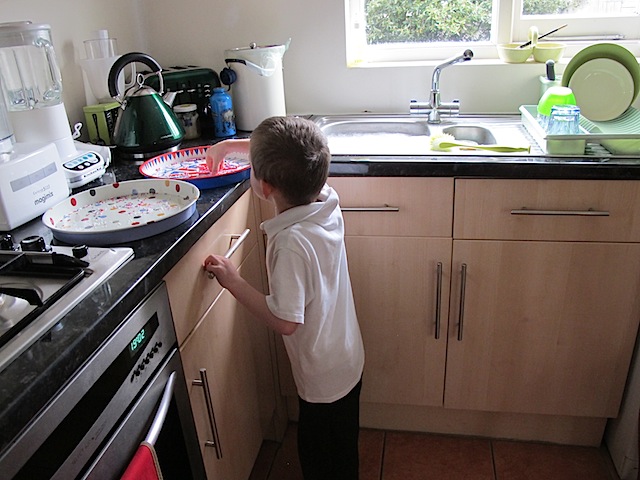 With thanks to Stork for the box of baking bits and vouchers.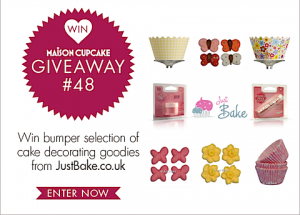 PS If you're as obsessive about sprinkles as Ted why not enter my JustBake.co.uk giveaway which is open until 28th May.