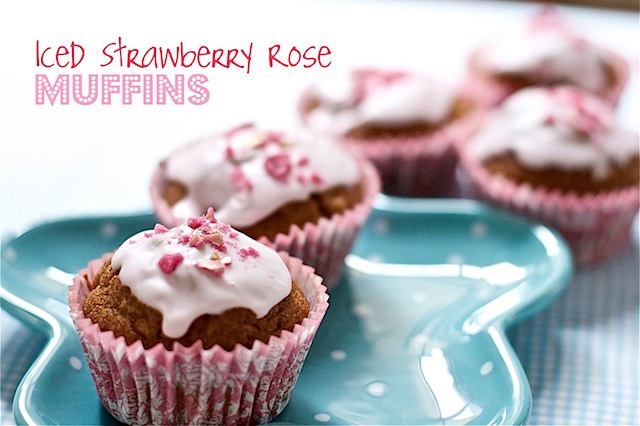 The book called them cupcakes but I call them muffins; the ingredients featured oil rather than butter and the technique required stirring rather than creaming fat and sugar. I make that a muffin.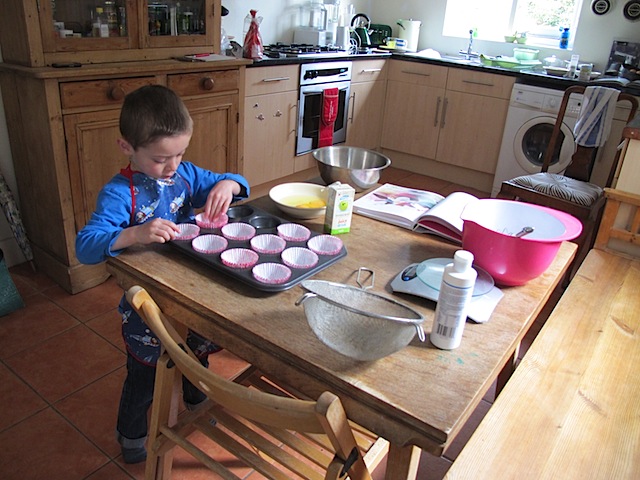 Or rather Ted makes that a muffin.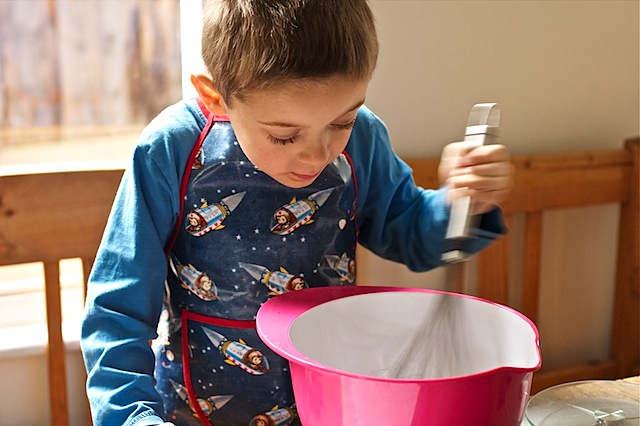 Because apart from a bit of strawberry squishing, Ted did very well stirring all the ingredients together all by himself.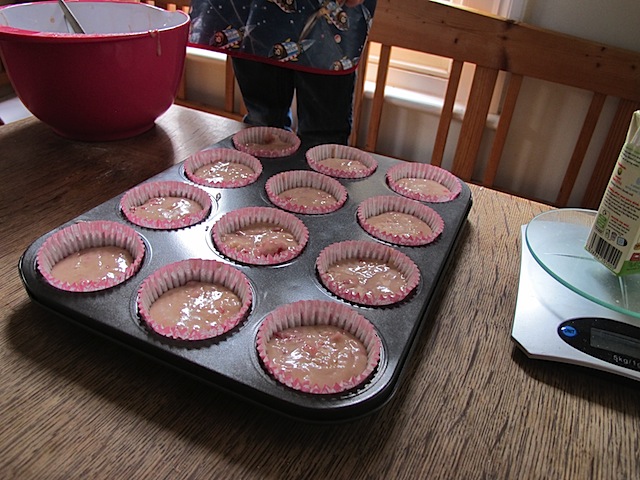 He's less adept at spooning batter into cupcake cases – which causes much frustration.
I've explained that knowing the best way to spoon cupcake batter into paper cupcake cases comes with thirty years of mummy practice.
I suspect he may take to doing it with a piping bag quite well. We'll have to try that next time.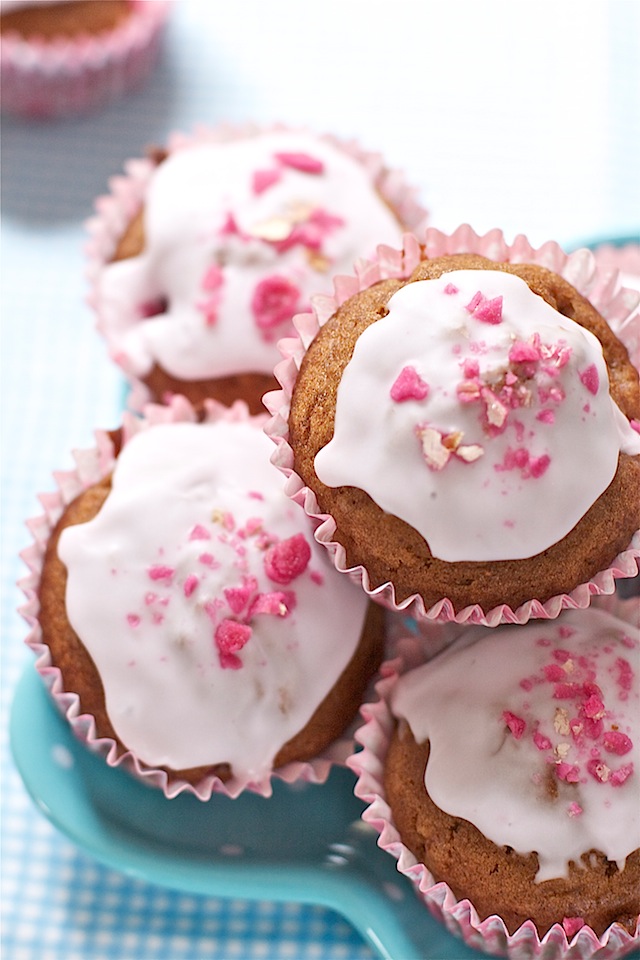 Topped with a little glace icing, just like in the book – however I chose to ice my strawberry muffins with crushed crystallised rose petals. It was the first time I'd used them since the photo shoot for the book but I've got loads left and must find other ways to use them.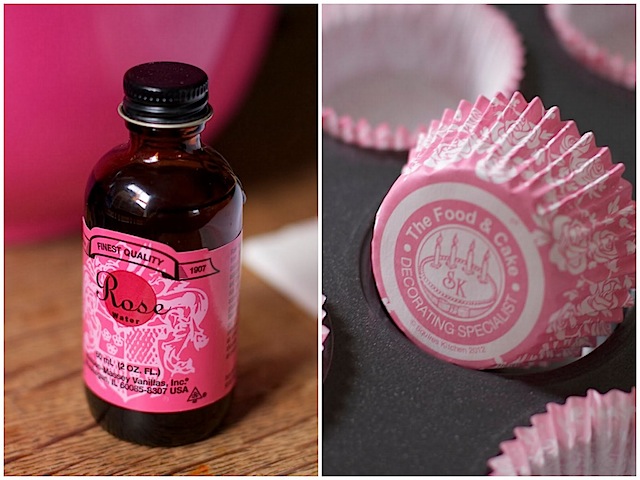 Today I also used a few drops of this Nielsen Massey Rose Extract in my icing and cake batter. These gorgeous rose printed paper cupcake cases are from Squires.
I am a huge fan of Squires cupcake cases as with the exception of Lakeland, they are one of the few brands I know available where the grease from cake does not seep into the paper obscuring the pattern.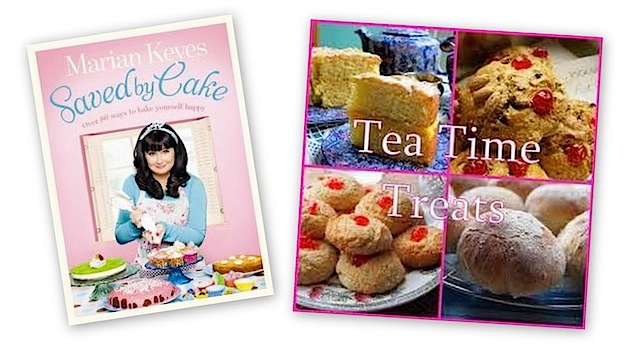 The recipe for these strawberry muffins in Marian Keyes' baking book Saved by Cake. She calls them Sweet and Simple Strawberry Cupcakes – they're definitely sweet and simple but I'd call them muffins rather than cupcakes. My only amendment has been to add rose extract to the icing and cake batter and to top with crystalised rose petals.
Since rose is a flower I am submitting these to this month's florally themed Tea Time Treats which is hosted by Karen at Lavender and Lovage.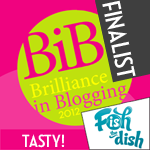 Finally I am delighted to share some good news (for me at least).
I am the only food blog to be a finalist in the food categories for both the Britmums' BiBs Brilliance in Blogging Awards and The MADS mum and dad blog awards 2012.
It's especially touching to make the grade as finalist for both of these when I had not actively campaigned for nominations throughout the nomination period. Although some people find it very easy to reach out and ask people to do things for them, it's not something that comes naturally to me.
There are some wonderful finalists for both awards – the BiBs are panel judged with winners announced at Britmums Live in June and The MADS are vote driven with results announced in the autumn.
If you'd like to vote for your favourite food blog and other types of parent blogs in The MADS you can do so until 6th June here: http://www.the-mads.com/the-awards.htm
A huge thank you to everyone who must have nominated me in the opening stages. I'm very touched and grateful.
Have this last muffin on me 🙂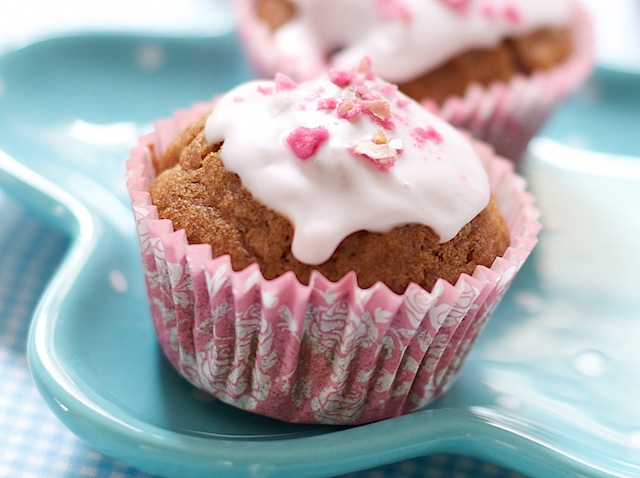 With thanks to Penguin Michael Joseph publishers, Nielsen Massey and Squires for sample book/products.