Dinner with Crayons is my occasional series of weekend child friendly restaurant reviews. Now that the book is mostly finished I hope to be doing them regularly again!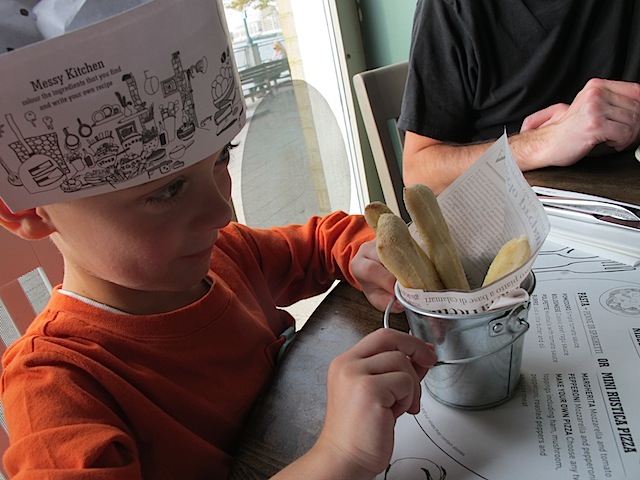 Pizza and pasta are what most people in Britain associate with Italian food and with one or two exceptions, most Italian chains reflect this. Zizzi have taken a step to stand out from this crowded market by adding cichetti or Venetian tapas to their menu.
To check this out, we visited Zizzi at Cabot Circus near Canary Wharf. It's in a delightful riverside spot on a tight bend on the Thames (think EastEnders' opening titles, there) a 10 minute from the main Docklands shopping area.
Arriving by Thames Clipper boat is convenient with a jetty stop right outside although we came by car. An unseasonably warm October day, we sat by open windows looking onto the river towards the City of London. Ted was entertained by the many catamarans and speed boats whizzing past!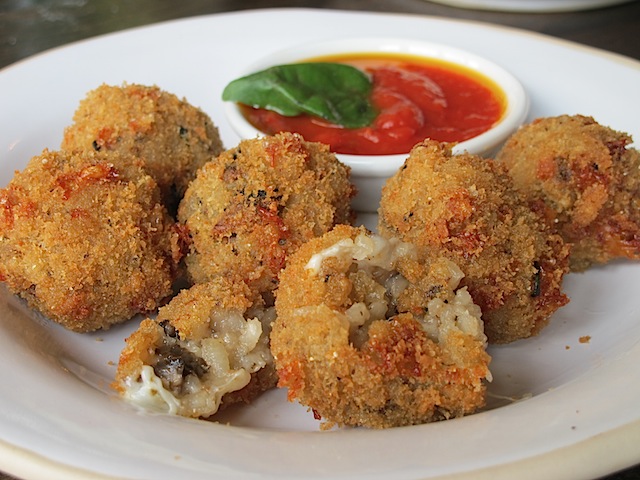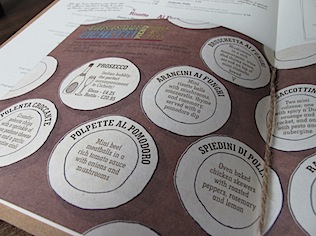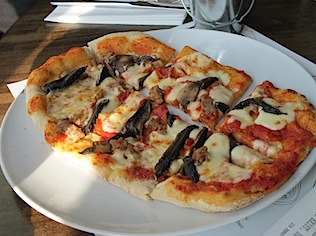 The children's menu is £6.95 for fresh bread sticks, choice of pasta or mini pizzas and two scoops of ice cream for dessert. The "mini" pizza as you can see above is still pretty big! Ted was given a paper chef's hat to wear and his menu had plenty of pictures to colour in.
The cichetti menu offers around a dozen dishes in tapas size; they're mostly £4.95 each with either 3 for £12 or 5 for £18. The menu suggests that 3 or 4 cichette are equivalent to a main course. Each of them sounded quite wonderful and not knowing how large portions would be we ordered 8 dishes (just incase, after the Counter Cafe tapas had been on the small side).
Arancini or risotto balls in breadcrumbs came with a tomato dipping sauce (shown large above) were one of my favourites.
As the multiple plates arrived, Ted squealed "how many dinners?" with excitement and we grew nervous we'd over ordered, especially on carbs. Fortunately, none of the dishes were heavy and we surprised ourselves by eating almost everything.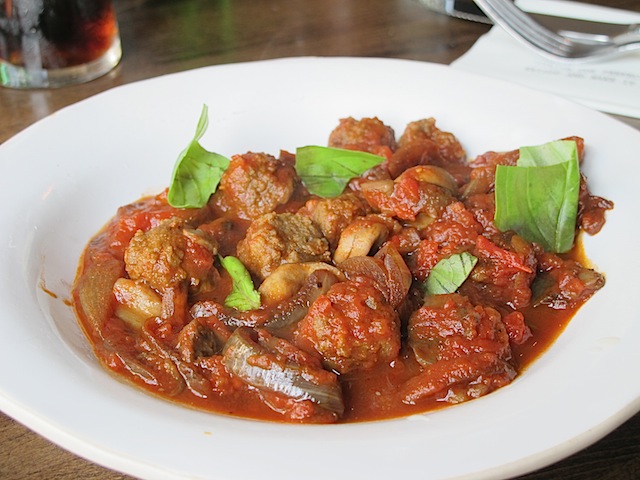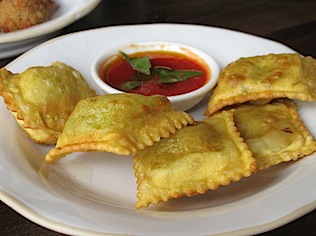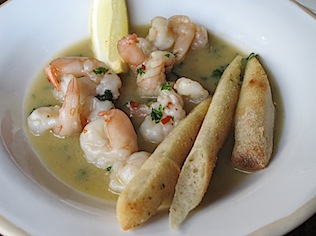 The dishes above are: Polpette, meatballs in red wine sauce (above, large); deep fried ravioli with goat's cheese and basil filling; king prawns with white wine and garlic sauce and fresh breadsticks.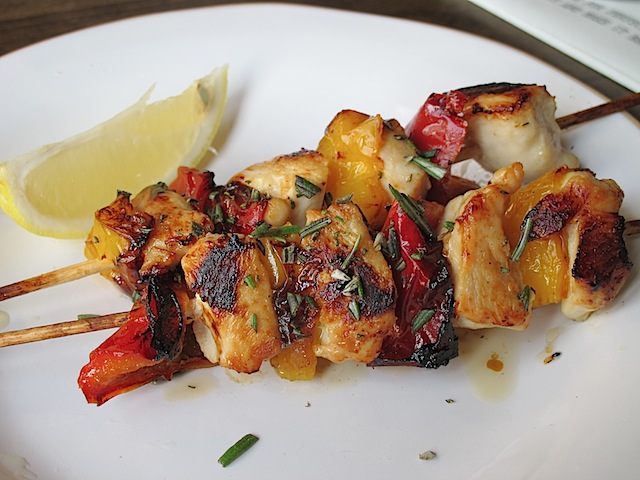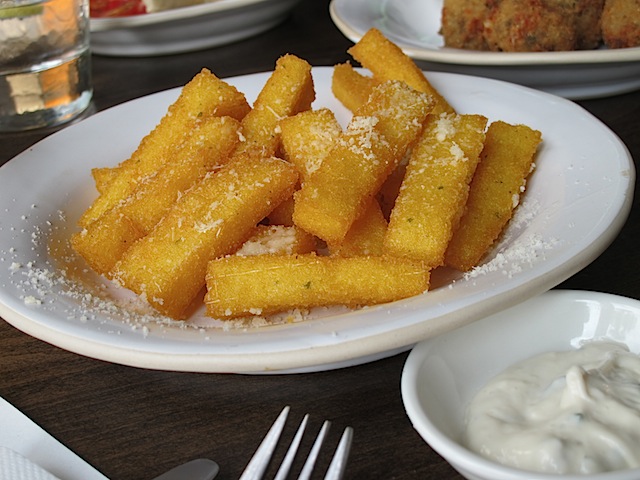 …and chicken with rosemary and peppers on skewers (top) and deep fried polenta chips sprinkled with grana padano cheese and mayonnaise.
Although we'd ordered Ted a pizza from the childrens' menu on auto-pilot, actually there was a lot amongst the cichetti that he happily tucked into aswell. So long as we kept him away from the chilli dipping sauce that came with some dishes, he would have eaten most things although he stuck mostly to his pizza.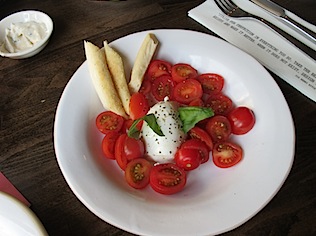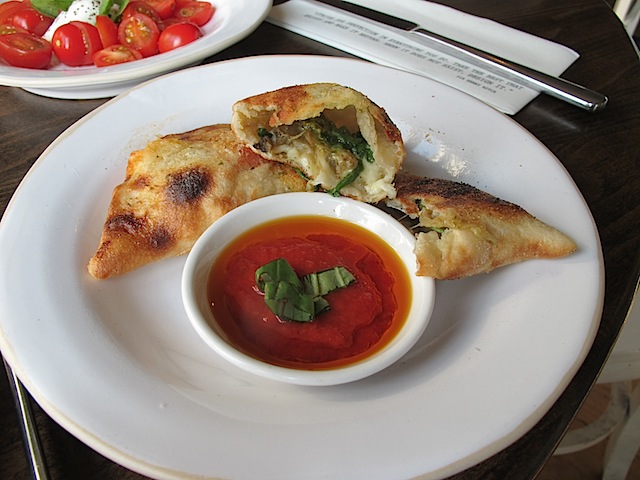 Dishes above are: cherry tomato and mozzarella salad; sausage, lentil and cannellini bean stew; two mini calzone (below, large).
It's mind boggling to remember details of so many things at once although seriously, we enjoyed everything. This is an accessible range of dishes, nothing too scary for the unadventurous but interesting enough to please more sophisticated diners (even those aged 4).
Particular favourites were the deep fried ravioli and the polenta chips; having not been to Venice I cannot vouch for authenticity although the king prawn dish did look like something straight out of Tessa Kiro's Venezia book.
Two minor criticisms; there should be more seafood and fish; Venice being submerged by water serves a lot. Possibly playing down seafood is commercial decision to keep the selection more mainstream and to budget.
Secondly, small dishes go cold quicker so eat ones like the prawns and sausage stew first whilst deep fried things cool a little; you need a big round table to accommodate them too. We had plenty of space but might have struggled on a normal table. None of this detracted from a very pleasurable dinner.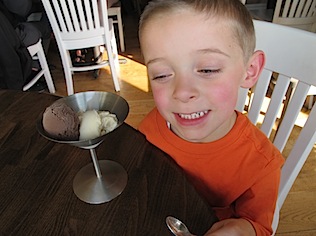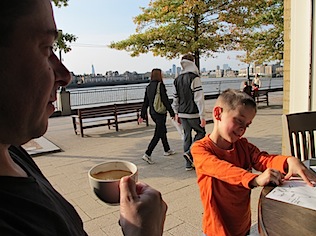 We shared pudding; a trio of doughnuts topped with ice cream. Reminiscent of the churros at Wahaca without chilli (a good thing).
Loos are the individual bathroom style upstairs; there is plenty of room to take one or more children in with you. Downstairs has a disabled loo with changing table. Highchairs are available and there are plenty of tables with space to park a buggy.
Service was friendly and prompt – admittedly staff knew we were reviewing the menu but you'd be surprised how this isn't a guarantee of great service. The restaurant became busy but not too noisy.
I hope this menu is successful and stays permanently on the Zizzi menu; I can imagine it becoming one of our regular favourites especially since Ted often asks for pizza but we feel like eating something else.
Want to go? Enter my Zizzi giveaway: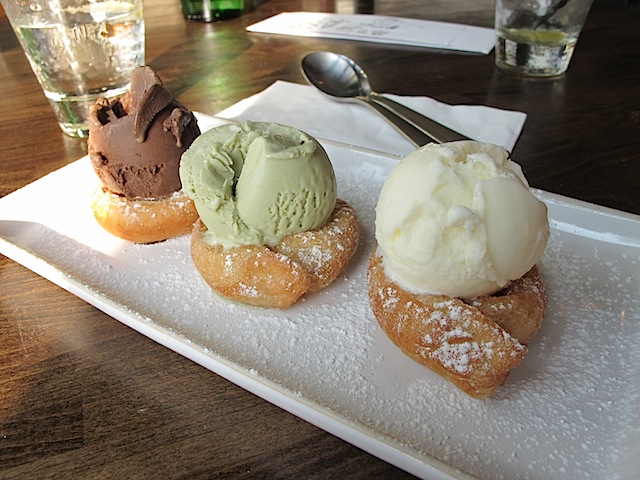 The Cichetti Venetian tapas menu is available from branches of Zizzi nationwide. Most cichetti are £4.95 or £12 for 3 and £18 for 5. The dessert cichetti is £5.10 and not in this offer. By the way, Zizzi still sell pizza and pasta so don't panic if you like those too.