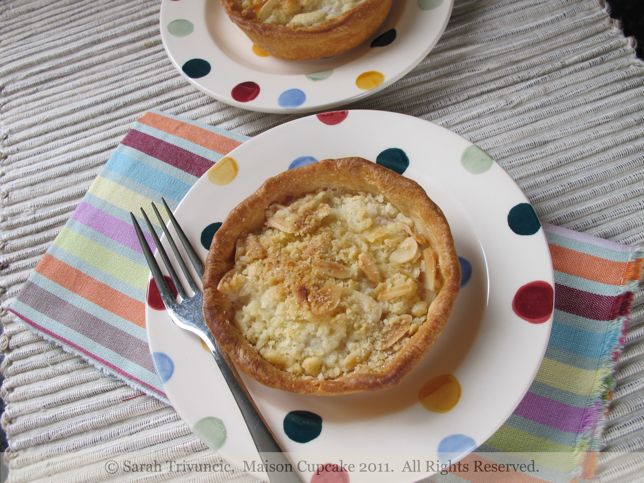 This is an adaptation of Nigella's Forever Summer "Summer Crumble" which was originally intended to join Forever Nigella 4 and the Monthly Mingle Topless Tarts events but never quite made it. I've simply lifted her apricot crumble out of the dessert dish and into a pastry case.
As you may recall I was very pressed for time around then therefore this is a shamelessly "express" recipe using canned fruit and bought pre-rolled pastry. I have a fondness for canned peaches and apricots since my grandma often served them for pudding with cold tinned custard. I loved making the thick fruit syrup mix into blobs with the custard and am wondering why I have completely overlooked the convenience of tinned fruit and custard as a grown up. I'm sure there are plenty of snobs out there who balk at the very idea but I am shameless with my affection for nursery food, even if that does include Instant Whip. (I'll restrain from the hundreds and thousands though.)
The most taxing thing to do was fiddling with bits of parchment paper and baking beans to "bake blind" but actually in retrospect I might skip this step in future or bake the cases just pricked with a fork – I think I've read Delia does it like this rather than with beans.
I made two changes to Nigella's original crumble. Firstly, it stubbornly refused to brown so I added some extra cubed butter to help the sizzling along a little. Secondly I heard that a sprinkle of polenta in a pastry case soaks up excess liquid in fruit and stops pastry bases getting soggy.
Nigella's original recipe says to serve with mascarpone or creme fraiche but I like nothing more than a hot pudding with cold ice cream alongside!
So share with me your thoughts… tinned fruit….? Nostalgic wonder or hideous let down?
Apricot Crumble Tarts

Makes 6 x 5inch tarts

Ingredients:

1 pack of pre-rolled shortcrust pastry

400g can of apricot halves, each sliced into slivers

150g cold unsalted butter cut into dice (half for pastry, half for dotting on top)

100g self raising flour

25g ground almonds

75g caster sugar

50g flaked almonds

2-3 tablespoons polenta grain

You will need 6 x 5inch tart tins or one 10-12 inch tin and some baking beans. A cook's blow torch is helpful for cosmetic appearance but not essential.

Directions:

1. Preheat the oven to 190c / Gas Mark 5.

2. Grease the tart tins and line with the pre-rolled pastry, prick the bases to get rid of any air bubbles. Cover with parchment paper and baking beans and bake in the oven for 15 minutes.

3. Meanwhile rub 75g of the diced cold butter into the flour and ground almonds as if making pastry until you have sandy mix. Stir in the sugar and flaked almonds.

4. When the pastry bases have been in the oven for their 15 minutes, remove the parchment paper and baking beans. Sprinkle a scant tablespoon worth of polenta grain on the base of each tart case.

5. Fill each case with 2 apricots cut into slivers (conveniently in my case, I found that a 400g can contained 12 apricot halves…) and sprinkle over the almond crumble mix. Dot over the remaining 75g cubes of butter.

6. Bake for a further 15-20 minutes keeping an eye that the pastry cases are not overdoing. If the crumble isn't golden enough a whoosh with a cook's blow torch will brown the tops nicely. Serve with cream or ice cream.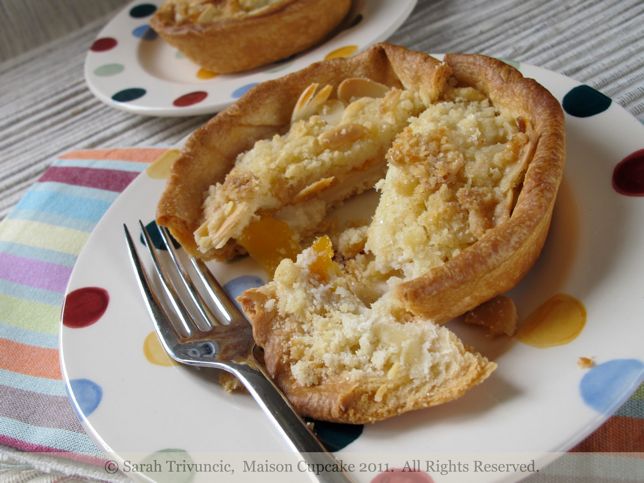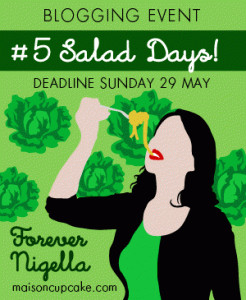 Finally, this is not my entry to Forever Nigella 5 because this month's theme is "Salad Days". To find out all about this month's Forever Nigella, please visit the current host Dom at Belleau Kitchen's and read his announcement post here.