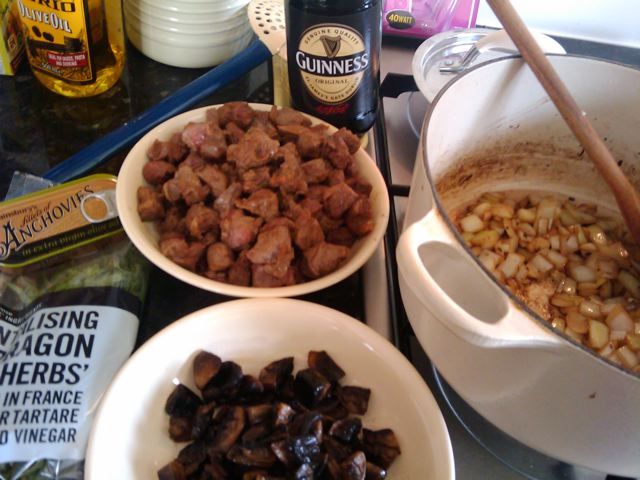 The perfect Saint Patrick's Day recipe: Rachel Allen's Beef, Guinness and Anchovy Pie
Fourth installment of my series of five "Bake" by Rachel Allen recipes.  Today I have made her Beef, Stout and Anchovy Pie with hot water pastry crust in honour of my fifth wedding anniversary. We're not big Guinness drinkers so I foresee making this pie for Saint Patrick's Day with leftover Guinness or stout.
I sliced casserole beef chunks into smaller cubes.  Browned carefully in batches they still produced that foam you get frying beef.  How do I avoid this?
I used less liquid than Rachel's recipe yet still found the gravy watery and it didn't thicken much after cooking.  She doesn't prescribe any cornflour to thicken.
Hot water pastry is very easy to make.  All the wet ingredients are piled in a well within the dry ingredients and the whole thing mixed.  The warm dough spreads across a plate very easily and cools in about 15 minutes after which you put it in the fridge for half an hour.  I left mine slightly longer as the beef was still simmering.  The recipes suggests making several individual pies or one big one. I made two medium size pies:
The hot water pastry had stuck to the plate which was annoying. It took a lot of flour to stop it sticking to the table when rolling.  The pies were brushed with milk before baking.
Silly me, I forgot to pierce the pastry.  It didn't seem to matter with the rectangular pie but the oval pie had gravy bubbling up on top of the pastry – something which had started before I put it in the oven.  Still, it didn't help matters that I realised at the final second that I had forgotten the anchovies!  I tucked them under the pastry at the last moment which is when I ended up with some of my watery gravy seeping above the pastry.
Rachel's pie looked like this:
Whereas mine looked like this:
The recipe clearly gives instructions for hot water pastry yet her photo looks more like puff pastry.  She says at the end that a variation would be to use puff pastry.  It is quite unusual to feature a photo of a variation rather than the original recipe.  I thought I'd done something wrong!
All this aside, the pie did taste great.  The filling, which had been so so after cooking, came to life with the anchovies.  Thank heavens I remembered to pop them in!  The fish dissolves in the gravy so you don't really get bits of it in the filling, just a salty tang throughout.
Rachel Allen Beef, Stout and Anchovy Pie

Ingredients:
Pie filling:
4 tbsp olive oil
600g stewing beef in 2cm chunks
salt and pepper
400g button mushrooms in quarters
2 large onions, sliced
4 cloves garlic
500ml beef or chicken stock
250ml stout
1 tbsp chopped tarragon
30g anchovies, drained

Hot water pastry:
75g butter, cubed
100ml water
225g plain flour
pinch of salt
1 beaten egg

The original recipe can be found on page 151 of Rachel Allen's Bake.

Check out how I've got on making more Rachel Allen recipes.