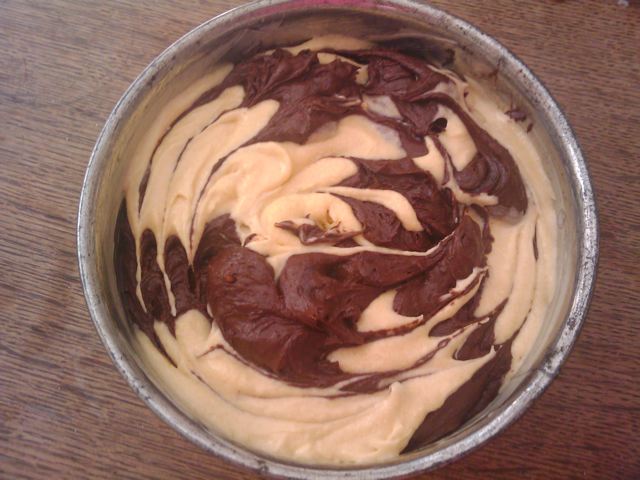 The third installment of five recipes I am baking from
Rachel Allen's Bake
 .  Today it is
Chocolate & Vanilla Marble Cake
.
The recipes in Rachel Allen's Bake are for quite large sizes of cake. Here an 8 inch springform pan was required but I only had a 7 inch one to hand.  I decided to employ the tactic that had worked so well with the
sweet potato and pecan bread
and leave aside some mixture and use a smaller tin. (I left aside enough mixture to make six cupcakes.)
The cake should have been done in 45 minutes but needed another 15 minutes (covered in foil as the top was done).  After further checks and 1 hour 10 minutes, the cake was done but had annoyingly worked it's way into a volcano shape (not pictured here!) and cracked slightly on top.  I think I ought to have left out enough for 10-12 cupcakes instead…
Another lesson learned for future is that I should use smaller blobs of the mixtures and not be afraid to marble them a bit more with the skewer.  I was so worried about messing this up that I erred on the side of caution.  And who can blame me?  The mixture does look very pretty before it goes into the oven.
Chocolate & Vanilla Marble Cake

This is essentially a traditional sponge mixture with ingredients in equal quantities divided with half being flavoured with cocoa.

Ingredients:

225g butter, softened

225g caster sugar

4 eggs

2 tsp vanilla extract

225g plain flour

2 tsp baking powder

50ml milk

50g cocoa powder, sifted

You will need an 8″ round baking tin.

Method:

1.  Preheat oven to 180c/Gas 4.  Line the tin with baking parchment paper.

2. Beat the butter and sugar in a large mixing bowl until pale and fluffy.

3. Whisk the vanilla extract into the eggs and add to the butter/sugar mixture.  Sift over the flour and baking powder and combine.  Finally, add the milk and incorporate.

4. Tip half of the batter into another bowl. Sieve over the cocoa powder and combine.

5. Spoon both batters into the tin, randomly dotting vanilla and chocolate. Use a skewer to marble the two batters into each other but don't over mix. Bake for around 45 mins.
The original recipe can be found on page 48 of Rachel Allen's Bake.
Check out how I've got on making more Rachel Allen recipes.