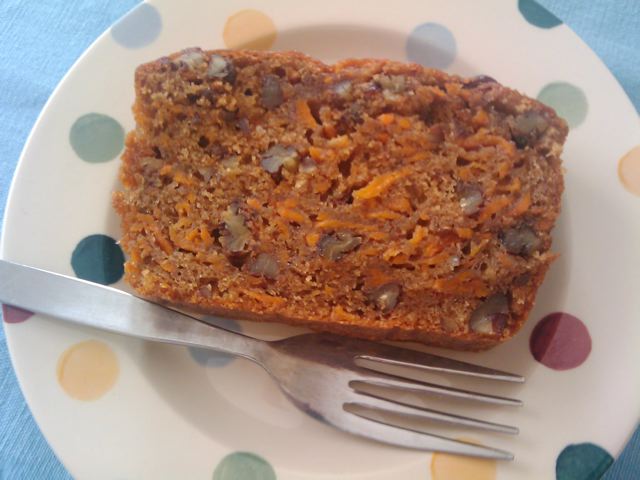 This month I'm baking five recipes from Rachel Allen "Bake".
I'm hugely fond of recipes using sweet potatoes so my first recipe baked from Rachel Allen's "Bake" is Sweet Potato and Pecan Bread.  It's called "bread" but is actually a cake in a loaf tin.
It was a very easy recipe to follow, however I did stumble a little over the size of loaf tin to use. Rachel says to use one that is 13 x 23cm however a 2lb loaf tin is approx 9 x 19 cm and I could not find any reference in other books to recipes that called for this larger size of tin.  I didn't want to cram all the mixture in one tin incase this meant it wouldn't cook properly in the time so decided to only fill the tin with around 85% of the mix. The batter is very sloppy and the grated sweet potato looks most unappealing before it is cooked!  I think I got the balance just right holding back that bit of batter and the cake was done in the prescribed time.
Definitely worth making again… this will be my go-to pecan cake recipe!
Rachel Allen's "Bake" Sweet Potato and Pecan Bread

Ingredients:

3 eggs

150ml vegetable oil

200g soft light brown sugar

300g sweet potato, peeled and grated

100g chopped pecans

180g self raising flour

pinch of salt

1 tsp ground cinnamon

1/2 tsp freshly grated nutmeg

1/2 tsp mixed spice

You will also need a 13 x 23 cm loaf tin – but I used 2lb size and only used 85% of the mix.