This month I have been baking five recipes from Rachel Allen's Bake. This time I have baked red velvet cake for the first time.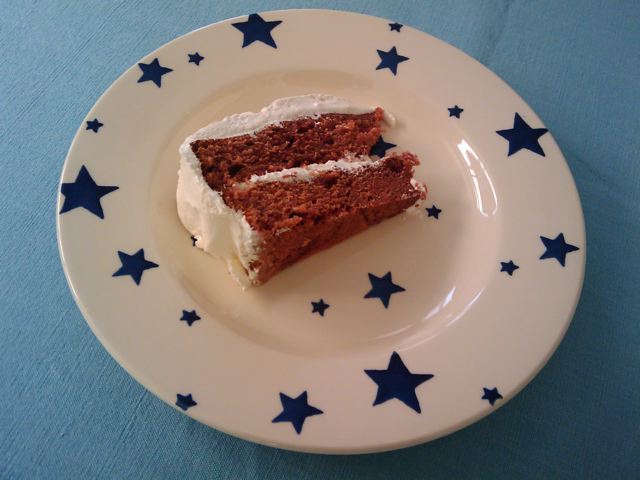 Although this is my last Bake Five blog using Rachel Allen's Bake, I can honestly say that I will go out and buy this book.  It's been a while since I picked up a book and wanted to cook and cook with it but this one ticks that box.  I wanted my fifth Bake Five entry to go out with a bang so I picked what she describes as "the Dolly Parton of cakes", Red Velvet Cake as my last effort (this month at least).
I felt like I'd spent 3 days making this cake.  I had some of the ingredients weighed out on Friday when I made the Beef, Stout and Anchovy Pie .  It had been my intention that we have the red velvet cake as pudding for our fifth wedding anniversary meal.  As it happened, I realised that there were a lot more stages to this cake than I was used to; whisking egg whites twice, once for the cake, again for the frosting so I decided to wait until Sunday when I had more time.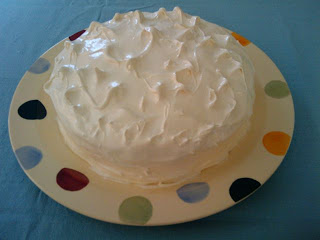 For this recipe I got my hand mixer out for the first time in years.  I always approach whisking egg whites with some intrepidation but I had nothing to fear as they whisked up very nicely.  The frosting too, was an adventure for me.  She says to use a heatproof bowl over a saucepan of boiling water but I have a stainless steel porringer/double boiler which I find much easier and safer.  It's also nice and deep for the hand mixer!  It was a variation on American frosting with golden syrup and turns out like melted marshmallows.  One problem I had with this cake however was that it was not red enough.  Rachel says to use 2 tsp of red food colouring or half tsp of red food colouring paste.  She says it should look very red and to add more if you need to.  I ended up putting a whole bottle in but still it was browny pink at best.  Maybe food colouring paste is more intense?  I know it's more expensive, perhaps that's why.  The frosting worked well but stays sticky on the surface.  I covered it with baking parchment beneath foil to keep fresh as I didn't have a tin big enough for it.  This was okay for first 24 hours but then the frosting started to attach itself to the paper.  I wonder if this is because I used 3 medium egg whites instead of 2 large ones?
The sponge tastes great.  I am not a huge fan of sponges but this feels like there's a bit more to it than airy fairy cloying sponge.  The frosting is very tasty although my husband and I are finding a whole cake's worth of it quite challenging.  Chunks have been sliced up for neighbours!
Ingredients:

150g butter, softened
300g caster sugar
1 tsp vanilla extract
3 eggs, separated
250g plain flour
25g cornflour
1 tsp baking powder
2 level tbsp cocoa powder
250ml buttermilk
Red food colouring – either 2 tsp liquid colour or half tsp thick red food paste
Pinch of salt
1 tsp white wine vinegar
1 tsp bicarbonate of soda

For the frosting:
2 large egg whites
250g caster sugar
50g golden syrup
Pinch of salt
quarter tsp cream of tartar
2 tbsp water
1 tsp vanilla extract

You will also need 2 x 9inch diameter sandwich tins each 2inch deep

Find the original recipe on RTE here.
Find out how I have got on making other Rachel Allen recipes or check out Rachel Allen books on Amazon.