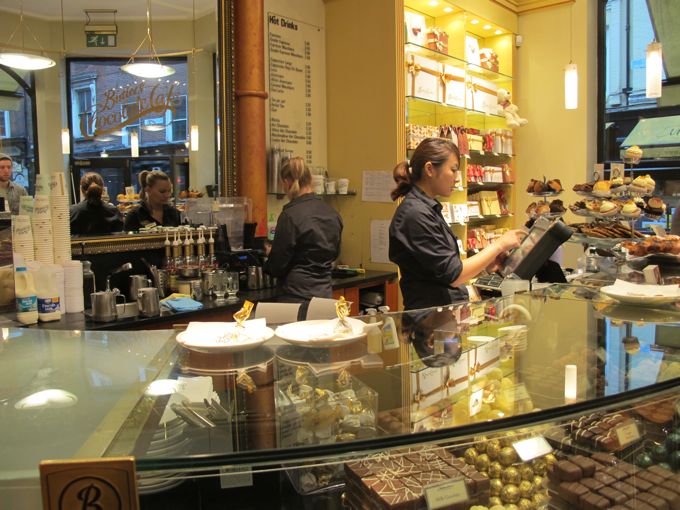 Last weekend whilst Maison Cupcake was whizzing through the air between Blogger and WordPress I was whizzing through the air myself from Birmingham to Dublin.
Ted was safely despatched on Grandma's boat for the weekend whilst Nick and I had two nights away as a joint celebration for our wedding anniversary and his 40th birthday.
We spent a peaceful if somewhat wet weekend taking refuge in various shops and cafes along the way.
Most of our meals were eaten on Exchequer Street and I had spied the Butler's Chocolate Cafe with interest. We managed to shelter from the drizzle and squeeze in a visit for hot chocolate and a macaroon before leaving for the airport on Monday morning.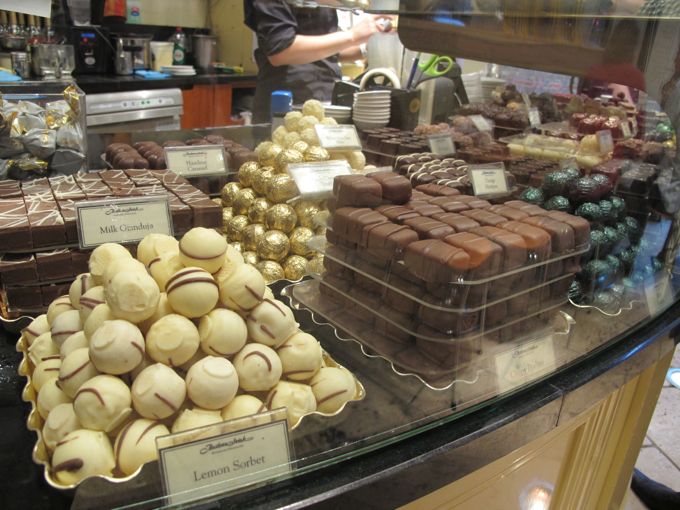 Butler's Chocolate Cafe is a chain of a dozen or so branches mostly dotted around Dublin and others in Cork and Galway. There are also a handful further afield – New Zealand, New Jersey and the UK one is at Westfield White City. I shall definitely be popping by on my next shopping trip there.
I cannot think of an equivalent chain in the UK, this lovely cafe has a very continental feel and would not look out of place in Belgium. They sell hot drinks, their own brand of chocolates and a selection of cakes and cookies. There are lots of beautifully wrapped gift sets to take away too.
Seated opposite a mesmerising flat screen tv showing a loop of what can only be described as chocolate porn, we each ordered the hot chocolate – one white and one normal and shared a coconut macaroon. Since I have made so many macarons, I thought I ought to try the coconut macaroon version. I think I'll stick to the French style in future but it made a nice change.
Alas our trip to Dublin was too brief to go to Butler's more than once but I will shortly do some other posts about other places discovered on our visit.
In the meantime, it's time for that giveaway….
Giveaway – Interflora Tower of Treats hamper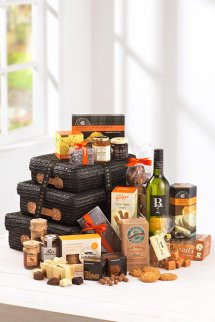 To celebrate the relaunch of Maison Cupcake on WordPress I am offering you a chance to indulge yourself too with this fantastic giveaway from the hampers selection at Interflora. The Tower of Treats hamper has an RRP of £60.
You may not have realised that these folks don't just deliver flowers but that they have a range of foodie treats for all occasions too.
Take a look at this list of what you could receive in this giveaway:
Presented in a Tower of Black Wheatbraid Baskets with Ribbon Tie
Rietvallei Estate "John B" White Wine 2005 75cl
Edinburgh Preserves Sun dried Tomato Chutney 90g
Cocoa bean Chocolate Marshmallows 150g
Farmhouse Honey Crunch Biscuits 150g
Gift Ballotin of Belgian Chocolates 6's
Gift Ballotin of Belgian Chocolates 6's
Fudges Cheddar Cheese Straws 100g
Cairnsmhor Orange Spicy Biscuits 200g
Mr McKenzie's Oval Basil Biscuits 150g
Cocoa bean Choc Bar with Chili Flakes 100g
Treegate Freedom Teas 15's
Dormen Salted Pretzel 25g
Mrs Bridges Four Berry Preserve 113g
Cairnsmhor Tomato Chili Cocktail Oatcakes 150g
Kshocolat Cocoa Dusted Coffee Beans 40g
The Fudge Tree Clotted Cream Fudge 125g
Cocoa bean Cube with Chocolate Peanuts/ Raisins 100g
Edinburgh Preserves Wholegrain Mustard 100g
The MacAllan Whisky Marmalade 113g
Kshocolat Toffee Balls 40g
Highland Croft Mini Bites Apricot & Mango Crumblies 125g
Rules

This giveaway is open to all readers with a UK mailing address. International readers are also welcome to comment on the post however a new name will be selected until a UK reader has been drawn. The winner will be chosen using an online randomiser and announced in a subsequent post on this blog.

There is one mandatory way to enter and several ways to get bonus entries. You must leave a further separate comment for each bonus entryotherwise they will not be counted.

Closing date: midnight BST on Monday September 20th.

1. MANDATORY: Leave a comment on the bottom of this post.

Note for entrants commenting without website addresses: You will also need to leave your name/town in the comment and then email me separately at sarah AT maisoncupcake DOT com to tell me your own email address and confirming your name/town so I know which commenter you were. Unless I can match up your comments with valid contact details, I won't know who you are.




2. SECOND CHANCE TO WIN:

Using Twitter, Tweet a link to this giveaway as follows "Interflora hamper RRP £60 to be won @maisoncupcake blog"

with a link to this post

as it may no longer be on the home page by the time you tweet. Then leave a separate comment saying you've done so.

3. THIRD CHANCE TO WIN:

Follow this blog with Google Friend Connect in the side bar of this blog. Then leave a separate comment saying you've either just done so or already were.

4. FOURTH CHANCE TO WIN:

5. FIFTH CHANCE TO WIN:

Share a link to this post on Facebook then… you know by now… leave a separately comment saying you've done so.
Good luck everyone!