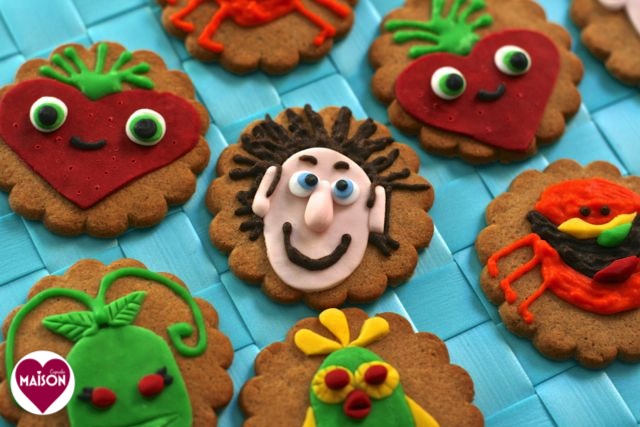 Cloudy with a chance of anything is preferable to "Cloudy with strong likelihood of driving rain and floods".
The sun has come out once more but even so, these cheerful character cookies have cheered me up with their bright colours and happy faces!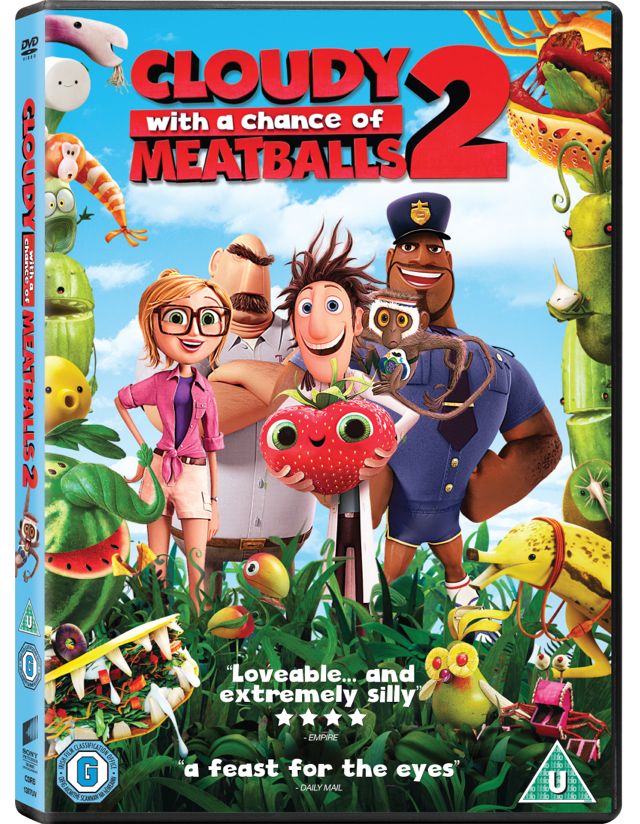 They're all in aid of the new DVD and Blu-ray release of Cloudy with a Chance of Meatballs 2 from Sony Pictures Animation which is available now.
The sequel follows inventor Flint Lockwood on his quest to battle the food-animals or "foodimals" being churned out by the machine he thought he'd destroyed in the first movie. Now Flint Lockwood and his friends much save the world from hungry taco-diles, shrimp-anzees, hippotatomuses, cheespiders and more!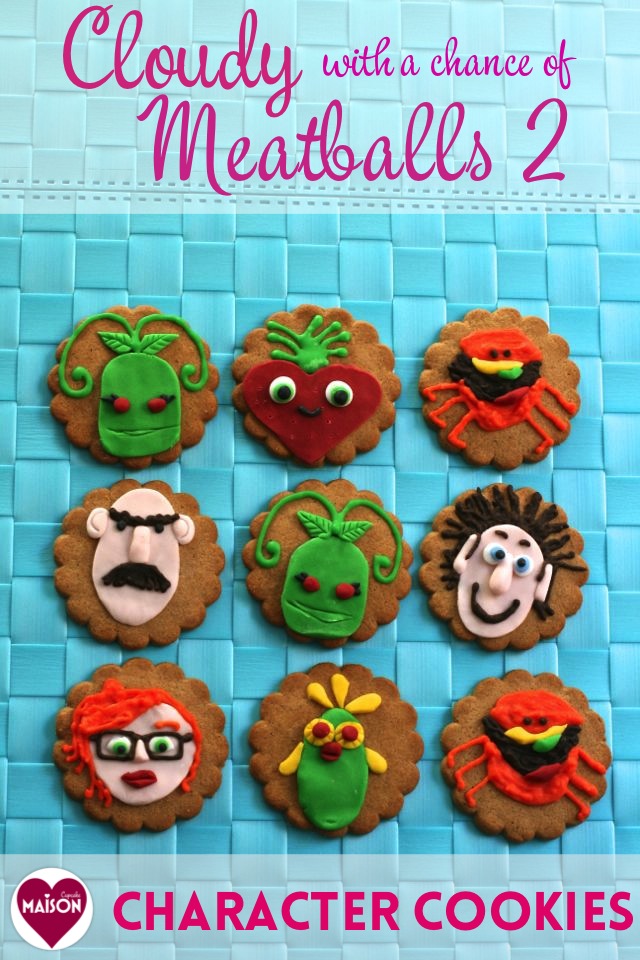 Reproducing some of the characters on cookies was a lot of fun. I studied the DVD artwork and sketched several designs. Then I made a list of which colours of icing and sugarpaste were needed.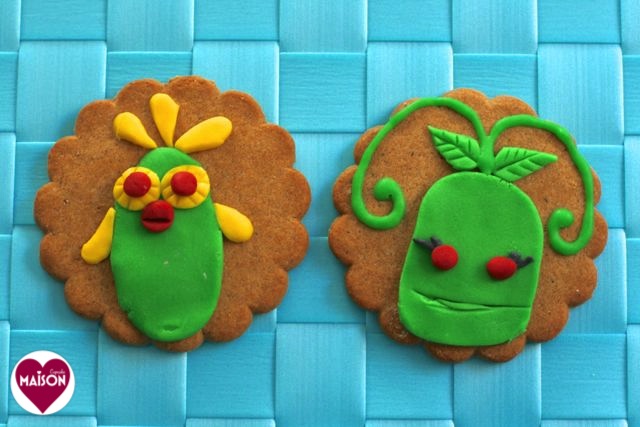 My favourites were these guys – a bird made from a mango and pineapple rings and a lady who is either a courgette or green bean or something.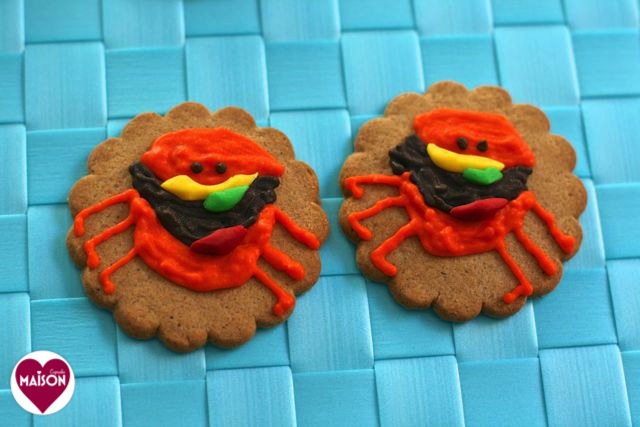 I find the cheespiders (cheese burger spiders) rather freaky but felt I couldn't leave them out since they were one of the main foodimals!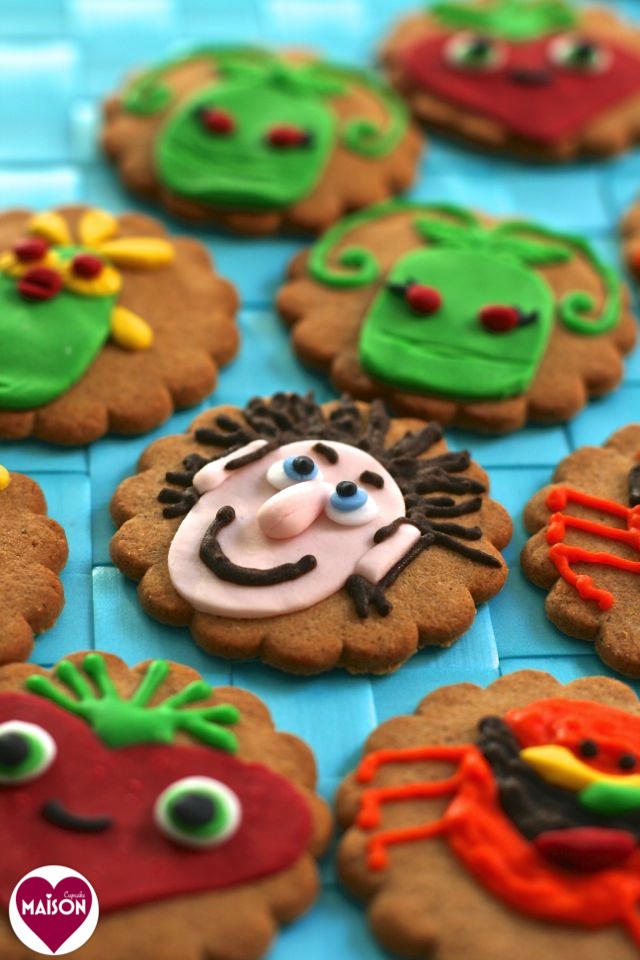 I was very pleased how Flint Lockwood came out – he has an air of Wallace and Gromit about him!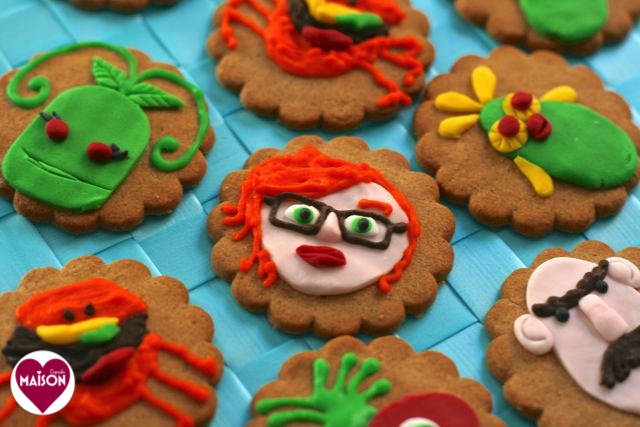 Samantha "Sam" Sparks is actually blonde but I had some orange icing knocking about and one does have to cut a few corners with these jobs to simplify number of icings used otherwise you can go crazy.
When I did photoshoots for my book I had up to twenty eight types of icing in a wall of labelled IKEA tubs so this job requiring only 3 piped colours and mostly out-of-the-pack sugarpaste colours was much much simpler!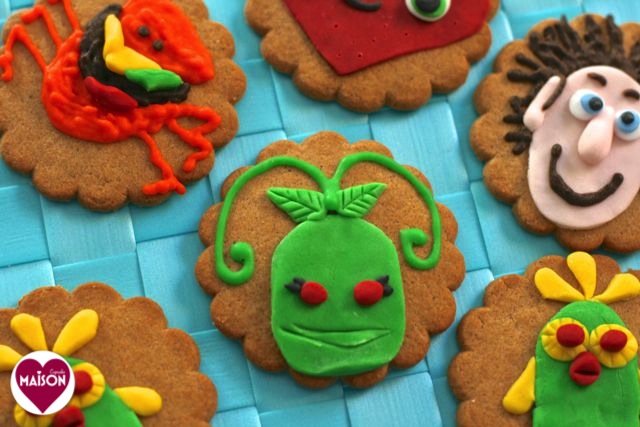 As with most of my designs, there's a minimum of sugar paste tools required. I used a tiny heart cutter to do various shapes such as the cock's comb on the mango-birds and leaves on the courgette-ladies.
The eyes are made from handrolled balls of sugarpaste. Everything is stuck down with a paint brush dipped in water and royal icing and extra details made by hand with an old butter knife with a thin blade.
As a final cheat, these are IKEA gingerbread biscuits! Yes I could make my own but honestly, for lots of uniform sized and baked biscuits, these guys really do the job. If I were decorating similar biscuits for a kids' party, I'd totally do this again.
My own ladybird cookies had the same crinkly edges and they're made from the same gingerbread that Christmas gingerbread house kits are made from rather than Gingernut style. I bought a huge cardboard box of them for around £2.
Can you make up a foodimal name of your own?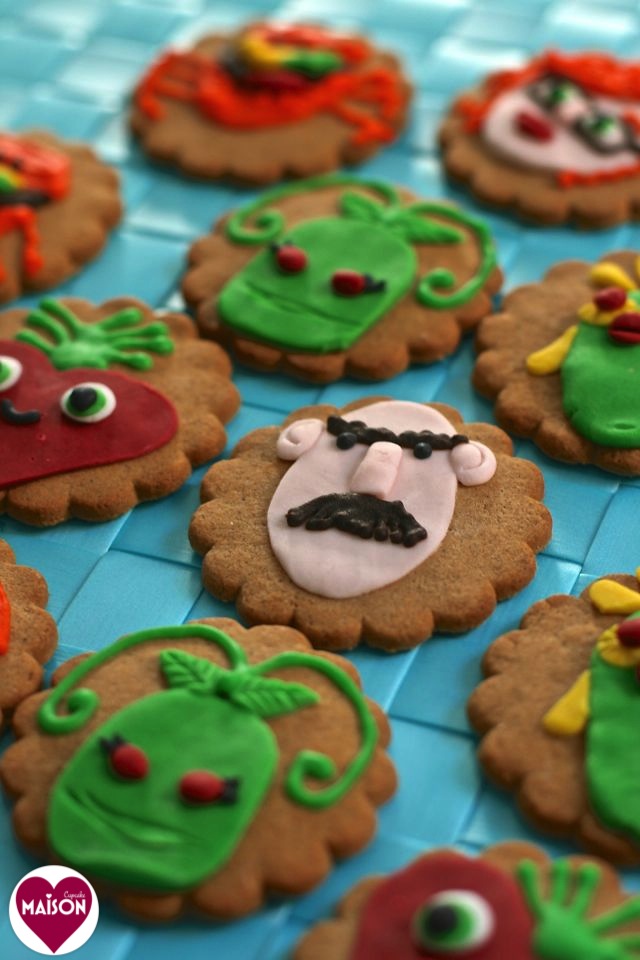 Post commissioned by Sony Pictures for a fee. Cloudy with a Chance of Meatballs 2 is now available on DVD and Blu-ray.