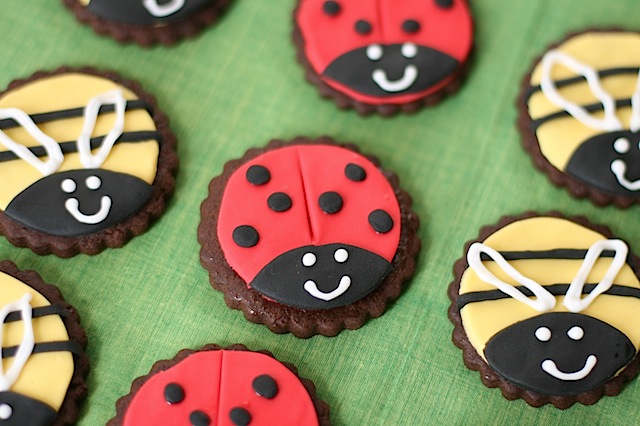 The weather may keep kidding us it isn't spring yet but I'm full of the joys of it with these ladybirds and bumble bees chocolate cookies.
I was especially pleased with how these came out because my husband actually asked if he could take them in to his colleagues at work. The feedback was that an office full of graphic designers all loved them and declared them to be "very graphic"!
My other reason for being particularly pleased with these little bug cookies was that they're made with the simplest of sugarcrafting kit – all you need is two round cutters (one slightly bigger than the other – crinkled edges not essential), some pre-coloured sugar paste in primary shades such as the Dr Oetker kits sold in the supermarket and one disposable piping bag. The less faff with specialist stuff the better I say.
I was inspired to create these after hearing that the National AIDS Trust were holding a baking competition with a Birds and Bees theme to encourage people to talk about safe sex and HIV. To enter, all you need to do is email or post a picture on their Facebook or Twitter page before the deadline on May 25th.
The competition will be judged by My Cupcake Club Magazine and the National AIDS Trust chief executive. The winning entry could end up being published in My Cupcake Magazine.
The National AIDS Trust has run their Bake Aware campaign for the past couple of years. I have blogged about it previously with my glittery Dorothy red ribbon cookies for World AIDS Day.
There are so many baking fundraising initiatives these days. Which ones have you taken part in?