Everyone loves Baileys and it's very easy to make Baileys cupcakes with Baileys buttercream.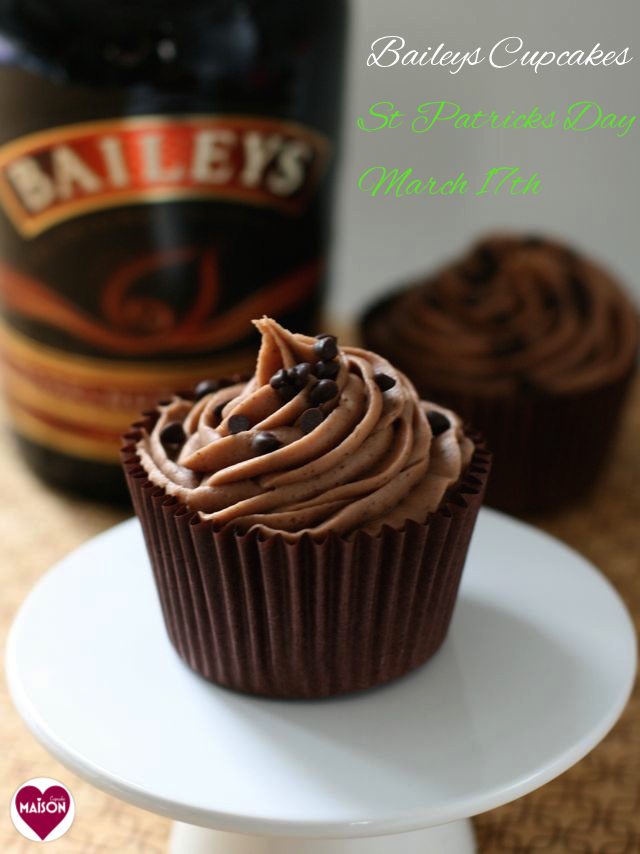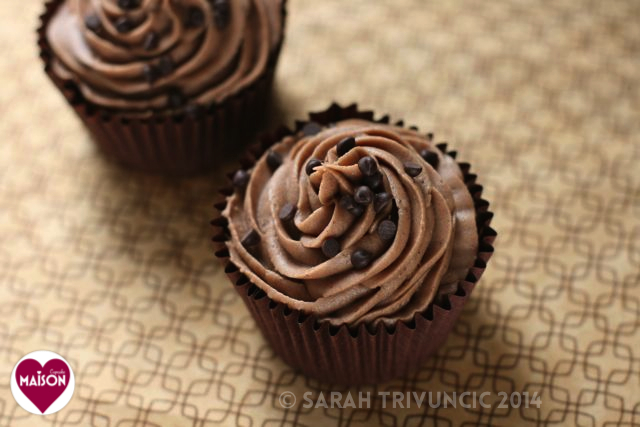 Making Baileys cupcakes for a wedding
Last month a friend of a friend wanted 100 cupcakes for her wedding and also a simple white cake to slice. We discussed lots of interesting flavour combinations for her big day and one of my favourites was Baileys cupcakes with Baileys buttercream icing.
The Baileys cupcakes which featured my favourite cream liqueur in both their buttercream and sponge bases.
The tricky thing about making a large quantity of cupcakes is that you have to start work as late as possible in order that they be as fresh as possible. I baked five batches of cupcakes from dawn til dusk although annoyingly I had to make a 3.5 hour emergency dash to Bluewater in the middle of the day due to cupcake case problems (I may do a post about this issue on it's own, it really needs pictures to explain it properly) and then it was time to collect Ted from preschool so the baking did not recommence until evening. From the early hours of Friday I was decorating them until they were ready for collection mid afternoon.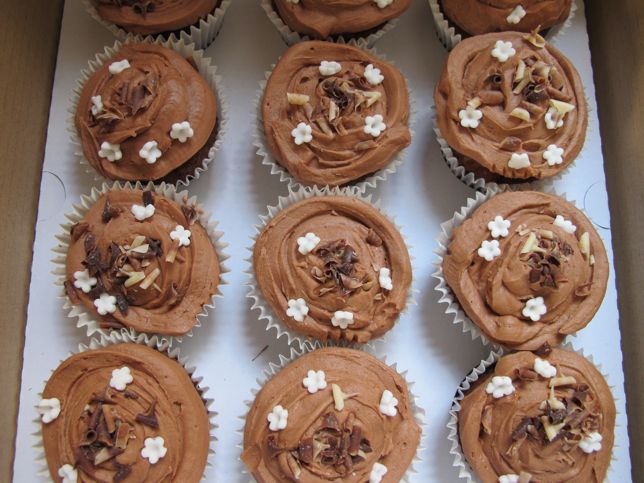 Phew. I felt quite emotional when I saw them all stacked up in the hallway waiting to leave!
You'll notice these wedding cupcakes are not white – the five flavours were each a different colour but presented in white broderie anglaise cupcake wrappers and decorated with the same white fondant flowers (hand stamped by my fair hands, all 600 odd of them!). I am hoping to get a picture of all five flavours shown on their cake stands at the venue from the bride when she's returned back from her honeymoon.
So tell me, when were you last up against the clock? Did you make your deadline?
Chocolate Bailey's Cupcakes with Chocolate Bailey's Buttercream Icing
Author:
Prep time:
Cook time:
Total time:
Serves:
24 large muffin size cakes or 36 standard bun size or 48 mini muffin size
You will also need: 12 hole muffin tins and 24 paper cases – or more smaller tins and greater number of paper cases according to size desired (see above). You can also use a piping bag (mine are disposable one with the ends snipped off) but it's equally fine to spread the buttercream on the bases by hand.
Ingredients
(for the Baileys cupcakes)
275g self raising flour
275g caster sugar
275g softened butter
25g cocoa powder, sieved
6 large eggs
2 tsp vanilla extract
2 tablespoons Baileys or other Irish cream liqueur
(for the Baileys buttercream)
750g icing sugar
25g cocoa powder, sieved
250g softened butter
100ml Bailey's or other Irish cream liqueur
1 tsp vanilla extract
Instructions
Preheat oven to 190c or gas mark 5. Simply quickly blitz all ingredients for the cupcake bases except the Bailey's together in the food processor. Drizzle the Bailey's in last through the funnel before pulsing a few times to a smooth batter. Do not over mix.
Spoon the batter into large muffin cases in a 12 hole muffin tray so that they are around two thirds full. Bake for around 15-18 minutes. For 12 large cupcakes I set the timer for 12 minutes, turn them around on the shelf and leave for another 6 minutes. For standard cupcake size and mini muffin size I set the timer for 10 minutes, turn around then give them a further couple of minutes until done.
The centres may erupt like little volcanoes but that's ok, you can lop off these peaks if you want to ice them flat or pipe icing in a spiral to emphasis their shape!
When the cakes are done, a cocktail stick will just about come out dry. With practice you get the confidence to know how early this is, leaving them even a couple of minutes beyond this point will make your sponge too dry.
Leave to cool in the tins for a few minutes before transferring to a wire rack. Allow to cool completely before covering with icing.
For the buttercream, beat the softened butter and Bailey's with an electric hand mixer or free standing mixer until very soft and fluffy. Sift on the icing sugar and cocoa several table spoons at a time and incorporate. The more you do at once the more it gets wafted round the kitchen covering everything so it's best to go slow. When all the icing sugar is mixed in, add another tablespoon of milk if you think it's still too stiff. Beat the buttercream with the mixer for several minutes, it will go fluffier and lighter. Remember that although it will be soft and squidgy now, the surface of the buttercream will go harder when it's had a couple of hours to dry out on the surface of a cake.
Paste your buttercream over the cupcake bases using a small palette knife or pipe it onto them in spirals. Decorate with chocolate curls and fondant flowers or using the decorations of your choice.
Notes
You can bake the cakes at 180c or gas mark 4 for slightly longer if you wish. This may help avoid the volcanic peaks.[br][br]Making buttercream in the food processor instead of with an electric hand mixer stops your kitchen getting covered in a cloud of icing sugar.