In my recent review of Carluccio's I rattled off a list of high street pizza chains that were not easily differentiated. That week, Fire and Stone, yet another pizza chain, invited me to check out their menu. With just five branches so far (three in London then Portsmouth and Oxford) even a serial chain restaurant frequenter like myself had not tried Fire and Stone before so I accepted their offer.
Some half dozen classics are there too and three of the European themed toppings are Italian influenced anyway.  There are also pasta dishes and salads.
We opted for the Meditteranean antipasti sharing platter featuring pitta triangles, olives, cornichons, cured meats, rocket, hummus and taramasalata. Generous enough for 2-3 to share, this was excellent value at £7.45 and made a pleasant change to tomato and mozzarella salads elsewhere.
The children's menu is good value at 4.95 offering a choice of pizzas with traditional toppings such as ham, mushroom and pepperoni, a vegetable or a meat pasta option or a children's version of the antipasti plate.  An ice cream dessert and soft drink are included – it can really bump up the price of taking kids out to eat if you are paying a fiver for their food but are being fleeced up to 3.00 for some fruit juice.  A sensible touch is serving children's drinks in tough plastic beakers so you don't need to decant juice into your own cups or risk tall glasses getting knocked over or spilt.  A fold out colouring and puzzle book is provided with crayons.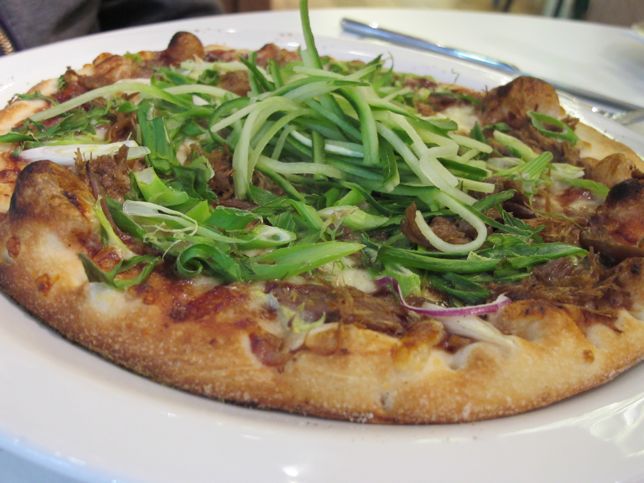 My husband opted for a "Peking" with duck, Hoi Sin sauce, mozzarella, cucumber and spring onion; I'd banned him from picking anything traditional.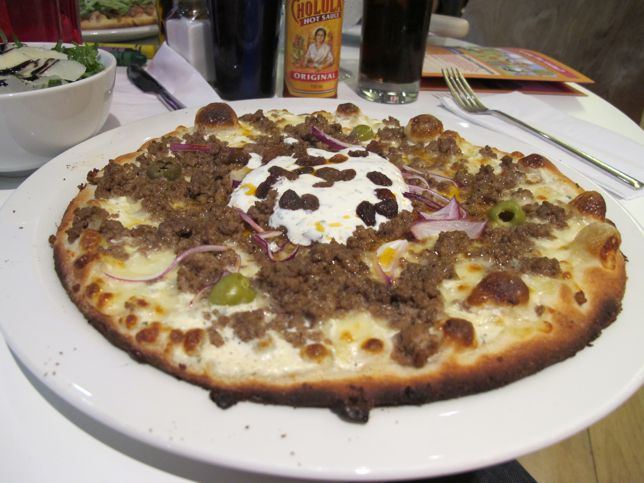 I chose the "Marrakech" with cumin spiced ground lamb, mint yogurt sauce, raisins, red onion and green olives drizzled with chilli oil.  The flavours on top went really well although halfway through it did feel start feeling like a giant keema naan and my base was done more than I would wish. Alongside we had a parmesan, rocket and balsamic vinegar side salad and some Cholula spicy Mexican sauce.
I was given a pizza wheel to cut my "Marrakech" although this really didn't work on a curved plate. I now understand why Pizza Express serve their Leggera pizzas on a flat slate.
Fire and Stone offer a massive choice of pizza toppings – there must have been around 30 all priced around £7.45 to £8.95. I felt their range was good as a change but part of me kept wishing my pizza had some tomato on it. Fire and Stone would be the place to go if one of you fancied pizza but the other was wavering towards something else. Some toppings work better than others – the duck and hoi sin sauce lent itself to pizza better than my ground lamb which was a bit dry. Ted's ham and mushroom pizza and my "Marrakech" were blackened around the edge and I'm not sure if that's their style or ours were just overdone.
There were good baby changing facilities in the disabled loo although on the day of my visit, the ladies', although a good size, clean and tidy, had run out of toilet paper in the first cubicle, nearly run out in the second and had a seat that wasn't screwed down properly in the third. So room for improvement there…
On a more positive note, the restaurant has plenty of room between tables so if you were in a group with a couple of buggies you'd not feel penned in. This branch had at least 10 high chairs so they're well geared up for lots of children at the same time.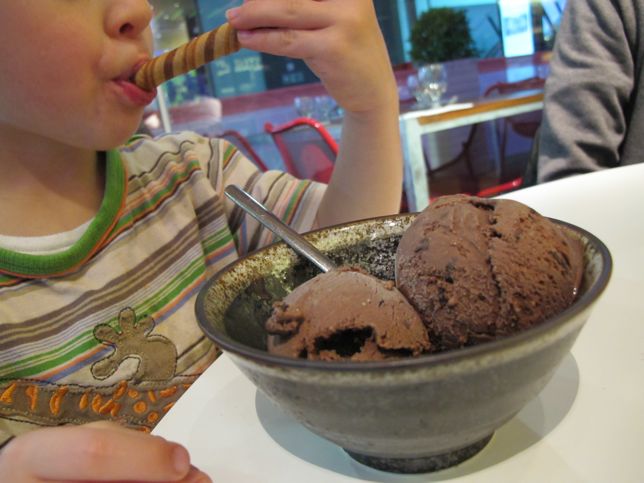 For dessert Ted enjoyed the chocolate ice cream that came with the kid's menu and my husband ordered the lemon tart at 4.95. That scoop you are see above is actually cream and not ice cream, I don't remember whether we were offered a choice but I would not have wanted such an enormous amount of cream with my dessert.
Two desserts offered were called "Mini" desserts and priced at 2.95. I picked the chocolate mousse which I loved. It was perfectly sized and featured chunks of brownie. More restaurants should offer these mini desserts for when you want a taste of something sweet afterwards but are too full to manage a full size portion.
Prices at Fire and Stone are similar to the usual pizza chains although money off voucher deals are not as frequently seen as elsewhere. They do however do lunch deals for 4.95 on Mondays to Wednesdays and will be running a promotion over the half term period 23-31 October for kids to eat free (main, drink and ice cream from kid's menu) so if you fancy giving them a try, these would be the best times to go.
I would visit again but next time I would choose a topping that included tomato – such as "Acapulco" (chilli beef, tomatoes, jalapenos, mozzarella, sliced red onions topped with sour cream and guacamole) or "Melbourne" (tomato, butternut squash, red onions, brie, mozzarella and pumpkin seeds).
Shops at Spitalfields are open 7 days  a week but if you want to catch the market, Sunday is the best day with limited stalls running on Thursday and Friday.  My neighbour Sharon runs a brilliant children's wear stall called Mini Mod on Sundays so look out for her if you visit that day.
With thanks to Fire and Stone for the invitation to review.