Today's post is a return to my series of child friendly restaurant reviews, "Dinner with Crayons".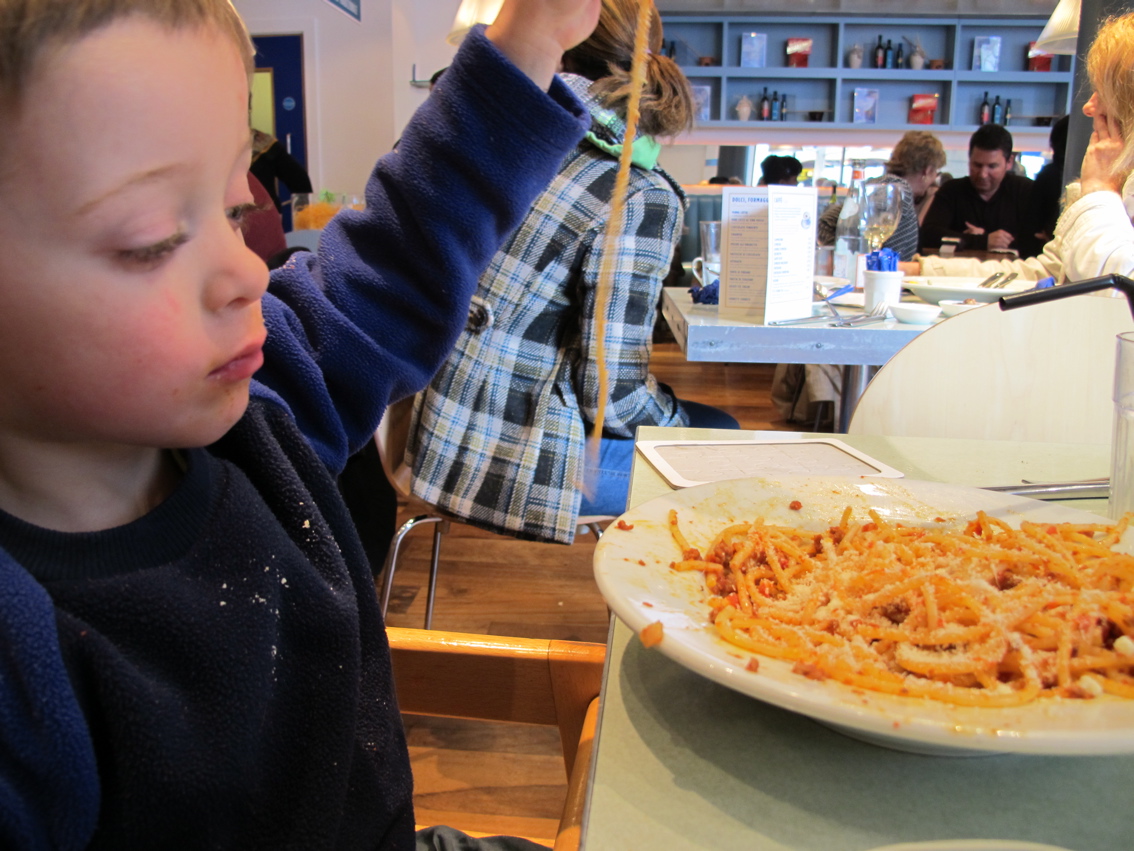 The high street is stuffed with places to eat Italian food: Pizza Express, Strada, Ask, Zizzi, Prezzo. Their menus are roughly similar so when sat in front of your generic wired gerbera waiting for a Fiorentina, you could well forget where you are.
Carluccio's is different. The interior looks like none of the above and with it's chef-y name tag, upmarket locations and pricey in-house delicatessens, I'd assumed that the restaurant was expensive. Unlike competitors, Carluccio's does not run virtually permanent 2 for 1 eating out vouchers meaning it rarely showed on my reliable radar, the Moneysavingexpert.com restaurant discounts page. So I was pleased to learn their prices are competitive with Pizza Express etc and they also offer two course set menus for around £10 making the final bill similar to one of the fore-mentioned chains.
Carluccio's menu doesn't usually feature pizza, their specialities are good quality pasta dishes and meat or fish courses. Their menu looks like it belongs in an actual Italian restaurant rather than an Anglicised version for the masses.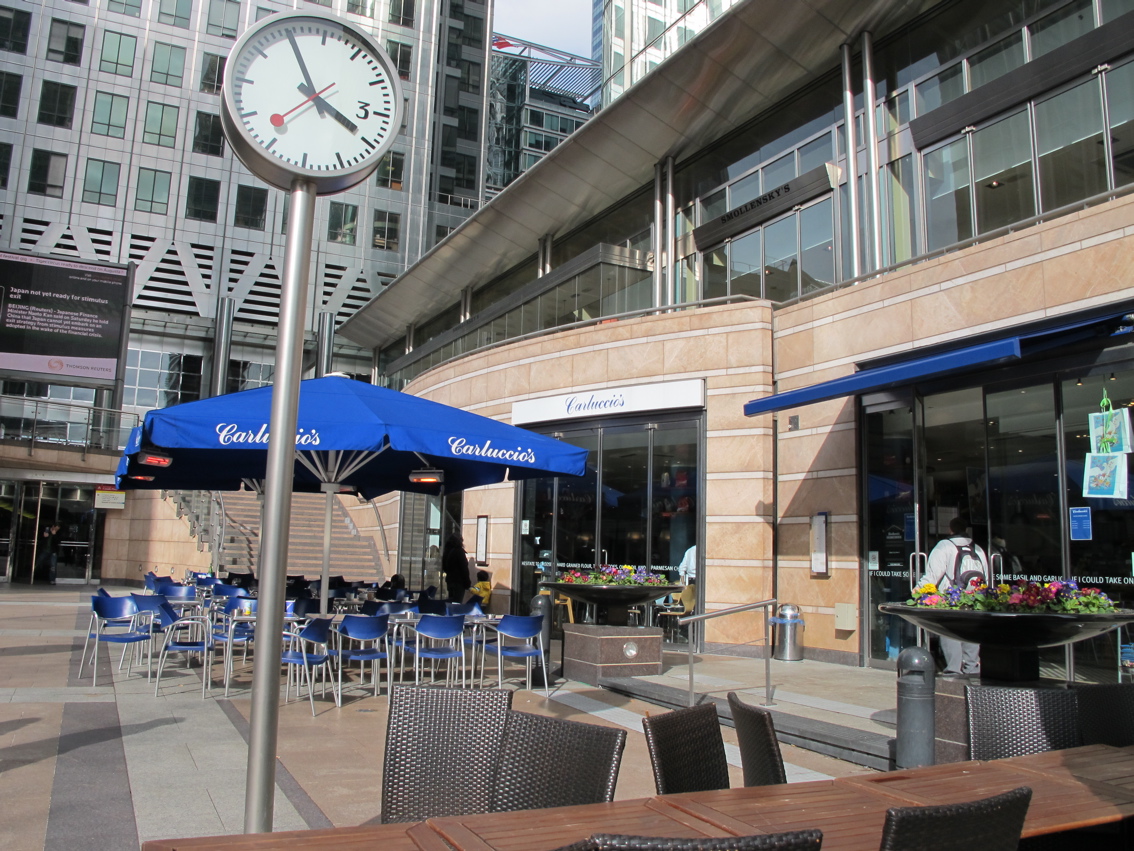 In the past two years we have eaten in three branches of Carluccio's; Windsor, Brunswick Centre and most recently as pictured today, Canary Wharf. Close to Cabot Place underground shopping mall and Canary Wharf tube station, for summer there is outdoor seating in the shadow of the iconic Canada Tower. I love the blue umbrellas, the strong colour really stands out.
As I have mentioned before in my review of Wahaca, the shops and restaurants in Canary Wharf make it an excellent destination for eating out and shopping in East London at weekends for there is a large amount of choice and heavily discounted parking (£3.50 for up to five hours instead of £12) for anyone spending a minimum of £10 in the local shops or restaurants.  It's also much quieter than say, nearby Greenwich.
We each opted for the £10 two course menus and Ted enjoyed the £6.25 children's menu. During our visit this featured a cup of grissini breadsticks, a choice of penne or spaghetti with either tomato, pesto, butter or ragu; ravioli, lasagne or breaded chicken with potatoes. There's an individual tub of ice cream for pudding and an attractive pack of colouring materials featuring a jigsaw and wooden pencils (much nicer than those cheap wax crayons that snap straight away).
Children's portions were very generous. The spaghetti was easily the same size as the grown up portions!  The tomato sauce was the perfect consistency, not too watery so a little person can pick the spaghetti up with their fingers without getting in too much of a mess.
My husband and I ordered penne with a spicy italian sausage sauce and and the ravioli with ricotta and spinach in butter and sage.  This ravioli was particular winner with me, the pasta tasted home made and the dish was not too heavy to eat in the middle of the day.
Ice cream confused me. Grown ups get scooped ice cream that is soft enough to eat straight away. The children's one comes in a cardboard tub and is rock hard for several minutes so I fed Ted mine since it would be cruel to eat it when his wasn't ready! The product appeared to be the same – densely chocolatey and not too sweet.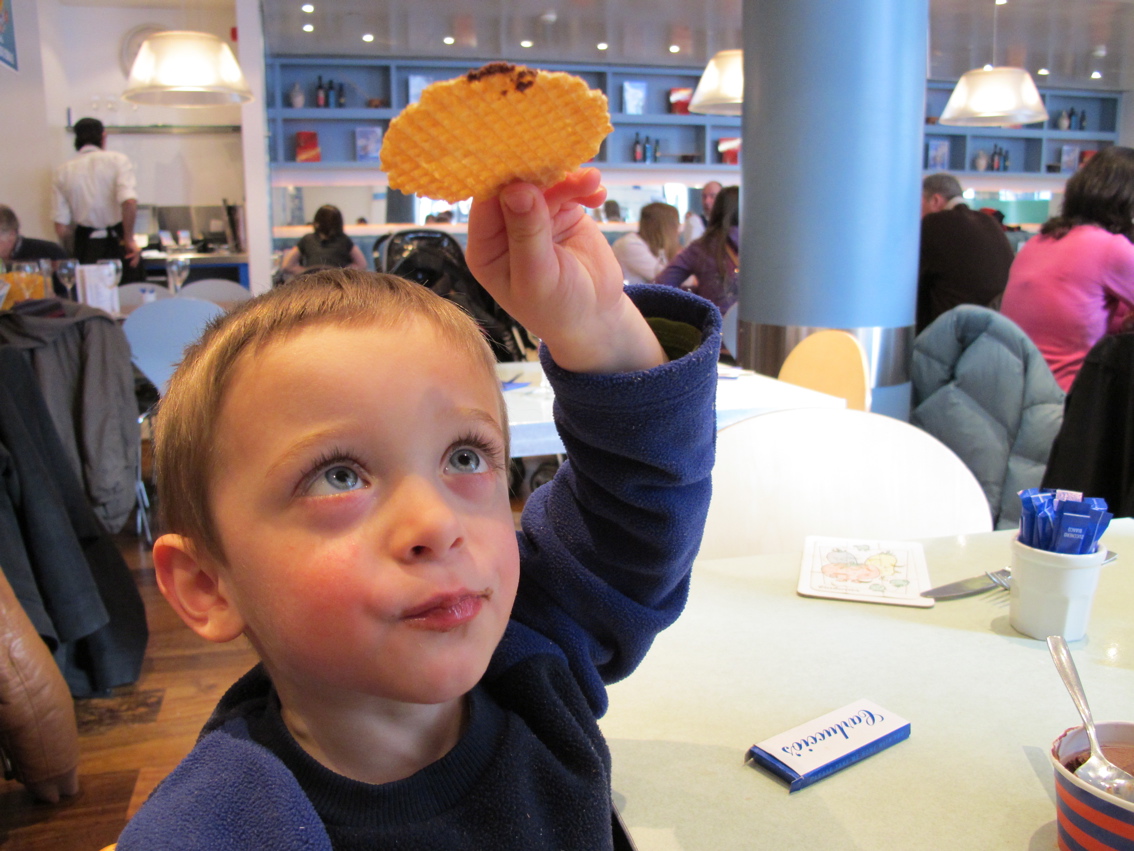 Ted takes the instruction "hold the biscuit up for the camera" a little too literally!
The total bill came to around £30 including three soft drinks.  All branches I have visited have had changing facilities in the disabled loo. Cubicles have been unisex ones with individual sinks and hand dryers – packed into a very confined space and not great if you have a child who is scared of hand dryers or you are having to negotiate unfolding travel potty seats like we are right now.
Afterwards, if you are not too full to look, you can visit the deli. Items are not cheap but the products are authentic and standards high. My favourite things to buy there are pappardelle pasta and cinghale sauce (wild boar) which paired together remind me of trips to Florence.
If you want to take lunch out somewhere a little more sophisticated than most high street chains, that is still child friendly, Carluccio's is an excellent choice. It's a shame though that their operations are so concentrated in the South East, the rest of the UK is definitely missing out.
Carluccio's Canary Wharf
Reuter's Plaza, London, E14 5AJ
Tel: 020 7719 1749
The Carluccio's website features pdfs of their current menus. There are around 40 UK branches, mostly in the South East (exceptions being Bristol, Chester and the Trafford Centre). Further afield there are branches in Dublin and Dubai.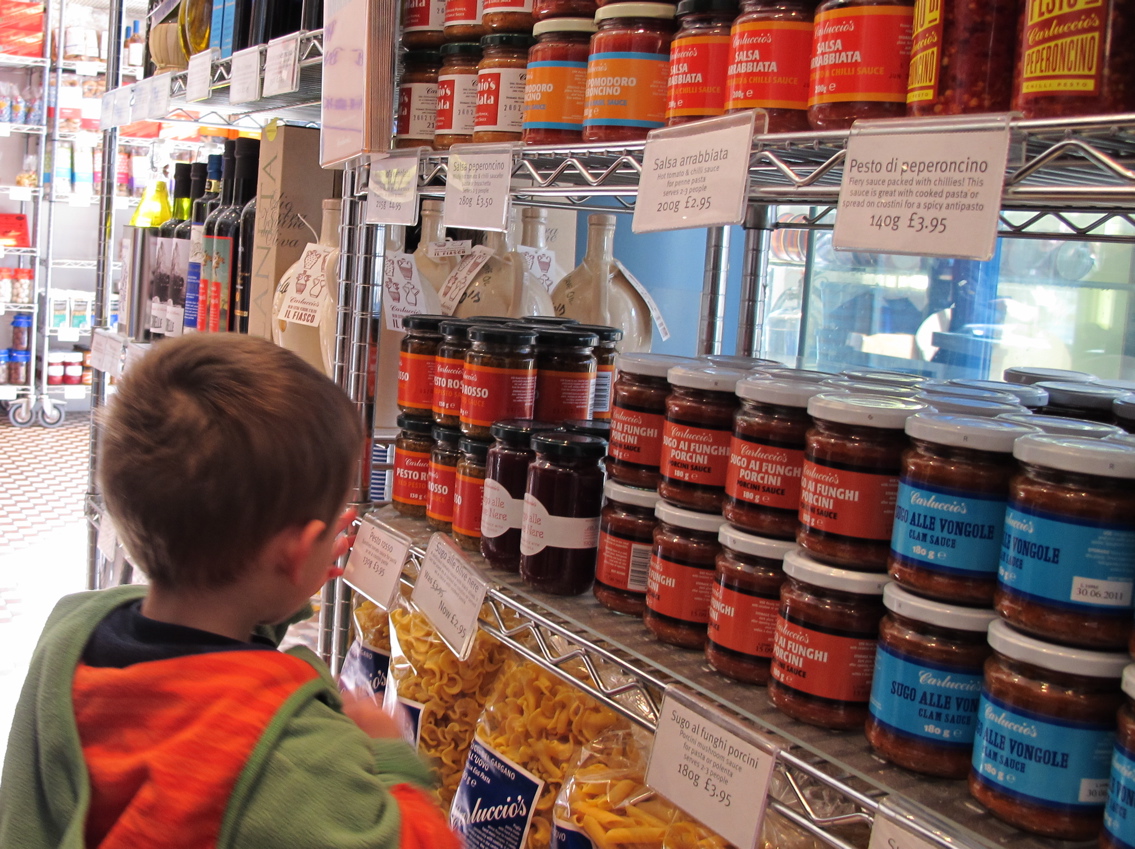 Interflora Tower of Treats hamper giveaway announcement
The winner of the Interflora hamper featured in the recent Butler's Chocolate Cafe post was Hayley Glenister of Middlesex. Hayley writes her own blog called Single Mummy.net. Congratulations to Hayley!