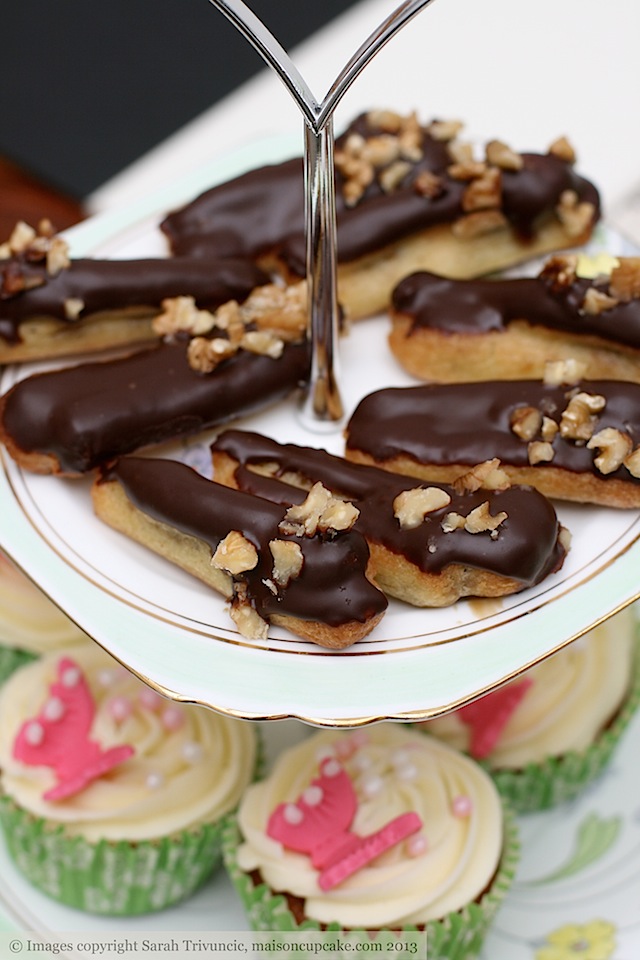 Eclairs, some people will have you, are the new cupcake. This is of course nonsense, eclairs have a short shelf life and are far more fiddly to make.
This isn't to say eclairs are difficult but there are more components each requiring more babysitting than cupcake sponge and buttercream.
Eclairs compromise a finger of choux pastry, a filling of creme patissiere and a topping of icing or chocolate. They were the essential "naughty but nice" cream cake in my childhood but seemed to vanish from all but provincial bakery shop windows until recently.
Eclairs can be customised as much as cupcakes and certainly, if you present your friends with home made eclairs they'll be impressed.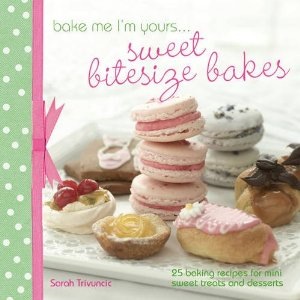 The core recipes for these coffee and walnut eclairs today are adapted from my book Sweet Bitesize Bakes where they originally appeared as coffee profiteroles – shown on cover on the far right behind the pink striped eclair!

These eclairs are for my hosting of Jen at Blue Kitchen Bake's Classic French event this month. Although one of the earliest Classic French themes was choux pastry, few of the entrants submitted eclairs so I thought it was worth making them a theme in their own right.
You don't need to stick to the flavours I have used, simply omit the coffee powder from the creme patissiere and reflavour with vanilla or something of your choosing. Likewise you can top the eclairs with glace or dipped fondant icing rather than chocolate. (The instant fondant icing by Silver Spoon in green packs would work well here).
I hope the fact there are 3 parts to this recipe doesn't put anyone off. There's no special equipment needed apart from a piping bag and and 5mm (for filling) but don't stress if you can't find exactly this size. A 15mm tip for piping the choux will give you a neater finish but a 15mm hole snipped in the bag will do the job too.
The total babysitting time for this recipe is around 60 mins preparation and 20 mins assembly with a minimum of 90 minutes required to chill the creme patissiere in between. You could make the choux fingers and filling the night before and fill in the morning or whenever you're about to eat them that day.
Classic French Challenge Rules:
Please use the Classic French logo on your post and tag with the label "Classic French" and include a link to this announcement page and Blue Kitchen Bakes.
Please add your entries in the link at the bottom, enter the name of your entry in the name box.
If you're on Twitter, tweet your links to @bluekitchenbake and @maisoncupcake using the hashtag #classicFrench and we will retweet any that we see.
You can enter as many times as you like and enter the post in other challenges as long as it fits in with their rules.
You can enter an old post if you want but please update with a link to the challenge and add the logo.
Don't forget that if the recipe you use is from another source i.e. book, magazine, website, blog to credit the original author.
All entries will be pinned to the Classic French Pinterest Board with links back to your post. If you don't want to be included on this board please let Jen at Blue Kitchen Bake know.
The challenge will run until 28th July.
Coffee and Walnut Mini Eclairs
Adapted from my own book Bake Me I'm Yours… Sweet Bitesize Bakes
Ingredients – for the choux fingers:
150ml water
50g butter
pinch of salt
1 tbsp sugar
75g plain flour, sifted
2 large eggs, beaten
1 large egg for glazing, beaten with a pinch of salt
You will also need a baking sheet lined with parchment paper and disposable pastry (piping) bag cut with 15mm hole
1. Preheat the oven to 220c/Gas 7. Grease and line several baking sheets with baking parchment.
2. Warm the butter, water, salt and sugar in a saucepan then bring to the boil.
3. Reduce the heat and add the flour. Stir quickly until the mixture forms a clean ball of dough.
4. Remove from the heat to cool slightly. Slowly add the eggs beating well until the mixture stands in soft peaks.
5. Fill a piping (pastry) bag fitted with a 15mm tip (or hole snipped in end) and pipe fingers onto lined baking sheets. Hold the bag with the tip almost touching the baking sheet and pipe 5cm lines of batter looping back on themselves. Choux puffs up a surprising amount so allow at least 3cm between fingers.
6. Brush the choux fingers with the remaining egg. Bake for 10 minutes until puffed and golden then lower the temperature to 180c/Gas 4 and bake for a further 15 minutes. The buns should be crisp and dry.
7. On removing from the oven, quickly pierce the side of each one with a skewer to let the steam out and cool on a wire rack.
Ingredients for the coffee creme patissiere:
1 tsp vanilla extract (I used vanilla bean paste today which gives pleasing flecks of vanilla)
225ml milk
3 large egg yolks
100g caster sugar
15g cornflour
15g plain flour
1 level tsp good quality coffee powder
Fills around 36 mini choux buns or 30 mini eclairs. Refrigerated creme patissiere will keep for up to 5 days.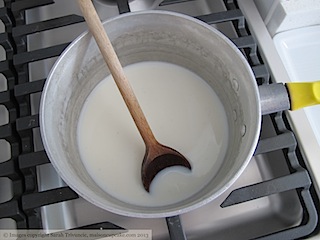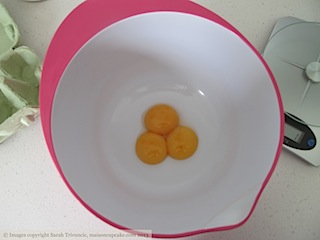 1. Heat the milk and vanilla in a small saucepan. Bring to the boil and simmer for a few minutes. Turn off the heat and cool for a minute.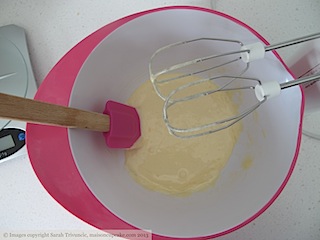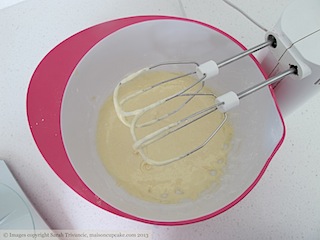 2. Meanwhile, whisk the egg yolks and sugar in a large bowl until they are pale then beat in the flours.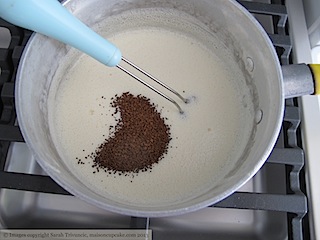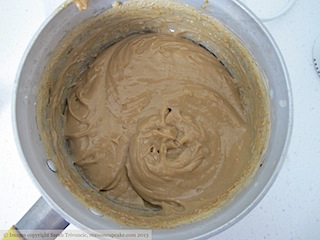 3. Whisking continuously, pour over the milk and then transfer back to the saucepan. Add the coffee powder, keep whisking and gently bring back to the boil and simmer for 1 minute.
4. Turn off the heat and pour into a bowl. Cover with a piece of cling film and leave to cool. Chill for several hours or overnight before use.


Two creme patissiere tips:
If it's too thin – take your time with each simmering. Be patient. To be on the safe side, hold back 50mls of milk from the initial simmering and add just as much as you need as the creme patissiere thickens during the second simmering.
If it's too thick – don't panic! Add more milk (going over the 225ml if necessary) and whisk vigorously – preferably with an electric hand mixer.
Ingredients for assembly and topping:
100g dark chocolate
50g walnut pieces
You will also need a piping bag fitted with a 5mm metal writing tip or thereabouts
1. Fill a piping bag fitted with a 5mm writing tip with cold creme patissiere and inject it into the choux finger by piercing the base with the writing tip in 3 places along the base. By making 3 smaller injections across the base of the finger it's easier to fill the length inside without ending up with all the cream at one end.
2. Melt the dark chocolate on low power in the microwave. (You can use a double boiler if you prefer although quite honestly for a small amount the microwave is more convenient). Dip the top surface of each eclair finger in the chocolate and stud with walnut pieces whilst still wet.
3. Serve as soon as possible. Best eaten the same day and certainly within 24 hours.
Enjoy your eclairs! I can't wait to see what lovely flavours and styles you come up with. Please link up your entries below and I'll post the round up on 1st August.
or this one which should show collection on a new page