A spring clean just once a year is too stressful, far better to keep on top of things little and often.
So one of my resolutions for 2011 was to hoover out my in-box with various stories I'd been meaning to share but which were never going to make a post of their own. Thus here goes with the first of a roughly monthly round up of titbits, videos, links and general stuff that entertained me lately.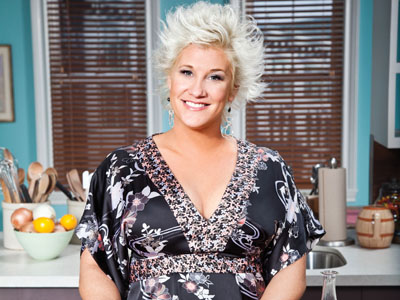 January is not normally a month associated with excitement but I have had more than a few eyebrow raising moments when staring at my inbox in the past few weeks. Not least of which was my invitation to Le Manoir's 1 day patisserie class which I will share with you very soon. Also in the past couple of weeks I met US chef
Anne Burrell
who was on a UK tour before her new series Secrets of a Restaurant Chef airs on the UK's
Food Network
channel (available on Sky). Not having seen the show I can't comment on it but it was an evening with a few eyebrow raising moments of its own.
Quite what the promise of "this rock-n-roll chef deconstructs one of her favourite meals" was meant to entail I'm not sure and in its place there was some enthusiastic squirting of tomato ketchup and a discussion that Meateasy was probably a sure fire winner for Anne to visit during her short stay. Our menu of belly pork (this is my new name for a dish of pork belly which is more belly than pork) followed by steak and chips at the
Marco Pierre White King's Road Steakhouse
was a bit of a letdown with the added annoyance that the staff had me down as a vegetarian leaving me sat at the table like a lemon waiting an extra 10-15 minutes for my steak.
I will say they did a great mushroom risotto for vegetarians, my only regret is that I didn't grab the sample plate given to the carnivores to try and eat it anyway. But hurrah! After more than a year I finally met Ms Marmite Lover and managed to have a good chat which would not be possible when she's slaving in the kitchen at her Underground Restaurant (which I finally went to yesterday – pictures soon!)
I was recently given a copy of US food writer, blogger and TV personality Mark Bittman's
"How to Cook Everything" app
which is now available on iPhone and iPad. Remarkably this app features 2000 recipes from his book of the same name and comes with bells and whistles such as filters for ingredients, cuisines and techniques, built in timers and an option to print recipes and shopping lists. Sadly the iPhone version which I looked at has no photographs making it quite dull read although I cannot help but be impressed by the concept to put an entire book into a phone. The iPad version, I am informed, includes pictures. I guess 2000 pictures would grind an iPhone to an untimely halt.
More colourful was the
WeightWatchers app
which I also tried. I'm still getting to grips with the new WeightWatchers' ProPoints system but the crux of it seems to be that you get your daily allowance plus a weekly bonus allowance on top which you can use for that night out at the weekend. I knew an old WeightWatchers' point was roughly equivalent to 75-100 calories depending on the fat or sugar content so I'm really scuppered now they've changed it. The new system sounds quite realistic though. The WeightWatchers app seems to do quite a bit from calculating ProPoints values from nutrition labels to measuring how many ProPoints you've burnt up whilst exercising.
Since Valentine's Day is almost upon us, I have been sent pictures of various heart shape imprinted products, most amusingly of which were these Valentine's crackers from Sainsbury's. Well I know we want Christmas to go with a bang but come on now, Sainsbury's you are making me blush, just what precisely are you putting in these crackers and what kind of bang will they create?!
More innocently, we have these sweet little ladybird milk chocolate Love Bugs from Tesco… I love it when retailers come up with a new tradition we didn't know we needed and I dare say these Love Bugs are the Valentine's equivalent of chocolate coins.
My January-ish Top 10 favourite links of the month

As the wife of a graphic designer, I just had to share these Pantone cookies seen on designsponge. I presume some artistic license has been allowed with the colour tones… what kind of nightmare would it be to match up those colours with food colouring?

Another piece of sugarcraft inspiration I've bookmarked recently was Katie Cakes' tutorial how to make fondant bows to top cupcakes.

No visit to Asda is complete without a loaf of Tiger Bread, still warm in it's cellophane wrap that the entire family can start to gnaw at on the way to the car (a super silencer for noisy toddlers). I discovered this month via Ellie at Almost Bourdin that Tiger Bread is Dutch and you can make it yourself at home.

I already know that Canadian ex-pat Andrea at Made With Pink makes super Nanaimo Bars but I had never heard of "Turtles" which are apparently a pecan, caramel and chocolate confection commonly given to Canadian children around Christmas. In her first post in a month (due to busted laptop), Andrea shows us how to make Turtles here.

Not being a football fan, talk of Super Bowl food from all the US sites around this time of year always amuses me, it seems like it's the equivalent of us in the UK trying to eat Elvis's last meal whilst watching the FA Cup Final. I'm not sure we're any more creative than takeaway pizza and crates of beer here but I widen my eyes at the calorie laiden snack fest that rolls out for Super Bowl on my favourite US food blogs. Maybe "Super Bowl" is a reference to the size of their plates on the day?

Two of my favourites here – we all love a sneaky nibble of the cookie dough before it goes in the oven but What Megan's Making has taken this to a whole new level by creating a chocolate chip cookie dough DIP and Lori at Recipe Girl has done some bacon and cheese wrapped tater tots with tabasco which to UK eyes look kind of like hash browns wrapped in bacon, cheese and chilli. What's not to like?

Whilst I'm still craving salty bacon, Cecelia at One Vanilla Bean caught my eye tweeting about "charcutepalooza" and subsequently blogging this mouth watering DUCK prosciutto.

My biggest laugh of the month came when reading how Jeanne at Cook Sister had totally lost her mind and replaced it with saccharin vanity when making this Decadent Spice Chocolate Orange Cake for my own Forever Nigella event. Fortunately about 3 lines down I realised that Jeanne had not been possessed by Bree Van der Kamp and it was all one merry spoof.
Well that's all for now and I shall collect another batch for you to enjoy later in the month. I hope you are enjoying your weekend and trying not to let February go so quick!