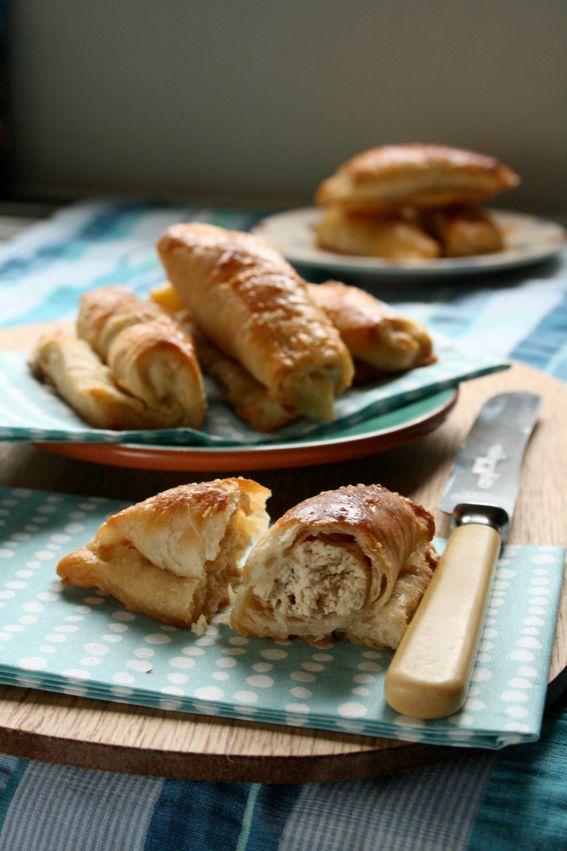 It may look like an organised Generation Game style conveyor belt of recipe posts round here but there's a lot of stuff that can roll off the end and go splat on the floor when you miss the deadline for an event. So often I have ideas lined up for things I want to submit, like some lamingtons for Delicious Delicious Delicious, a Daring Baker entry that dare not speak its name or a Mactweet that sticks stubbornly to the silpat.
Last week I cannot remember why but I couldn't cram in my Fresh From the Oven entry, Krushchev Dough hosted by Silvia and Ivan of Mushitza. My dough even sat chilling in the fridge for about five days waiting to be baked.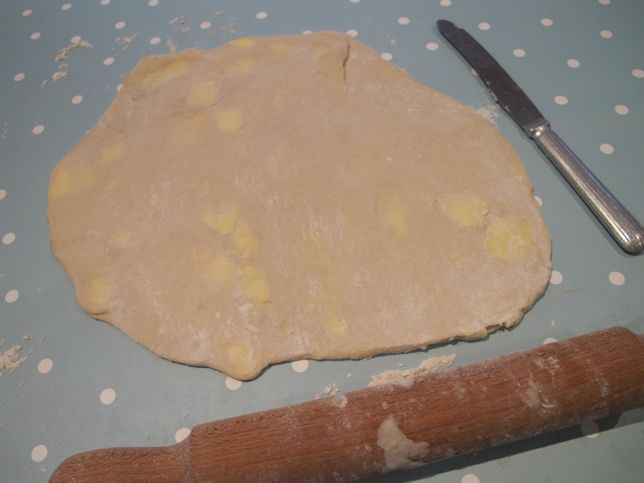 Fortunately this Krushchev Dough, apparently the favourite dough recipe of former Russian leader Nikita Khrushchev, is a forgiving one that breaks many of the usual rules of bread making. As we were informed:
"Never mix yeast directly with the salt." Exactly the opposite is what you have to do here. Since the salt kills the yeast when in direct contact we are using double amount of the yeast than we would usually use for this amount of flour.

"Leave the dough to temper for an hour or two after taking out of the fridge." Not here. Work with the dough directly when out of the fridge. It's essential for the dough to be cold, otherwise the butter will start to melt and absorb more flour which isn't desired.
That's butter you see in the dough above. Great big blobs of it. It doesn't really get mixed with the flour and water that thoroughly but if you recall, the Kiflice had butter dotted all over the outside before baking so it's a similar principle in operation here that your dough almost fries.
These little rolls were delightfully similar to the Serbian Kiflice I'd enjoyed so much back in November and I employed my favourite post Christmas left over, Boursin Cream Cheese with Black Pepper which sharp eyed observers may recall I used last January in these blondies.
The rolls gave a bit of a sizzle when they came out the oven and I could barely wait for them to cool down before trying one. Never thought I'd say this but they were better than the kiflice. And I liked the kiflice a lot.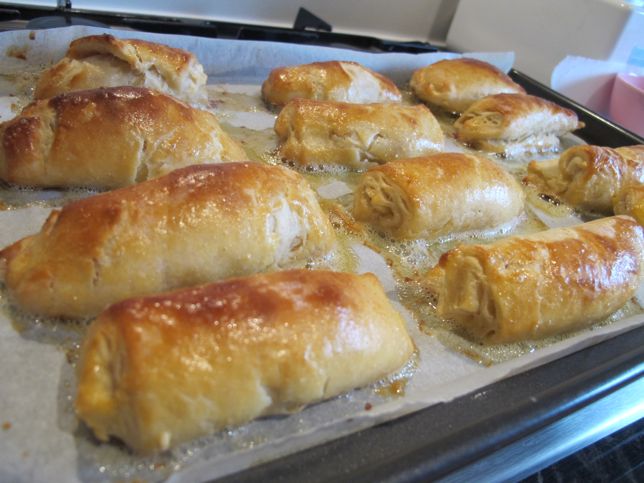 This dough is incredibly versatile. It can also be used for pizza with great success. I dare not make this stuff again as it was so nice but so wicked.
To see a sweet dish I made with the other half of the dough, come back next time.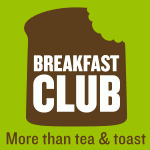 I am submitting these Krushchev Cheese Rolls to Helen at Fuss Free Flavours Breakfast Club which this month has the theme "Breakfast To Go". I would quite happily stuff a couple of these in my pockets before walking out the door…
I am also submitting them to English Mum's Fresh Bread Bake Off.
Khrushchev Rolls with Boursin and Black Pepper

Makes around 20-35 rolls

Ingredients:

40 gr fresh yeast (or 10 gr powdered dry yeast + 30 gr water);
10 gr salt;
250 ml cold milk(directly from the fridge);
150 gr unsalted butter, cut in small cubes, room temperature(NOT melted);
1 Tbsp sugar;
500 gr all purpose flour + additional for the counter;
100g Boursin with Black Pepper or soft white cheese with 1 tsp of black pepper mixed into it.
1 egg yolk mixed with a few drops of water and vegetable oil (for glazing)

If using fresh yeast: Using an ordinary tablespoon rub the salt through the yeast block till it becomes liquid.
If using dry yeast: Mix salt and dry yeast, then add the water.

Method:

1. Add in the milk, butter, sugar and sift the flour on top. Mix with an electric mixer equipped with the dough hooks till all the ingredients are combined and soft dough forms. A wooden spoon could either be used. Cover the bowl with an airtight lid or plastic wrap and place in the fridge overnight.

2. The dough becomes firm in the fridge (since the butter goes firm) but it does rise slowly, not as much as some doughs but it does rise.

3. The next morning, preheat the oven to 180c or gas mark 4.

4. Dust the counter with flour and roll the dough out to 3 mm thick rectangle. Cut it lengthwise and widthwise to smaller or bigger rectangles. Work the dough as soon as you take it out of the fridge. If necessary, divide into two or three parts and place one part in the fridge while you are forming the other.

5. Spoon a teaspoon of the cream cheese at the bottom of each rectangle and roll up. Pinch the ends. Arrange them on a baking sheet allowing a little space between to rise in the oven. Brush the rolls with the egg yolk/oil/water mix.

6. Bake for around 15 minutes or until golden brown.