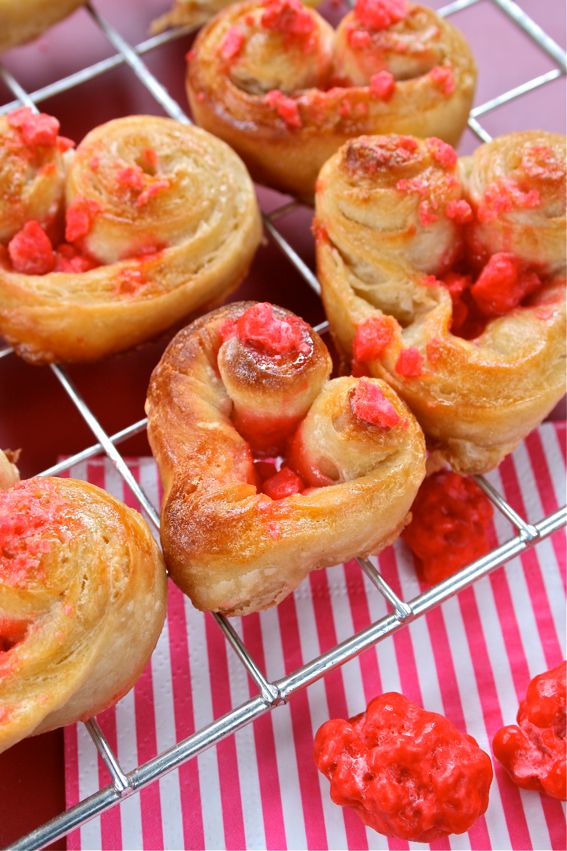 Moving on from yesterday's Krushchev Cheese Rolls, here's what I did with the other half of the dough.
Last year at London's Food Blogger Connect conference, my friend Pam of The Cooking Ninja gave me a bag of pralines roses, a sugary speciality of France's Massif Central.
I've been toying with how to use them ever since. There was no danger of me eating them as they were, for these little red ruby babies are harder than any tooth. Should you be tempted to chew, you will come a cropper.
You smash them up and scatter them over things before baking and afterwards you get these wonderful pomegranate coloured fragments of sugar on top. Each rock is meant to have an almond inside but in my sample, only 50% of them had one. (I wasn't using the nuts anyway.)
Truth be told, they don't taste of much other than being sweet but since they bring such an amazing day glo pink colour of nail varnish glossy brightness, who cares?
After cooking, the sugar seems to soften and the pieces turn to a grainier fudge-like texture.
These aren't "palmiers" in the biscuit sense but I thought it would be fun to roll the dough into these heart shapes for Valentine's week so they're palmier shaped.
Where to buy pink praline

Assuming you don't have friends in the Massif Central, pink pralines can be found online here although these 500g bags are such a huge quantity and costly at £19.99 I suggest you find a few foodie friends to split them with. Since they're sugar though, they have a long shelf life (ok maybe you would want to pick the almond out if you'd had them toooo long) and as they're so scarce in the UK they would be quite a talking point if you used them.

Praline makes a pretty decoration on all kinds of breads, cakes and desserts so you would no doubt find plenty of uses for it.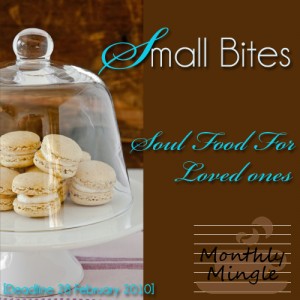 I am sending these dough hearts to Meeta's Monthly Mingle "Small Bites, Soul Food for Loved Ones" event which is hosted this month by Paulchens Food Blog.
And guess what?
I shall be hosting the Monthly Mingle next month. There is a bit of a clue here what my theme is going to be but I'll say no more than that for now but do come back here on the cusp of this month and the next to find out what my Monthly Mingle challenge will be.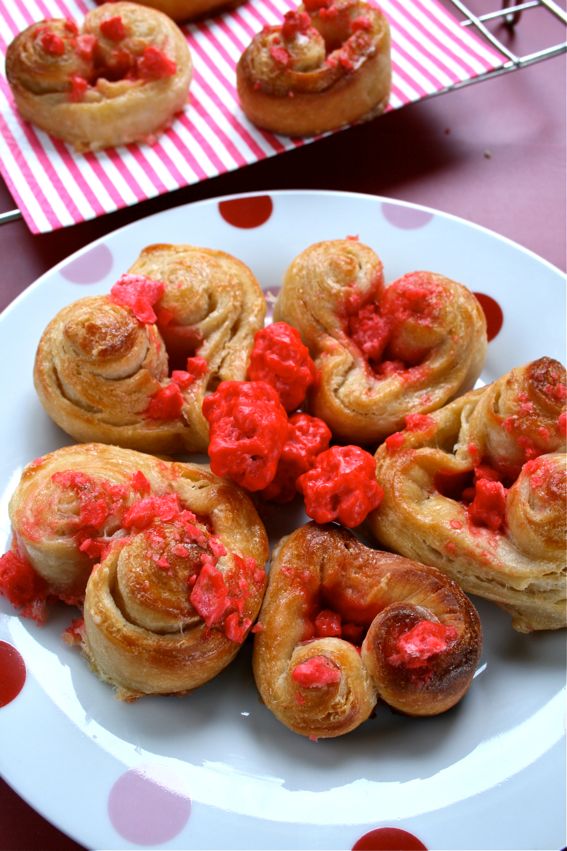 Khrushchev Pink Praline "Palmiers"

Makes around 30-40 hearts – although I recommend you split the dough and use half for my Krushchev Cheese Rolls published yesterday. Or tear a third off to make a 10 inch pizza base.

Ingredients:

40 gr fresh yeast (or 10 gr powdered dry yeast + 30 gr water);
10 gr salt;
250 ml cold milk(directly from the fridge);
150 gr unsalted butter, cut in small cubes, room temperature(NOT melted);
1 Tbsp sugar;
500 gr all purpose flour + additional for the counter;
4-5 pink pralines, smashed into bits
1 egg yolk mixed with a few drops of water and vegetable oil (for glazing)

If using fresh yeast: Using an ordinary tablespoon rub the salt through the yeast block till it becomes liquid.
If using dry yeast: Mix salt and dry yeast, then add the water.

Method:

1. Add in the milk, butter, sugar and sift the flour on top. Mix with an electric mixer equipped with the dough hooks till all the ingredients are combined and soft dough forms. A wooden spoon could either be used. Cover the bowl with an airtight lid or plastic wrap and place in the fridge overnight.

2. The dough becomes firm in the fridge (since the butter goes firm) but it does rise slowly, not as much as some doughs but it does rise.

3. The next morning, preheat the oven to 180c or gas mark 4.

4. Dust the counter with flour and roll the dough out to 3 mm thick rectangle. Cut it lengthwise and widthwise to smaller or bigger rectangles. Work the dough as soon as you take it out of the fridge. If necessary, divide into two or three parts and place one part in the fridge while you are forming the other.

5. Cut out long strips around 20cm long and roll up from each end meeting half way then pinch a point to give a heart shape. Lay on a lined baking sheet and paint with your egg glaze. Scatter with smashed up praline.

6. Bake for around 15 minutes or until golden brown.