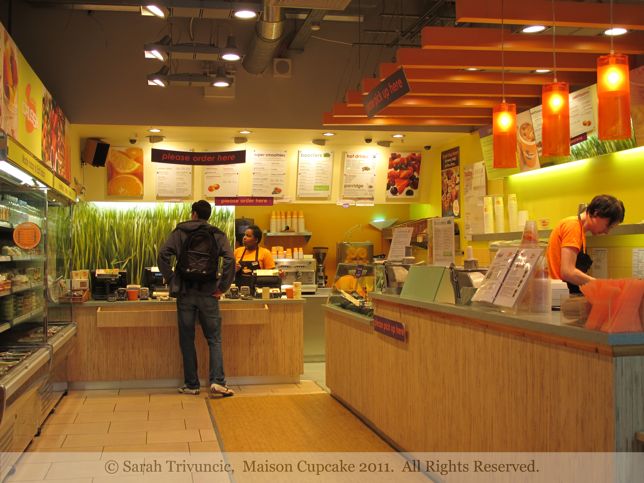 Smoothie chains come and go… Heard of Squeezed, Zest or Love Juice? No? Me neither…
Crussh must be doing something right. Since opening in 1998, a dozen direct competitors have gone or made huge cuts. Yet Crussh have kept all 25 central London branches open since the recession hit.
After founder James Learmond struggled to find healthy takeaway food in the City, he launched the chain in 1998. I met Crussh Managing Director, Chris Fung to see what has set them apart in a crowded office workers' market.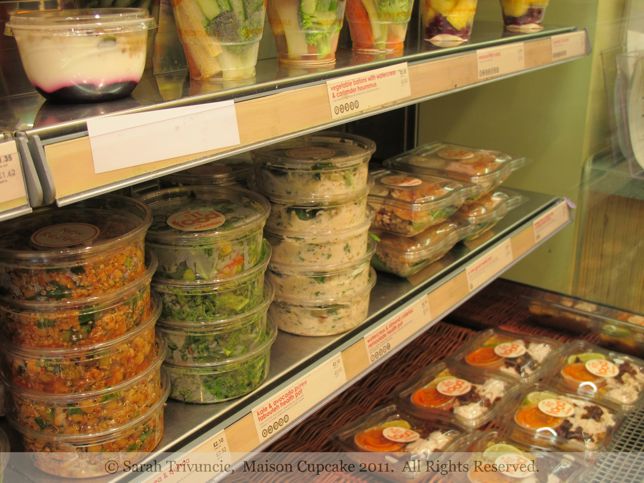 "In the downturn people started buying different items," says Chris, "They were taking their lunch to work but saw a fresh smoothie as an affordable treat."
Far from a geeky wheatgrass seller, Crussh quietly boasts a range broader than more familiar chains; on weekdays twelve soups are rotated from a menu of forty flavours.
They're innovative too. "Takeaway porridge was seen here long before being rolled out elsewhere," Chris says, "We make it dairy free using soy milk."
Toppings can be either dried cranberries, seeds, chopped banana and low GI agave nectar (above left) or more unusually, cloudberry compote (above right).
When trying to turn over a new dietary leaf, many of us end up swayed by mayo heavy takeaway options. Crussh packs the sustenance you might enthusiastically bring in a box from home – only without the sense of punishment or need to juice your own cacti.
Smoothies and juices range from £2.50 for freshly squeezed orange juice up to possibly bucket sized "Full" 98% fat free frozen yogurt "Super Smoothies" at £5.65. Optional Gillian McKeith style "boosters" such as spirulina, bee pollen, echinacea or vitamin C are available.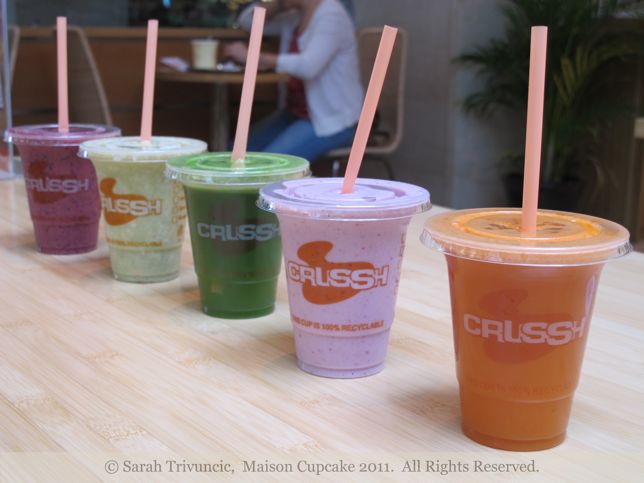 We tried from left to right:
Crusshberry Blast smoothie with fro yo, raspberry, blueberry, banana and apple juice – bitty texture but bursts with flavour;
Detox Cactus with fro yo, cactus, pineapple, lime and banana – drinkable but with pale green colour that's got to be doing you good;
Green goddess with kiwi, pear, apple, lime, spinach, celery and cucumber – unbelieveable virtuous, tastes fruity rather than veggie;
Protein Power with fro yo, raspberry, tofu, soy milk and banana – I loved this and have been making tofu smoothies at home ever since;
Freshly squeezed carrot – met with Greedy Gourmet's approval but not my bag.
"We often take things off the menu only to get customers asking for it to come back," Chris adds, "We started selling Detox Cactus one January expecting it to run for a couple of months but now it's part of our standard range."
With a table cluttered with containers I intended to skip some – such as raw kale (above left) and avocado puree tabouleh. Persuaded otherwise by Chris who has a hand in developing the menu, I was pleasantly surprised. The kale leaves were softened by the dressing – not to mention packed with nutrients.
Detox Healthpot of pickled cucumber batons, soy beans and grated carrot (above right) looked hard work to eat but tasted zingy. "The high water here will flush your kidneys and the vinegar opens your appetite," Chris tells us, "I'm inspired by my mother's sometimes medicinal Chinese dishes back in Hong Kong."
Other salads are more Middle Eastern in flavour. Puy lentil and feta with parsley (below left) would not look out of place in Ottolenghi.
Of two quinoa salads, harrisa, chickpea and tzatziki (above left) is spicy and most colourful. Its purer paler sister, "Superfoods Healthpot" of quinoa, soy beans and cashew (above right) is no less interesting.
"Our food is up to twelve hours fresher than other chains," Chris explained, "Our factory in Barking works from 7pm to 4am then everything is delivered throughout London." It's this commitment to freshness that has prevented Crussh expanding beyond the South East.
During the week, soup is huge seller although on a quiet weekend at Canary Wharf just three were available (above right).
Clockwise from left these were chicken and chilli, Mexican lentil, red Thai chicken and coconut curry. Each sang with spiciness and both chicken numbers had big chunks of free range meat.
Celeriac remoulade is a common alternative to coleslaw in France; Crussh have added watercress and flaked almonds (above left).
Finally we tried the red pepper chutney and skinny cheese wrap (above right) filled with edam, chosen because it's lower in fat than most hard cheese, feta and sunblush tomato for sparkiness and cottage cheese. For a vegetarian filling, this was substantial and not remotely boring.
There was so much more we could have tried. Panini, sushi and gluten free sandwiches; stews would be available during the week. You would need many visits to work your way through the menu.
Certainly I'll be stopping by from now on.
With thanks to Crussh. See also Michelle Greedy Gourmet's review here.