Delight the little boy in your life with these dinosaur cookies.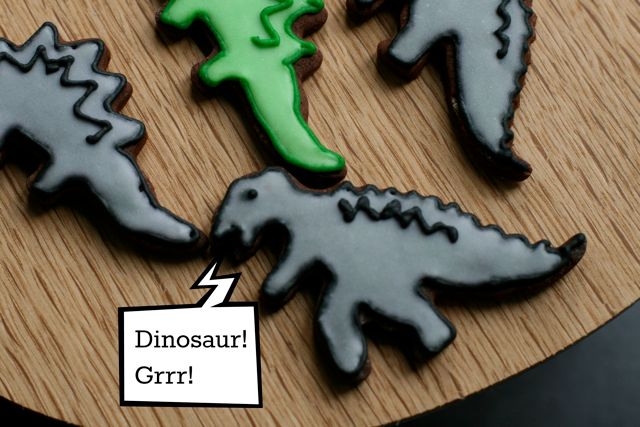 Making these dinosaur cookies paleontologically correct was not my intention here. It always amuses me how dinosaurs are often portrayed as being cute when they were anything but.
Dinosaurs are so remote from our own species and times and pre-Ted I don't think I'd though much about them apart from viewings of Jurassic Park.  Then I noticed we teach children about them almost from birth. There's Barney, dinosaur toys in all the shops. Even Peppa Pig's little brother George carries a toy dinosaur. Our kids can't escape dinosaurs, I bought these dinosaur cookie cutters specifically for Ted.
I was impressed that even by age 4 he understood dinosaurs no longer exist. Considering a rhino looks quite similar, it's a strange concept for a pre-schooler to grasp that some animals live in Africa, some live in the zoo and some well, just don't live at all anymore. It's as far removed as 'When Grandaddy was a little boy he had steam trains like Thomas at the bottom of his garden.'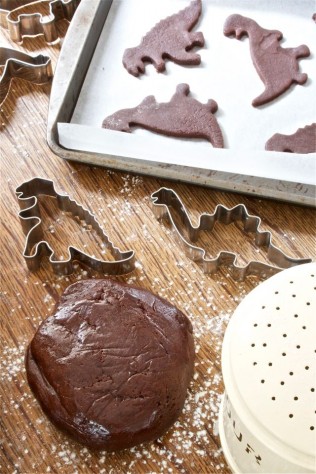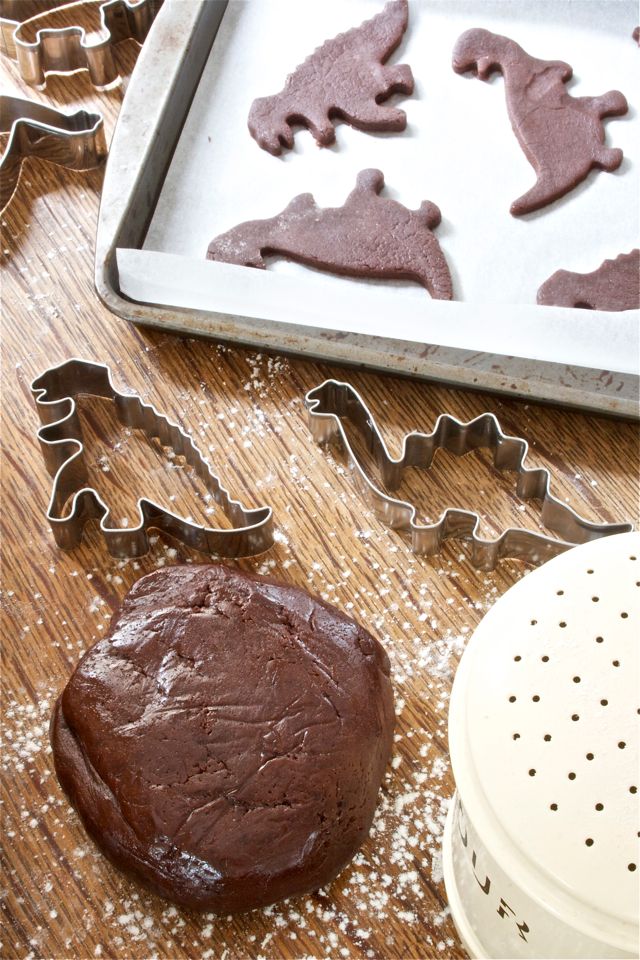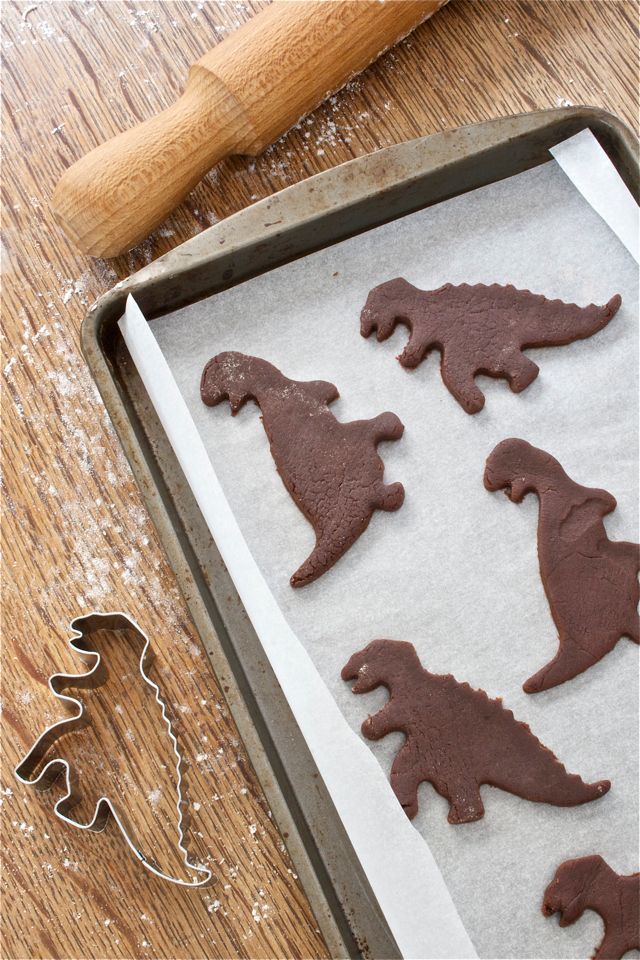 Dinosaurs cut out of my chocolate cookie dough recipe
Ted's reception class were learning about dinosaurs last year and with an inset day due, I decided a trip to the Natural History Museum was an essential rite of passage. The trip was bigged up for weeks in advance. We told everyone we were going to see the giant dinosaur skeletons.
The animated dinosaur in the Natural History Museum was in a dark murky room. Ted dragged me through at high speed. He was more interested in the skeleton in the entrance that comes to life if you put £1 in the slot. I realised the action of putting money in was more fascinating to him than the creature itself.
So the much hyped dinosaur visit was a bit of an anticlimax. Ted preferred the TV screens in each gallery that were equipped with bar code scanners to program which exhibits you'd revisit on the internet back home. Ted wasn't remotely interested in the dinosaurs, just the technology on show.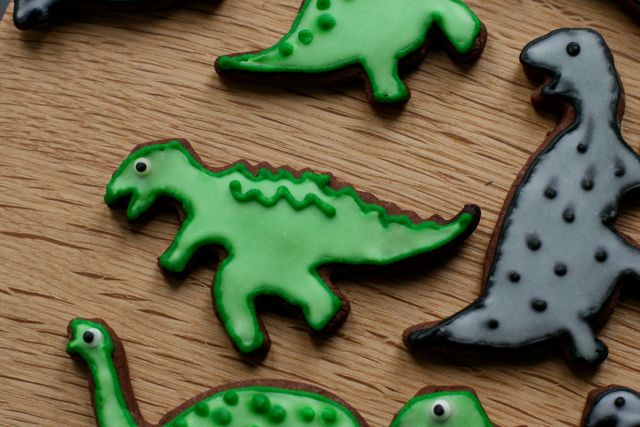 Around ten months later Ted announced he'd like to go and visit the dinosaurs again. This was a surprise as generally Ted requests visits to the Science Museum with all its gadgets and aeroplanes.
'Maybe we go to the Natural History Museum?'
Ted's instructions are generally prefixed with 'maybe'. Like an expertly directed missile.
'You want to go there? Ok I think daddy can take you on Saturday.' I replied.
'Then afterwards go to Knightsbridge.' Ted continued.
Knightsbridge? Where has my child heard of Knightsbridge? I wondered to myself.
'Did you say er…Knightsbridge? Why Knightsbridge?'
'To go to Yo! Sushi.' He chirped.
Ted had remembered that after our last visit to the dinosaurs we did indeed visit Harvey Nichols and go to Yo! Sushi on the top floor. He didn't especially want to go to the Natural History Museum, he wanted to go to Yo! Sushi and watch the little plates go round on the conveyor belt.
Never mind the dinosaurs then. Ted has a memory like an elephant.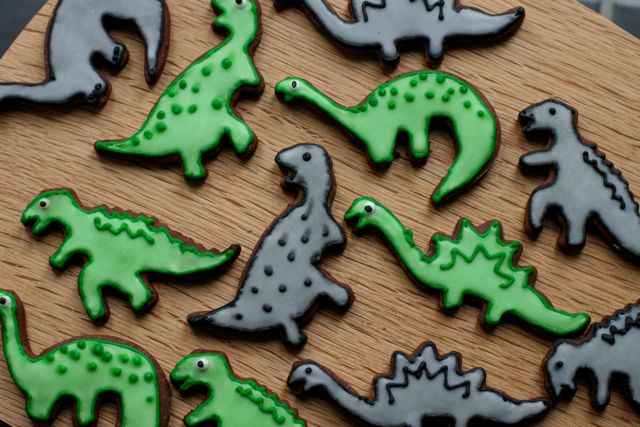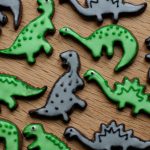 Print Recipe
Dinosaur cookies: sugarcraft project
You will also need: dinosaur cookie cutters baking sheet lined with baking parchment paper 5 piping bags, 3 with no2 Tala tips (fine writer), 2 with no3 Tala tips (slightly larger writer) cocktail stick
Ingredients
One batch cookie dough

chilled and ready to roll (see my chocolate cookie dough recipe)

extra flour for rolling

use cocoa for chocolate cookie dough

1

batch royal icing

extra icing sugar for adjusting icing consistency

lemon juice for adjusting icing consistency
Instructions
Preheat the oven to 180c / Gas mark 4.

Roll out the dough to 5mm thick, dusting the surface with a little extra flour if necessary. Cut out dinosaur shapes.

Bake for around 10 minutes. Allow them to cool slightly before transferring to a wire rack then leave to cool completely.

Meanwhile split your royal icing into different batches. Retain one quarter to keep white in case you run out of other colours. The rest, you can split into two or three colours, I made my dinosaurs green and grey. From each of the coloured icings, remove 2 tablespoons and decant into a smaller container. Add to each, more colour and more icing sugar to make thicker icing for the borders.

Using disposable bags fitted with no2 size Tala tips, fill each bag with the thicker border icing. Pipe borders around your dinosaurs. Immediately flood each cookie with the respective colour and drag icing to the edges with cocktail sticks. This works best if you do it in batches of 1-2 cookies at a time.

Let the flooded cookies dry out. When completely dry pipe extra detail and eyes on them. You can do a white dot onto which to pipe a black pupil as I did with these green dinosaurs if you like.

Allow to dry completely. The cookies will keep in a tub for 1-2 weeks however the borders may bleed a little after a couple of days. If you are a perfectionist, you can reduce the likelihood of this by using a border the same colour as the flooded area and letting the cookie dry completely before piping a darker border.