A slice of this sunflower seed bread maker loaf turns the humblest meal into a feast.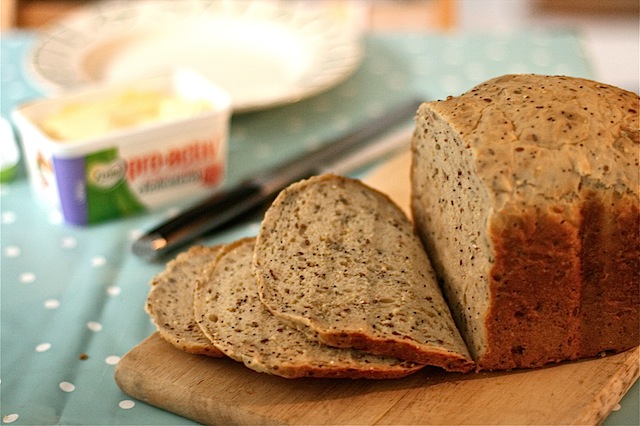 I may not be very handy with DIY but I've always joked that being a carpenter's daughter means you can slice bread properly. Nowadays I think it has as much to do with the knife and the loaf whether you can cut straight.
My father always bought a loaf that looked similar to this from Safeway. It had a thick crust and his bread knife was useless meaning slices ended up being doorstops.
We've had our bread machine a couple of years now and although it has seen regular use, I have not used it to its full potential.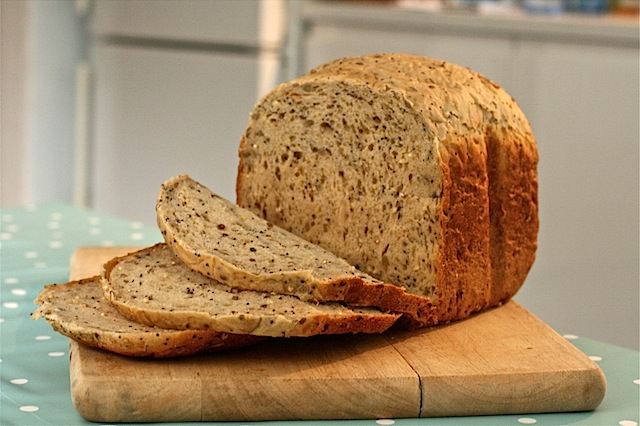 I listed all things the brochure said you could make in my previous post Morphy Richards Bread Maker Review but I'm regretful to say we generally only make the plain white loaf, gluten free sun dried tomato bread and THIS sunflower seed bread.
Sunflower seed bread maker joy!
I've not bought any bread for over a month. I have been making loaves like this 2-3 times per week instead. I have previously made my granary loaves with flour from Sainsbury's and it was OK but then I bought some Waitrose Love Life Crunchy Seed bread flour (in red packets) and haven't looked back.
You know those pre-sliced packs of fancy bread in semi circular shape that you get in the supermarket? The packs that cost a fortune for 8 slices and a slip of cardboard underneath? It's very nice bread but I only buy them marked down since they're so expensive for what you get. Well this flour makes bread like that. Only better.
With the addition of 50g sunflower seeds in the seed tray of the bread machine and you've got a very special loaf. This sunflower seed bread is perfect for sandwiches, toast, eggy soldiers or dipping in soup. I love it and shop bought bread tastes so dull to me in comparison. I'm not saying I'll never buy bread again because that would be unrealistic but I'm making a concerted effort never to run out of this flour.
And my new year's resolution is to expand my bread repertoire. I've long been struck by the low effort high pay off of baking bread but have only stuck to a few favourites in the machine. I'm not sure I'll knead dough with my fair hands (I have the weakest wrists, I can't bear doing it) but I'm going to try different doughs in my bread maker and push my boundaries by actually getting the dough out of the machine and making some other shapes with it. Which may sound like sucking eggs to many people but bread is an area in which I've always been very lazy and the bread maker has become like a pair of comfy slippers.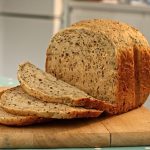 Print Recipe
Sunflower seed bread maker recipe
Makes a 2lb loaf. You can substitute sunflower oil with other types such as vegetable or ground nut if you wish. You can grind up 1 x 100mg vitamin C tablet if you don't have the powder.
Servings:
2
lb loaf of 12-14 slices
Ingredients
360

ml

1.5 cups water

3

tbsp

skimmed milk powder

3

tbsp

sunflower oil

5

tbsp

dark brown soft sugar

2

tsp

salt

580

g

4 cups seeded bread flour

3/4

tsp

fast action yeast

1/2

tsp

vitamin C powder

50

g

hulled sunflower seeds

in the seed tray
Instructions
Add all the ingredients to the bread maker tin in the order shown above - putting the sunflower seeds in the top tray if your machine has one. Otherwise retain the seeds until after the first rise.

Switch on the wholemeal loaf program (see notes below for guidance which program will be best on your machine).
Notes
This loaf was made in a Morphy Richards bread maker, your model may differ. The times used by my machine on its wholemeal loaf program are:
Knead 1 - 10 mins
Rise 1 - 20 mins
Knead 2 - 20 mins (when the seed tray empties)
Rise 2 - 35 mins
Rise 3 - 70 mins
Bake - 60 mins
Total time - 3 hours 40 mins