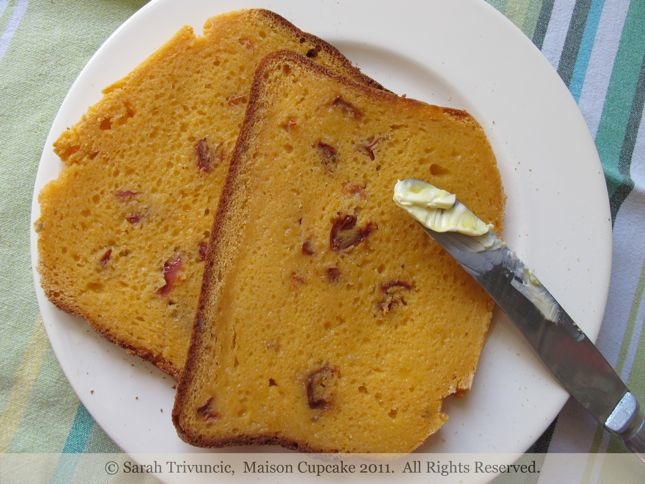 This was not love at first sight.
My Morphy Richards breadmaker sat there for weeks. "I'll get round to it," I told my husband, "In the meantime you have bread in the fridge."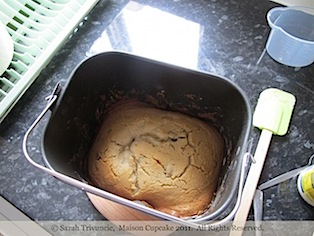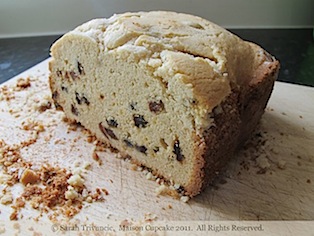 My first effort was gluten free fruitcake. It was dry and crumbly and needed more butter and fruit.
As a newbie, I don't know what to expect from a bread maker, hadn't read any bread maker reviews, nothing.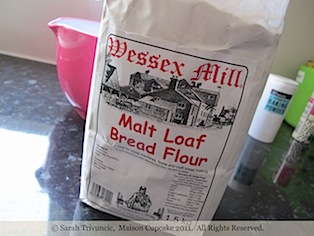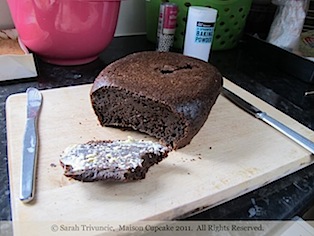 Next was malt loaf that sank in the middle. Probably due to too much liquid.
Our first wholemeal loaf was more successful but a bit doughy. Reading the instructions I realised not to let the loaf cool in the machine as condensation gets in. After this we had more success.
So my advice is to master the basic loaf first…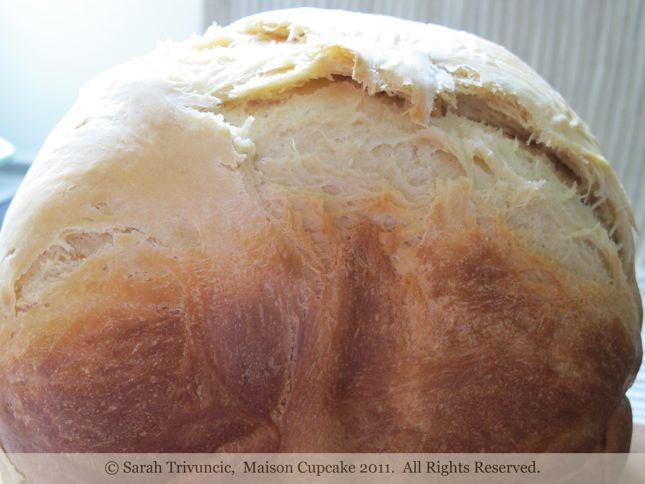 Oh joy! A perfect loaf of white bread. Don't you love how the crust has cracked like on a baguette?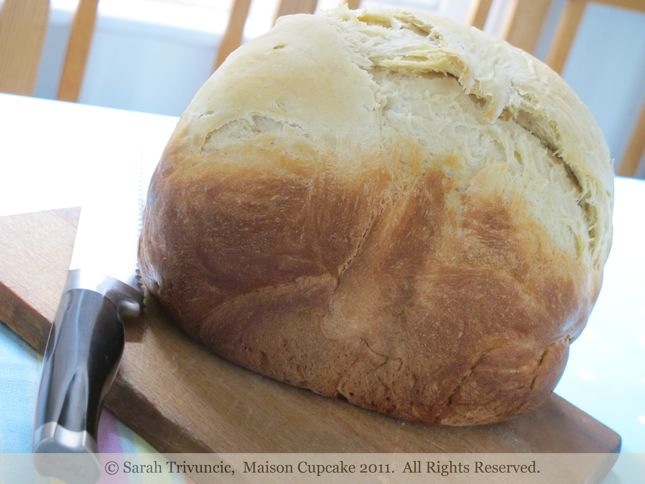 Mmm! and the smell of proper baked bread filled the house! I think we've cracked it guys…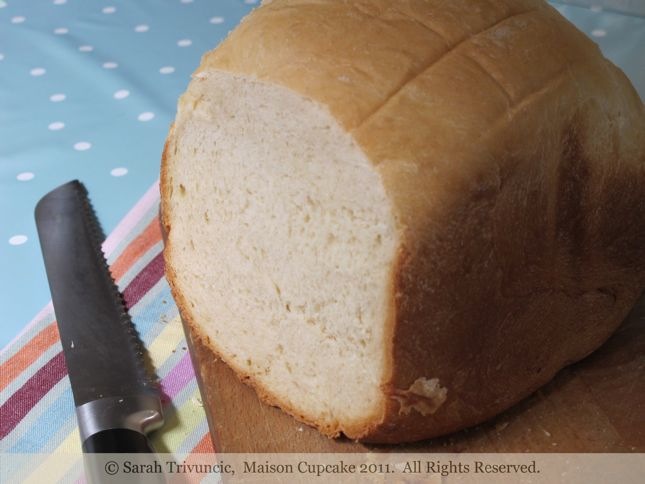 Next came the sandwich loaf, still plain but using butter rather than oil. Firm textured enough to slice for sandwiches.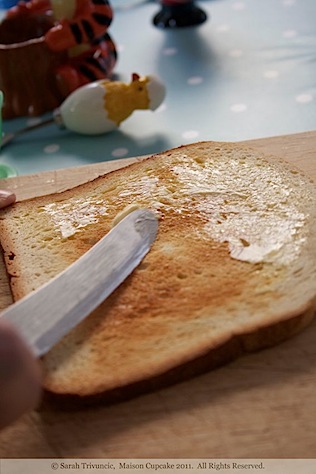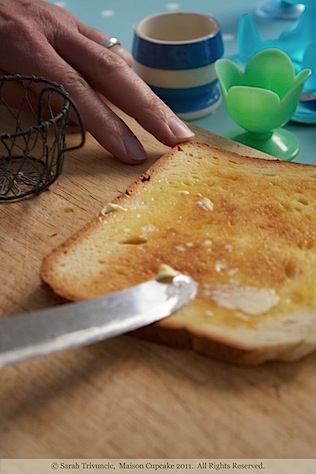 Spreading butter on toasted sandwich loaf… to dip in our dippy eggs from Friday's post.
A few weeks later and we're no longer buying bread.
Ted loves it. He likes watching the machine knead the ingredients, "Lift me up mummy" he asks wanting to look.
He always eats his sandwiches now!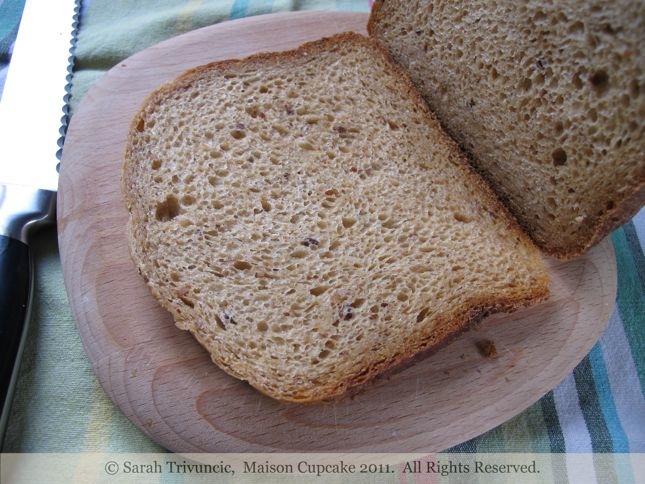 Our favourite loaf is granary or granary 50% white using Sainsbury's Taste the Difference wholegrain bread flour.
For plain loaves we've used Sainsbury's standard strong white bread flour and for gluten free, Dove's Farm blend. We've used Hovis strong wholemeal bread flour for wholemeal loves.
Wholemeal loaves can be baked with crushed vitamin C tablets to give a better rise. I use Ester C capsules filled with powder.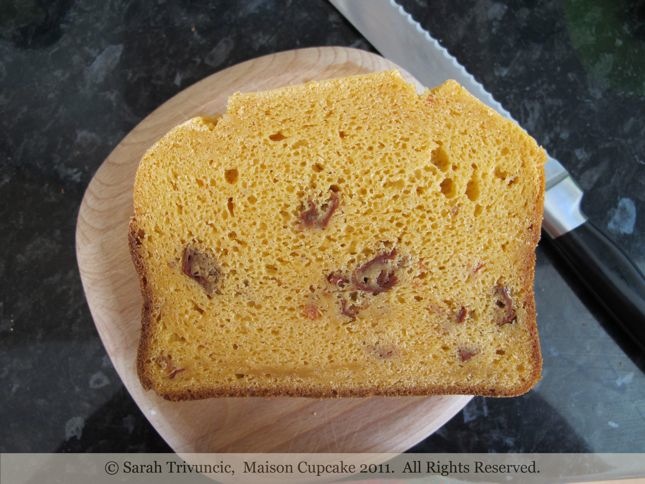 Finally I revisited gluten free. The booklet doesn't give a plain GF recipe but instead sun-dried tomato version or cheese and mustard. This loaf benefits from being toasted or refreshed for a few seconds in the microwave.
As a Morphy Richards' Home of the House Proud Innovator I received a Morphy Richards Premium Plus Bread Maker to review. All views are my own which is why it's ok for me to gripe about the lousy instruction manual.
Pros and cons of the Morphy Richards Bread Maker
Pros:
Easy to use, just tip everything in in the right order
No need to weigh ingredients, convenient plastic measuring cups and spoons provided
Easy to clean, loaves turn out of the tin easily (see note about blade below)
Cheaper than buying artisan bread
Loaves stay fresh in a bag in the fridge for up to a week
19 programmes to make different loaves (plus cakes, jam and even pasta!)
Substantial gadget that feels like it will give good service for years (I'll get back to you on that!)
Quick, five minutes work then walk away
Clean hands!
No kneading!
Cons:
Flimsy paper instruction manual quickly gets tatty
Information poorly laid out, everything is there but there's a lot of flicking backwards and forwards to find what you need.
Keypad not very intuitive, so few buttons it takes a while to remember what sequence to press them in.
Tiny display panel doesn't light up. Some people might struggle to view it.
Takes up as much room as a microwave and heavy to move – well it is an oven you know.
End of time beeper could be more obvious – unclear whether it's finished baking or in keep warm phase
Loaves all look the same
Blade difficult to remove when cleaning
Loaves have a hole in their bottoms – more prominent in some recipes than others
Verdict:
Don't expect overnight success, get to know the machine gradually.

As someone with weak wrists, not having to knead is a real boon. Making bread with this machine, once sussed is something that has seamlessly entered our lives with very low effort.

We noticed big air bubbles with a packet mix but never with our own mix. The texture makes wonderful sandwiches and we're smitten so much we've stopped buying mass produced bread.

My only criticism is the appalling black and white manual that does nothing to inspire and has a layout that serves only to confuse. A single panel with instructions for a basic loaf would help people get started more easily.
Bread Maker Recipes featured:
I've only managed about six or seven so far but here is the whole list:
Basic
Soft grain
Soft grain 50%
Brown
Italian herb
Cheese and onion
Raisin
Sugar free
Sugar and salf free
Sun-dried
Wholewheat
Wholewheat seeded
Granary loaf
Granary 50% white
Mixed fruit loaf
Orange and cranberry
Brioche
Sandwich loaf
Soft grain sandwich
French bread
White bread rolls
Wholewheat bread rolls
Hot cross buns
Ciabatta
Bagels
Croissant
Tea cakes
Marmalade
Raspberry and apple jam
Bread mixes from packets programme
Malt loaf
Irish soda bread
Corn bread
Gluten free sun-dried tomato loaf
Gluten free cheese and mustard loaf
Gluten free chocolate cake
Gluten free fruit cake
Fastbake programme
Pizza dough
Pasta!
Banana and nut quick bread
Porridge oats bread
Madeira cake
Mixed fruitcake
Packet cake mixes (apparently?!)