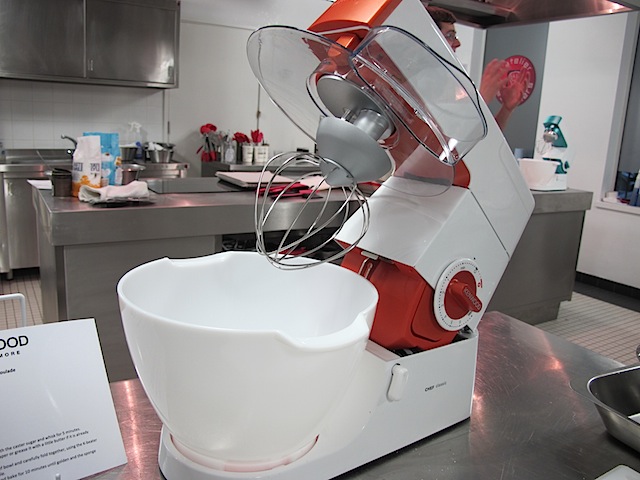 It's everyone's wedding list star prize. Most regular bakers have or wish they had a stand mixer.
People get really sentimental about their stand mixers. They even give them names. I never understand this, if I gave the fridge or toaster a name people would think I was a weirdo but for some reason naming this particular kitchen gadget is perfectly normal.
My grandma had a vintage Kenwood mixer, very similar to the modern one above only hers was cream and navy.
She had the tiniest kitchen I've ever known and actually, very rarely used her mixer because she still did everything by hand.
Today many of us have small kitchens and the 18 inches of countertop space demanded by one of these creatures has to be well earned.
I've never owned a stand mixer but for a long time I fell into the trap of assuming I needed one.
When I did the photo shoots for my book, it was my own hand mixer which appeared in all the photos. I notice many baking books featuring a candy coloured Kmix or KitchenAid which indicates a lot of baking writers own them but I'm yet to be convinced I'm any better off with one of these than my ten year old Bosch hand mixer.
Reasons to buy a stand mixer:
Style – they look the part
Have your hands free to pour in extra ingredients
You can wander off and do other stuff at same time
Can get attachments to perform other tasks
Fitted with a guard to stop stuff flying around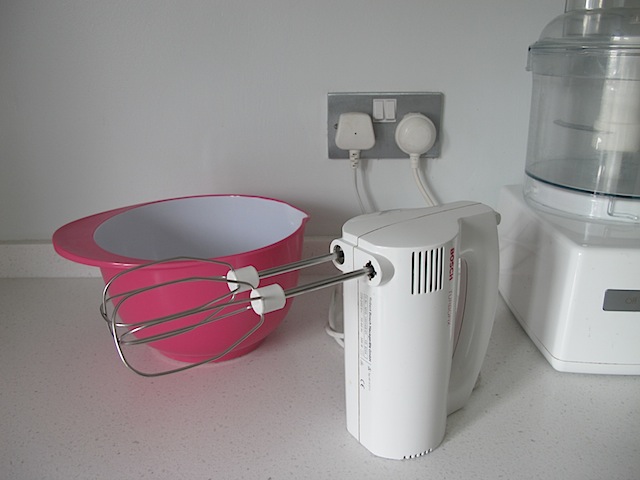 Why I get on perfectly well with a hand mixer:
Full control how you mix – round the edges, a bit more here and there
Faster to clean. If you have several bowls you only have to clean the beaters to be ready to go again.
Can mix small quantities.
Can use one beater at a time in the stick blender cup for really small quantities
Can use over the hob in a saucepan i.e. to make marshmallow fluff or Italian meringue
Can hide it in a cupboard rather than clutter up the worktop
Can still have a free hand to pour in ingredients – especially if you secure the bowl with a non slip mat (works perfectly well for me)
Portable. You could take it away from home if that way inclined.
I already own a Magimix and bread machine which do all the other tricks like chopping and dough kneading between them
(Actually my Bosch hand mixer has dough hooks anyway)
Say it did break down, it's a darn sight cheaper to replace – under £50 instead of several hundred.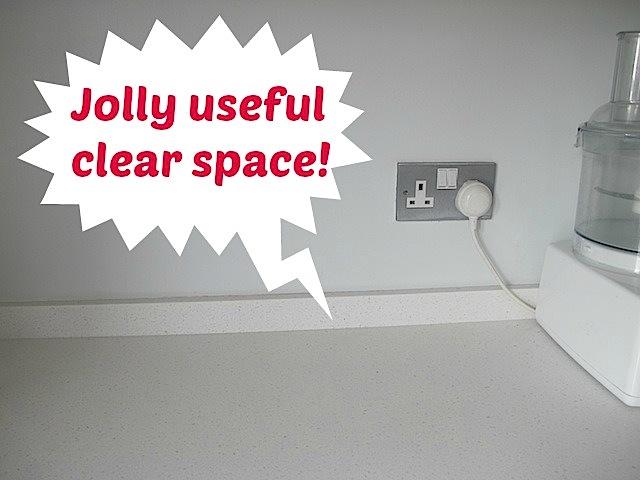 Why worktop space matters
Now bear in mind, I have a reasonably large kitchen and am not short of space. Yet I still don't like the idea of losing more counter space to a large gadget. You might think a stand mixer is essential if you do a lot of big baking jobs but actually, empty worktop space is equally necessary. The only big gadget I leave out is the Magimix – with the microwave and bread machine on another worktop opposite. But next to the Magimix is my big area for working on stuff. Even in my big kitchen it would be a squeeze to donate 18 inches of space to a stand mixer. And I say this as someone who bakes and cooks a lot.
I use my Magimix food processor to make large quantities of buttercream with a damp tea towel over the top which avoids mad icing sugar clouds all over the kitchen (and my glasses). I regularly use my Magimix to mix all-in-one method sponge batter – I did this for all of my cupcakes and cookie dough at the Appetite Food Fair featured in my recent 4th Blog Birthday post.
Having briefly used the Kenwood mixer above at two different events, I really can't say I'm convinced it would make a worthy replacement of the hand mixer, food processor and bread maker combined. I've used KitchenAids at friends' houses and have the same view of these. And if looks rather than function are your motivation, the Kmix looks much nicer than the retro model shown in top photo. Stand mixers can mix but don't like small quantities. If you have to wash up whole bowl in-between every task (which would be a nightmare producing lots of stuff at once for big occasions) they might save labour in some ways but increase it in others.
So if you've been wedded to the idea of a stand mixer, ask yourself whether they're worth it for mixing alone? If you already have a food processor to do whizzy stuff I reckon your money's better spent on a hand mixer.
Today is, would you believe, my 40th birthday – which means it's ten years since I received the Magimix for my 30th. I assumed at the time I'd buy a stand mixer soon afterwards but never got around to it. After the mega baking session last week, as with the intensive work for my photo shoots I managed perfectly well without one.
Which leaves me with a spare £400 to buy a designer handbag. Well you're only 40 once. Plus they're easier to carry.
Do you still think you need a stand mixer or have I put you off?