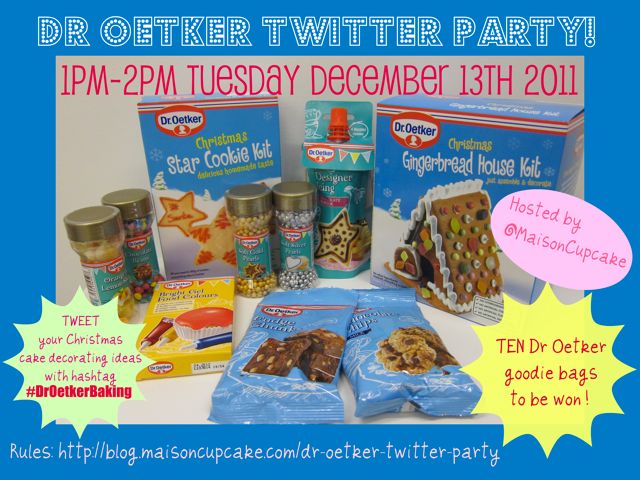 Dr Oetker products are a familiar sight on both this site and the supermarket shelf; the range of sprinkles and cake decorations available from local shops without having to shop online has expanded massively since I started this site in 2009.
To celebrate the festive season and look forward to some easy home baking with children during the holidays, I have teamed up with Dr Oetker to hold a Twitter party on Tuesday 13th December.
What is a Twitter party?
Well it's where lots of us all get together on our favourite social media site and tweet together using the same hashtag to drive a conversation on a particular topic.
The Dr Oetker Twitter party will be hosted by myself @maisoncupcake from 1pm to 2pm on Tuesday 13th December.
Simply tweet your Christmas baking and cake decorating ideas with the hashtag #DrOetkerBaking. You may find it a good idea to set up a Tweetdeck columnn or Twitter search on this hashtag to watch the Twitter party take place.
TEN lucky tweeters contributing the best ideas will win a selection of Dr Oetker baking and cake decorating goodies like those pictured above.
I do hope you'll join me for the party!
Don't forget to leave your @TwitterID in the comments below if you'd like to join in!
The rules and important stuff are all shown below.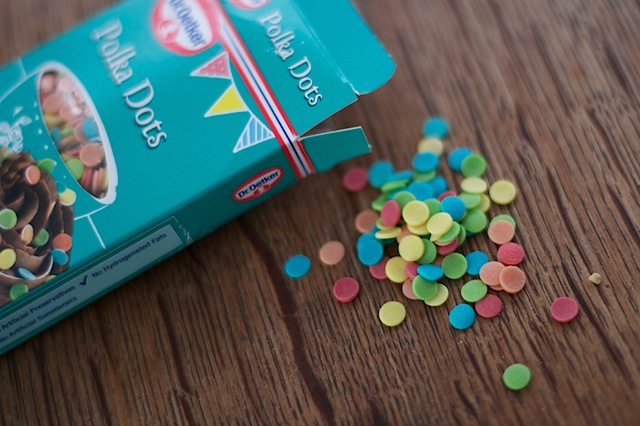 RULES: Dr Oetker Twitter Party 13 December 2011

1. Open to UK residents aged 18 or over with a Twitter account.

2. The prize is: 10 x selections of Dr Oetker baking and cake decorating products.

3. Instructions form part of the terms and conditions.

4. Submit entries using the hashtag #DrOetkerBaking between 1pm and 2pm GMT on Tuesday 13th December 2011.

5. The Twitter party closes at 2pm GMT Tuesday 13th December and entries received after this time will not be included.

6. The site owner and party sponsor accept no responsibility for technical problems resulting in tweets not displaying on Twitter.com and therefore not eligible to win.

7. This Twitter party is hosted by @maisoncupcake on behalf of Dr Oetker who will be deliver the prize(s) following confirmation of winners' contact details.

8. The prize is selected in good faith and is as specified however exact contents of the prize may vary subject to availability; in the event of non availability products may be replaced by those of equal or greater value.

9. The ten best tweets chosen by Dr Oetker will win.

10. Winners will be announced by @maisoncupcake on Twitter using the hashtag #DrOetkerBaking by 5pm GMT Thursday 15th December. Winners are to claim their prize by emailing their contact details to sarah AT maisoncupcake DOT com.

11. Failure to claim prizes within 7 days will result in a new winner being chosen.

12. The prize sponsor's decision is final and binding on entrants; no further correspondence will be entered into.

Twitter party prizes sponsored by Dr Oetker