Some lovely things we've tried recently…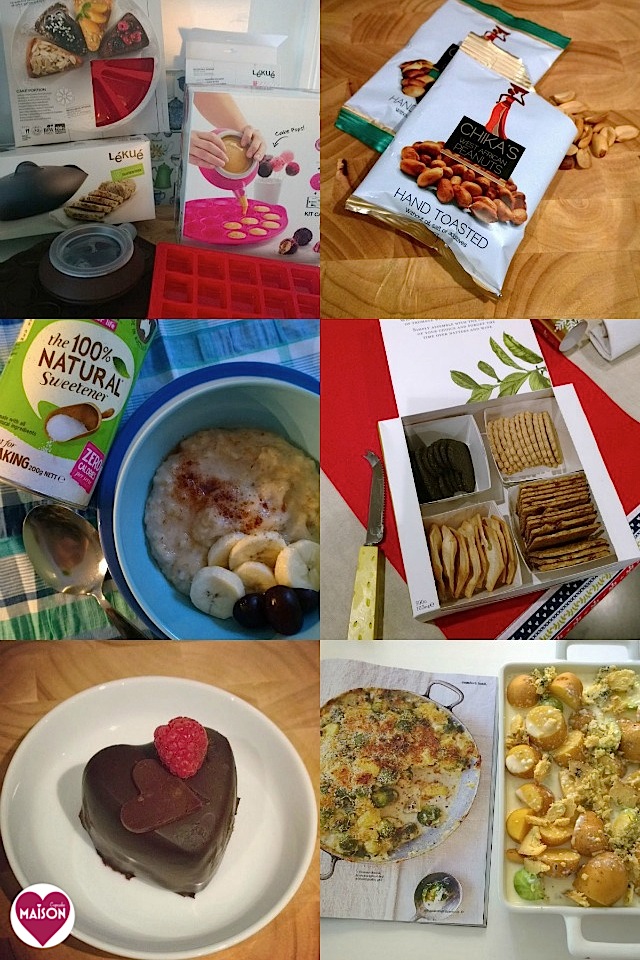 From top:
Lékué, a Spanish brand of high quality silicone kitchenware and baking moulds have given me some homework to keep me busy… I have already utilised the mini brownie mould in my Gran Luchito brownies, it's thicker than most siliconeware and guaranteed for longer: 10 years compared to 5 years for John Lewis own brand. Stockists vary for each piece but the Silicone Bread Maker recently featured by Choclette is available from Lakeland (as is a jolly interesting looking breadstick mould) and there's a bigger Lékué selection on Amazon. Say hi to them on Twitter @lekue
Chikas are the new producers of West African "luxurious small savories" such as unpopped corn, plaintain and sweet potato crisps. We snaffled some bags of their hand toasted peanuts and not expecting much from a humble peanut were blown away by how tasty they were despite the absence of excess oil and salt. In 45g bags you can stop yourself before you get carried away too. Say hi to them on Twitter @chikasfoods
Natvia is a new natural sweetener brand perking up puds for diabetics and the health conscious alike. 100% made from natural ingredients, Natvia is a stevia leaf product free from aspartame, sugar or saccharine. They're an Australian brand and their stick sachets are a common site in cafes down under. They've just launched in the UK and are on sale via Wholefoods, Amazon and Planet Organic. I have been sprinkling it on porridge saving 20 calories a day compared to my usual glug of agave nectar. It's available in tubs or sticks for just over a fiver and apparently you can bake with it too. I will report back when I manage this. Say hi to them on Twitter at @natviaUK
Thomas J Fudges is the new name for rebranded Fudges biscuits and various varieties of crackers and were the highlight of our Christmas cheeseboard – not to mention lingering on into January and tempting us from new leaves. My top recommendations from the range are the earthy beetroot and horseradish shards (deep purple pointy triangles of crispy dunkability) and the firey and flavoursome Jalapeno melts. These biscuits were a terrible influence and I mean that as a sincere compliment. Say hi to them on Twitter @thomasjfudges
Maison Blanc window shopping is a favourite sport of mine, for a few seconds peeping through the glass of their Holland Park branch I would imagine myself to be in France wowed by beautiful patisseries. With love officially in the air this week, Maison Blanc claim starry eyed couples are increasingly going on dates in their branches. And a jolly good thing too, it's far classier than the horrible places I was taken by beaus before the husband but that sounds like a whole other post – heck – e-book chapter even. Ted and I devoured this chocolate mousse heart between us and hid the evidence from my husband who doesn't read this blog much and will probably never know. Say hi to them on Twitter @maisonblancuk and golly it was hard to type that without saying @maisoncupcake by mistake.
Delicious Magazine have done something that seems incredibly obvious and no doubt other publications will follow. They now publish in "real time" that is to say, January recipes in January and February recipes in February. So no more Valentines stuff on the shelves before Christmas – I must admit I was slightly panicked when my February issue didn't turn up mid January but right on cue, it arrived on Feb 1st. One of my favourite new features is "roast of the month" as roast dinners are something I'm somewhat pedestrian at and I did my own version of food editor Lizzie's sprout gratin (shown above, before baking). They even quoted ME on the letters page of the February issue saying of their real time publishing that whether it was "radically sensible or sensibly radical I love it" and that my readers is the first and probably the last time I'll ever be featured in their hallowed pages. Say hi to Delicious on Twitter @deliciousmag or @deliciouslizzie 
Lakeland Valentines and new Mary Berry range
On my recent visit to Westfield I came face to face with a larger than life poster of Mary Berry – I know this because I've seen her in the flesh and she's tiny. Lakeland are stocking a new Mary Berry range of baking items including the apron and cake stand above with perfect timing for Valentine's and Mother's Day gifts alike.  Also instore, a selection of heart shaped goodies such as this purple silicone mould and selection of coloured heart cutters. Say hi to Lakeland on Twitter @lakelanduk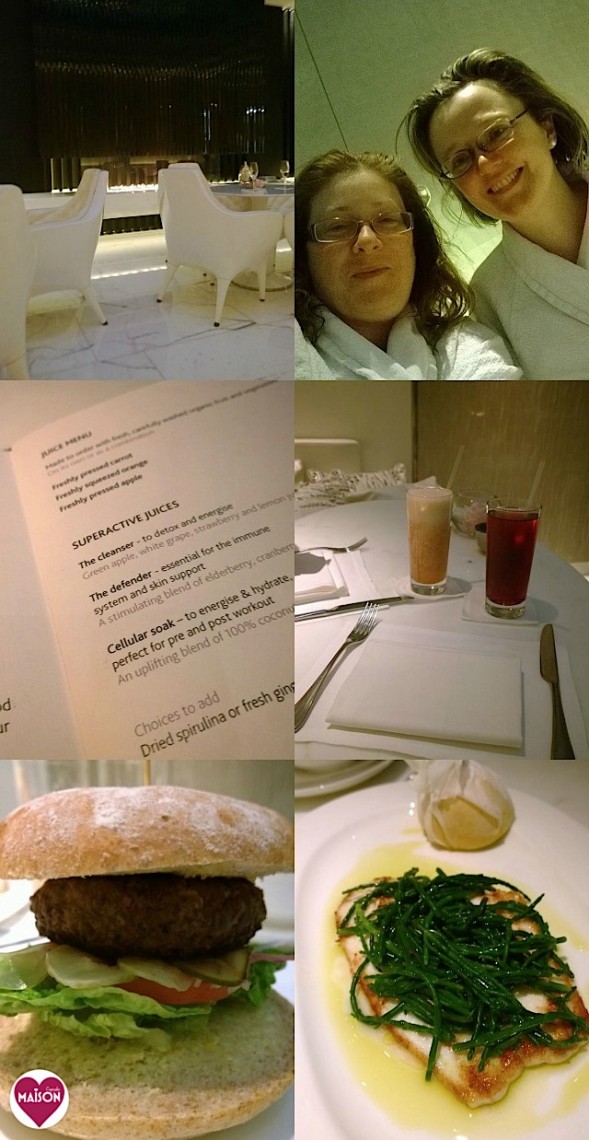 Brita Boost at The Corinthian
It's hard to be high maintenance when you're allergic to virtually every cosmetic and beauty product there is so it's not for lack of interest that spa visits are low on my agenda.
So when my blogging buddy Helen asked me to join her for a day's pampering at The Corinthian Spa I said "yes please but they won't touch my face will they". Helen has been working with the Brita water filter brand in January as part of a promotion to highlight reasons why people drink alcohol and encouraging them to drink more water natch instead.
Once in the magical surroundings of this hotel spa we endured – for it is such terrible hard work – pedicures (I will save you the toe polish shots but suffice to say they are still bringing a smile to my face on the removal of each sock a fortnight later), facials, massages, dunkings in the gigantic jacuzzi pool with fearsome neck massaging water jets. Then lunch. Being me I couldn't resist ordering a burger, even if it was low fat venison without the faintest whiff of mayonnaise or cheese. I'm surprised they allowed carby bread really. Helen was much more virtuous selecting sole with samphire.
Would I spend £300+ on such a day myself? Well before this day, unless as an imminent bride-to-be, most definitely not. Having done it though, I can see the attaction of a total day winding down, being primped and preened maybe once every year. And actually January seems a darned good time of year to schedule such a pick me up. Say hi to Brita on Twitter @brita_water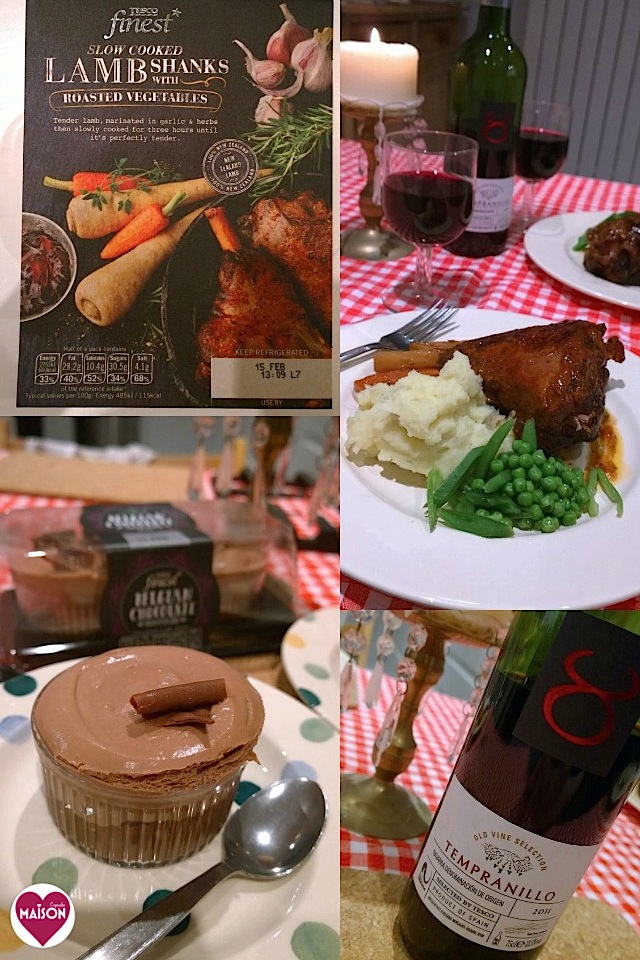 Valentines £20 meal deal with Tesco Finest
Finally, this week being Valentine's, Tesco are running a £20 Tesco Finest meal deal Valentines offer and yours truly managed to try it out first.
For £20 you get two mains, two sides, two desserts and fizz or wine or Belgian chocolates.*
We selected their lamb shanks with roasted vegetables, green vegetable trio, a bottle of Spanish Tempranillo red wine and pair of chocolate souffles. Actually the souffles are not in the final offer but even more amazing sounding desserts are: eclairs with white icing pen to write "personalised " – ahem – messages, Swiss chocolate pots, a raspberry heart or even Tesco Finest cheese to finish off. Well with all the rain we're having, why bother leaving the house? Say hi to Tesco on Twitter @tesco or @tescorealfood  
*Available in selected stores only. (Extras and other big branches in more frou frou areas are a good bet).
With thanks to Lekue, Chikas, Natvia, Thomas J Fudges, Maison Blanc, Brita and Tesco for sample products and spa visit.