The first instalment of the 3 part Maison Cupcake Christmas gift guide.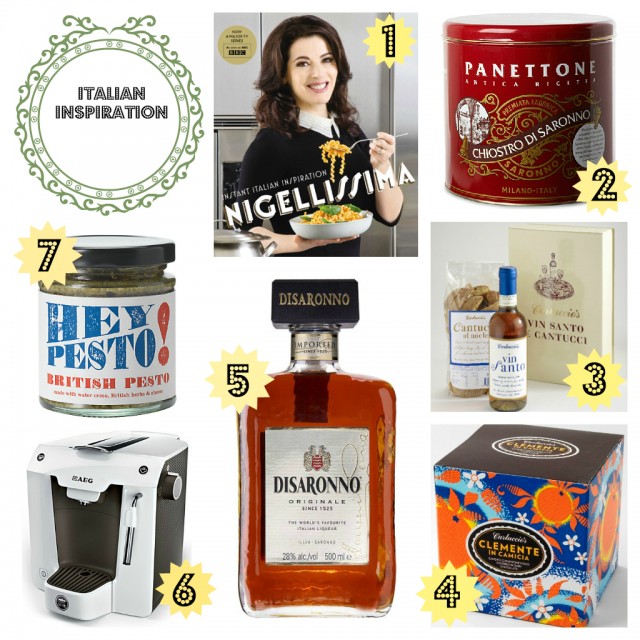 Italian inspiration for Christmas gifts
1. Nigellissima book by Nigella Lawson, available all booksellers. Nigella feeds us how to mangiare Italiano, inspired by her year working in Italy as a girl.
2. 1 kilo of panettone in a red tin – £18.50 Divertimenti. Give me panettone rather than Christmas pudding any day – you don't need to steam it and it comes in evocative packaging like this. Buono Natale!
3. Vin Santo and cantucci biscuits set – traditional Italian dessert wine with dipping biscuits, Carluccios.
4. Clemente in camicia, also from Carluccios – I tried these at Carluccio's Christmas press show and they're fabulous. Real juicy clementine pieces in deep dark chocolate.
5. DiSaronno Amaretto, this classic almond liqueur is great to drink neat over ice and brilliant to bake with. Cin cin! Waitrose £14.
6.  AEG Lavazza A Modo Mio coffee machine for zipping up espresso hits pronto. John Lewis or Amazon.
7. Hey Pesto! – Jamie Oliver's cheeky pesto is perfect to jazz up a store cupboard pasta dinner by JME.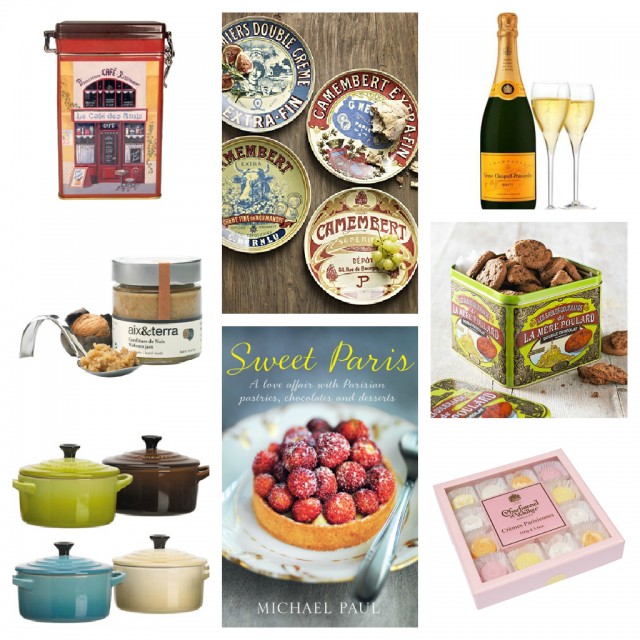 French things you'll fancy for Christmas
Clockwise from top left:
1. Salon du The boutique storage tin, transport yourself to a Parisienne cafe whenever you boil the kettle – Divertimenti £4.95
2. Camembert plates with striking retro French packaging print – Lakeland £24.99
3. Veuve Clicquot champagne *gallic shrug… pourquoi ne pas?* – £35.99 Waitrose
4. La Mere Poulard double chocolate cookies in presentation tin – the classic Breton biscuit maker arrives in the UK courtesy of Lakeland £9.99 and others.
5. Cremes Parisiennes – Charbonnel & Walker, stocked by Lakeland too £8.99.
6. Sweet Paris book by Michael Paul, published by Hardie Grant. Take an armchair tour through the patisseries and bakeries of Paris. Beautiful photography and recipes to recreate at home. Currently £12.80 on Amazon.
7. Mini Le Creuset cocottes – like the familiar giant casseroles but in miniature to serve individual portions at the table. From a selection at Amazon.
8. Aix & Terra Walnut jam – forget bacon jam, walnut jam is where it's happening now. Ground nuts in a honey paste, it's as more-ish as Nutella only sweeter. I recall having something similar in the Dordogne several years ago and can't believe I've forgotten it until now. Aix et Terra, also available from Divertimenti.
With thanks to JME, Divertimenti, Carluccios, Lakeland, Lavazza and Hardie Grant books for sample products during 2012.