This giveaway is now closed. The winner was Becca Rothwell, London.
Today we go to chocolate heaven and back.

On day 2 of 12 Days of Christmas Giveaways, we have the wonderful Green & Black's Ultimate Chocolate Chef Gift Set RRP £30 comprising:

The NEW book "Green & Black's Ultimate Chocolate Recipes The New Collection"

Stylish black Green & Black's apron

Milk Cooks' Chocolate and a 72% Cooking Chocolate bars.

AND a special Maison Cupcake discount code for purchases at Green & Blacks Direct.

You can out how to enter or use the discount code at the bottom of this post but first I'm going to show you a chocolate and biscuit shop that I could quite happily be locked into and never let out.
This place is truly wonderful. I discovered it on holiday this summer in St Malo, Brittany.
It's called Maison Larnicol and sells a fabulous range of sweet treats. I was stamping around St Malo in the footsteps of the delightful and hopelessly chocolate addicted Kerrin of My Kugelhopf who had seduced me with her posts Salted Butter, Sugar and Oh some Flour too and Got Milk? That's All You Need in search of the Maison du Buerre and other Kerrin haunts.
She never told me about Maison Larnicol so today I attempt to out Kugelhopf the Kugelhopf but I'll never top those blog post headlines *must try harder*.
It's a dark little shop with wall to wall wooden cabinets of buttery Breton biscuits and chocolate and serve yourself tongs to fill up your paper bags. Think "scoop and save" but classy.
Not only do they sell macarons but chocolate grand pianos.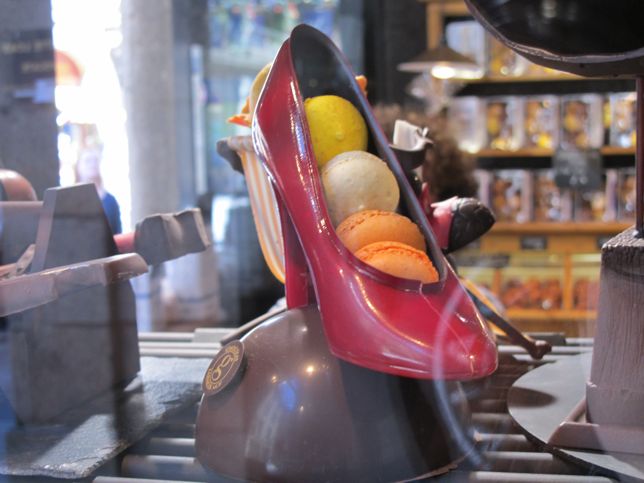 And chocolate SHOES. Who needs Laboutin eh?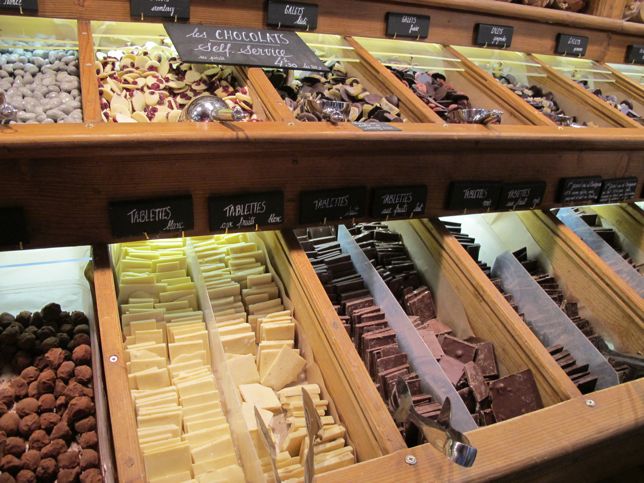 "Les Chocolates Self Service". I love it when the French adopt English words as their own, like le weekend although it too me a while to realise that om-bugger was not something rude.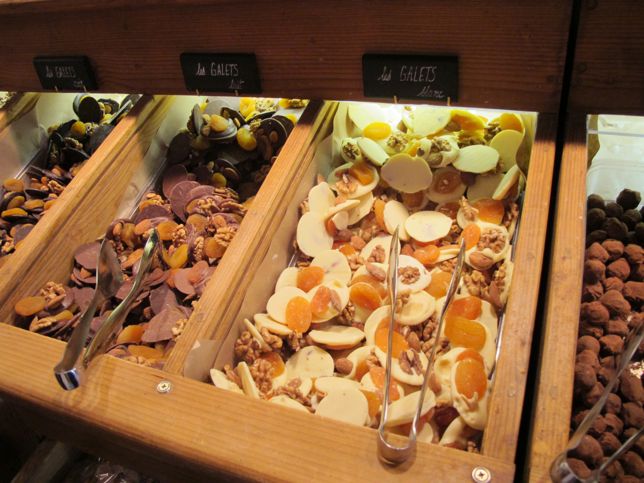 Les Galets. AKA big fat discs of chocolate with fruit and nuts on them. Which count towards your five-a-day.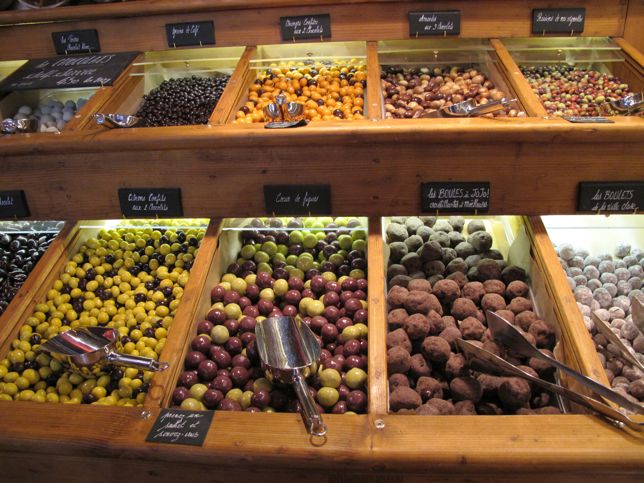 These ones look more like olives than olives do.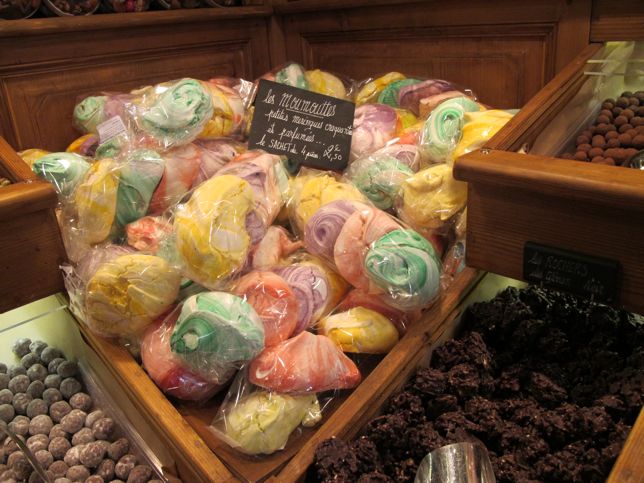 And some massive coloured meringues. Must make these some day.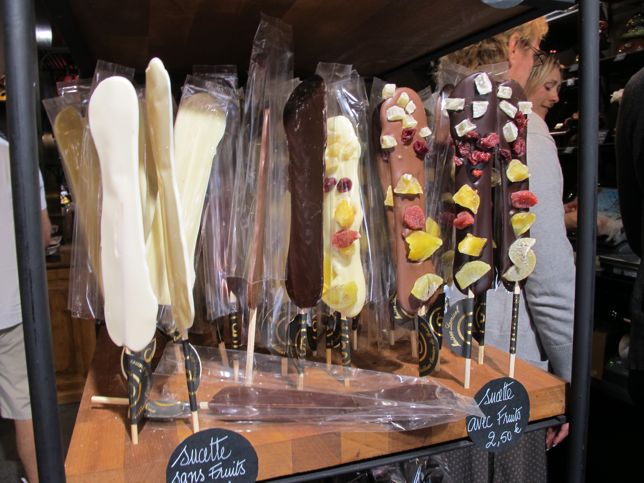 Sucette, French for lollipop, is a word that always makes me snigger and never more so than at the sight of these little chaps.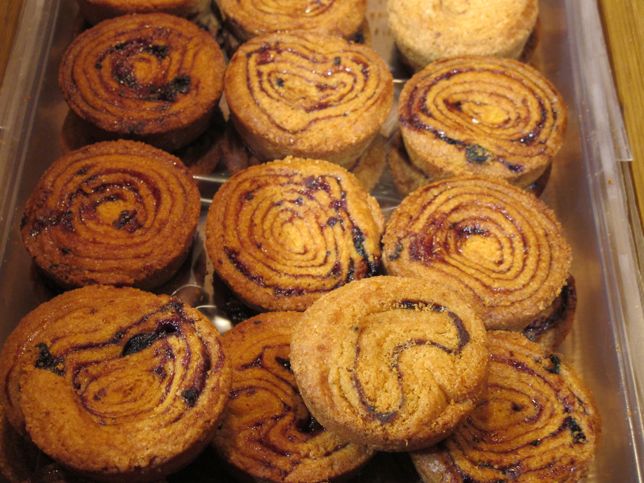 Swoon. The Kouignette. These ones are blackcurrant cassis flavour. Here is one I took home up close: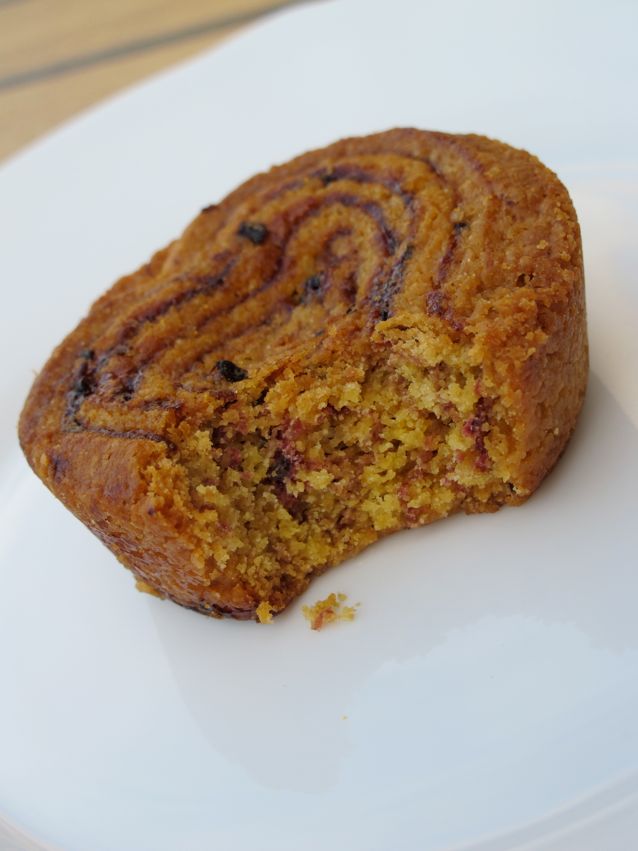 With a bite taken out, just to taunt you.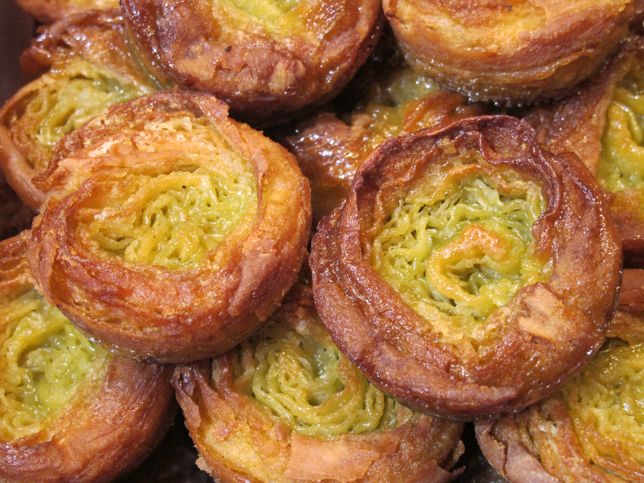 These are pistacho flavour kouign amanns. Read Kerrin's piece for the low down on what these babies are all about. Detailed research is not my strong point right now.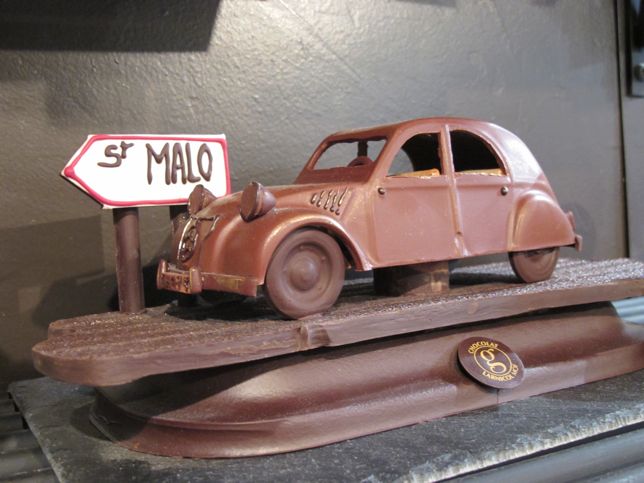 Is this the way to St Malo-rillo?
Gulls egg chocolates and rocher – not to be confused with the Ferrero variety.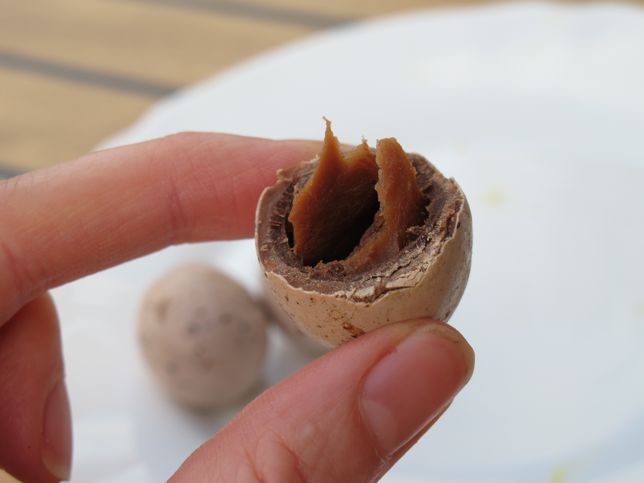 Inside the gull's egg. Caramel. Chocolate down fingernails too. Which proves I was enjoying myself.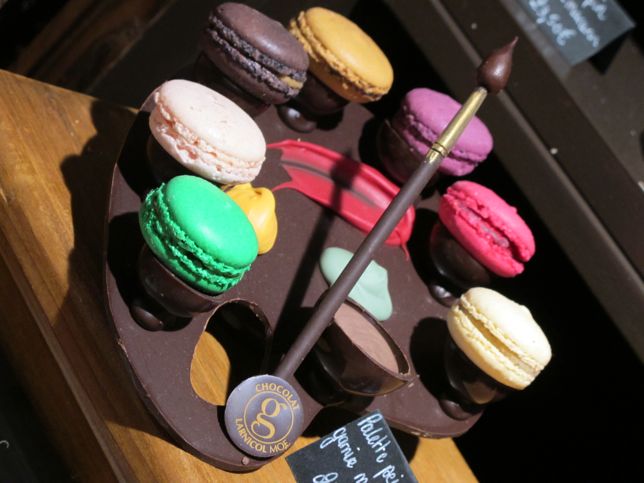 Macaron chocolate artist's palette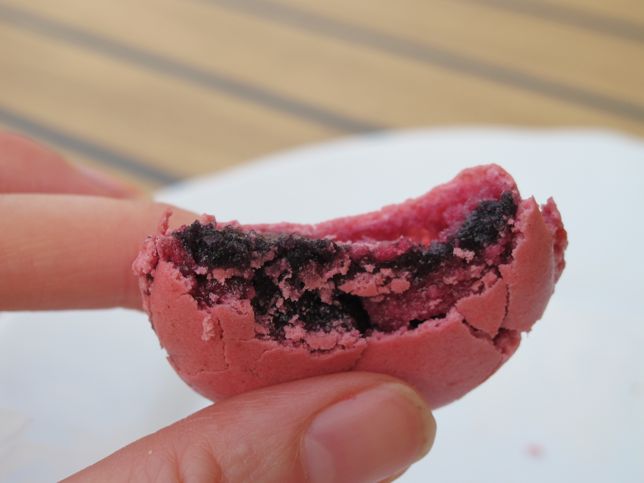 Framboise macaron heaven, quite possibly my favourite macaron ever. Photographed for posterity.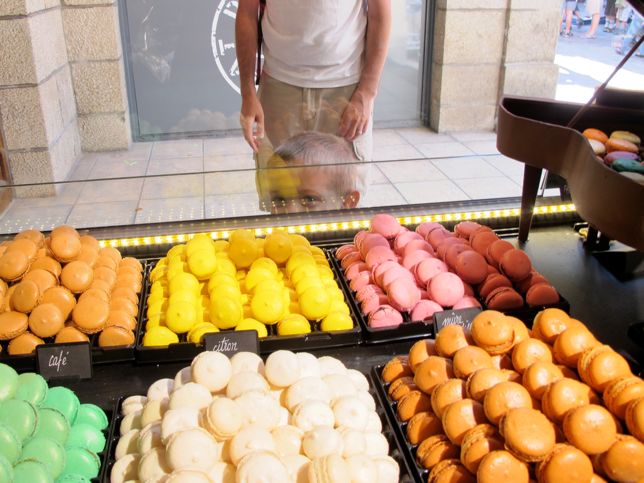 And hey who's this? The little boy who fortunately for me, prefers Kinder Surprise.
Maison Larnicol 6 Rue St Vincent, 35400 Saint-Malo, France
Now it's time to give away some chocolate.
Green & Black's Ultimate Chocolate Chef Gift Set Giveaway

There is one mandatory way to enter and several ways to get bonus entries.

This giveaway is open to readers with UK mailing addresses. Readers from overseas are welcome to enter provided they can give the UK mailing address of a friend to receive the gift on their behalf with any onward delivery being at their own cost.

The winner will be chosen using an online randomiser and announced in a subsequent post on this blog – the winners of several of the 12 giveaways will be will announced together across 2-3 posts according to their closing dates.

To win this Green & Black's Ultimate Chocolate Chef Gift Set you need to:

1. Mandatory. Leave a comment at the end of this post telling me your favourite item shown on Green and Black's Direct.

2. Second chance to win, tweet a link to this giveaway as follows: "Win Green & Blacks Choccie Set RRP £30 @maisoncupcake" WITH A LINK TO THIS POST as it may no longer be the home page item if you enter later this week. Then leave a second comment saying you've done so telling me your Twitter ID.

3. For a third chance to win, follow this blog by signing in with the Google friend connect widget in the side bar and leave a further comment saying you have done so or were already following me anyway.

You must leave a further separate comment for each bonus entry otherwise they cannot be selected in the draw.

Closing date: midnight GMT on Monday December 13th 2010.

The winner will be notified by email. If the winner does not reply within 48 hours, a new winner will be drawn.

But that's not all.

Maison Cupcake readers visiting Green & Black's direct can get 10% discount on orders when you quote CUPCAKE10. Discount is valid until the end of this year and excludes costs of postage and packing.




Good luck everyone!

Prize sponsored by Green and Black's.
Also up for grabs during the Maison Cupcake 12 Days of Christmas Giveaways:
Waitrose Christmas goodies RRP £35 Closes Dec 12
Interflora Christmas Hamper RRP £100
Books from Octopus and Quadrille
Cookware from Sainsbury's, Jamie Oliver, Nigella Living Collection and Mum et Moi
Chocolate from Matcha Chocolat
Spices from Steenbergs
and more!
Don't forget to come back tomorrow to see which prize is next!