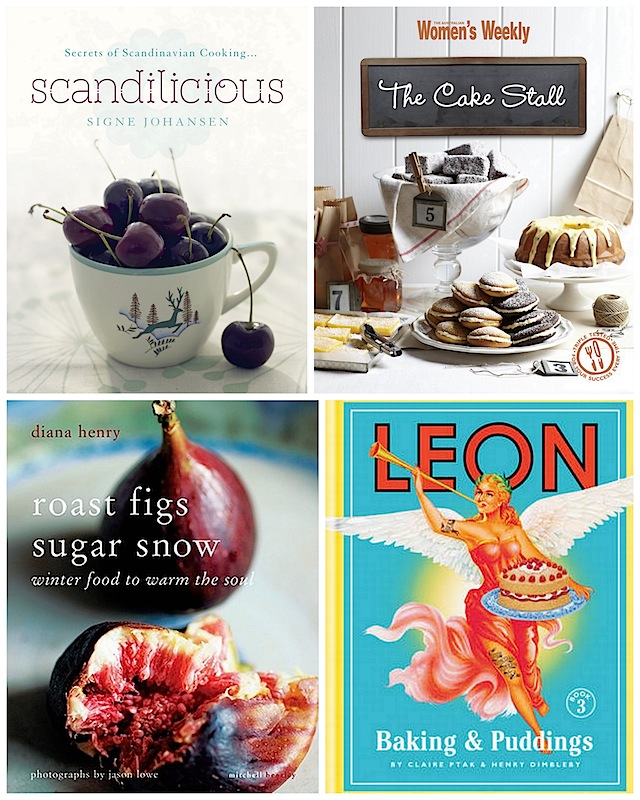 Today sees the final part of the Maison Cupcake Bumper Books Christmas Gift Guide which has been served in SIX digestible parts.
And you have the chance to win this scrumptious Interflora Christmas Cracker Hamper worth £60: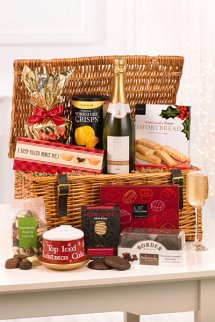 Most of these books below came out, or where re-issued during 2011, some I own, some I've gazed at in bookstores, all would make an ideal gift for someone.
Today I'm featuring beautiful and eye catching books.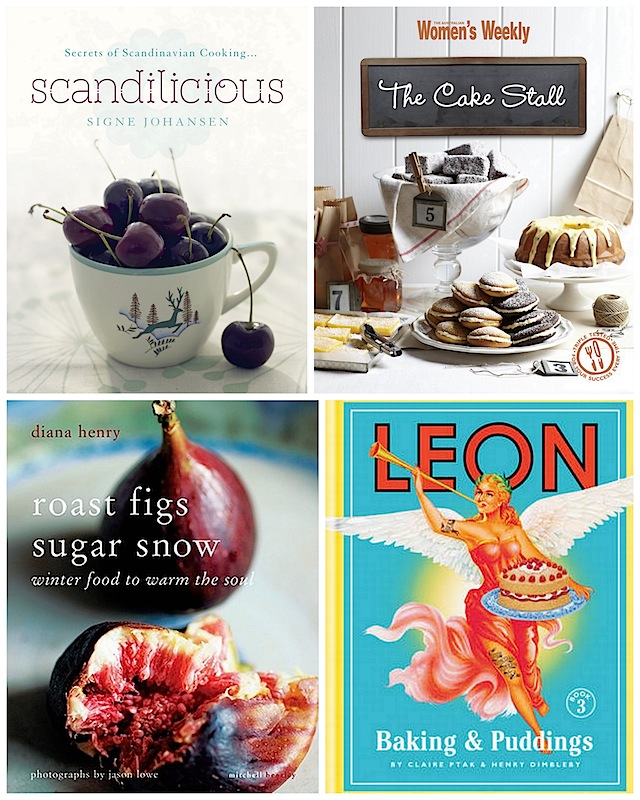 Finally (for now at least) I bring you my selection of some of my prettiest and most creative looking books of the year. These titles are either notable for their food styling, photography or graphic design.
Clockwise from top left:
For the trend follower
Spearheading this year's trend for Nordic and Scandinavian cuisine, Signe Johansen's Scandilicious has been one of my favourite books of the year, so much so I've renewed my library copy SIX times now and will inevitably buy it when they forcibly remove it from me. The styling is effortlessly, well, stylish with graphic printed linens and ceramics. My top recipes are Jarlsberg and fennel muffins, Daim cake and the blackberry, almond and cardamom cake. Secrets of Scandinavian Cooking… Scandilicious by Signe Johansen is published by Saltyard Books in hardback RRP £20.
For the bake sale work-horse
A departure from the usual carousel swinging paperback magazine format Australian Womens' Weekly is best known for, The Cake Stall is stuffed with homely cakes, traybakes and biscuits that would make any bake sale sell out like proverbial hot cakes. This hardback book is presented in a completely new way to the familiar glossy coated paper and staples of most AWW publications, instead we have a scrapbook layout with matt pages and quirky graphics. This style might easily have been overdone but looks fantastic, the designers have done a fabulous job of it. Being Australian there is a completely different spin on the bakes, my favourites are marshmallow treats, orange almond Victoria sponge (as you've never seen it before) and neapolitan coloured neenish and pineapple tarts. There are so many new things in here I dying to try! Watch my video review from earlier in the year here. The Cake Stall (Australian Womens' Weekly Maxi) by AWW and Pamela Clark is published by ACP Publishing Pty Ltd in hardback RRP £16.99.
For the creative butterfly reader
Claire Ptak and Henry Dimbleby's joint effort is the third outing for cafe chain Leon with Leon Baking and Puddings. A big solid book with twin ribbon book marks (these always make books look wonderful), the inside is an eclectic mix of graphics, vintage photography and funky page layouts. Recipes are chatty with credentials from granny or ancient aunts in many cases; this book is a rare breed that makes you laugh as you turn the pages (for the right reasons). A harlequin leapfrogging a jelly, mini footballers scaling a meringue, Desperate Dan cow pie with horns, it sounds ridiculous but it works. There's even a groovy page full of stickers at the back. This is the kind of book you could keep dipping into and notice something you hadn't seen before. Leon: Baking and Puddings. Book 3 by Claire Ptak and Henry Dimbleby is published by Conran Octopus in hardback RRP £20.
For winter comforts
"Winter food to warm the soul" is the tagline of Diana Henry's Roast Figs and Sugar Snow and its influences span Alsace, Georgia, New England, Russia, Quebec, anywhere in fact where the temperature plummets in the darker months. You'll feel well travelled in a fur hat and boots through ski slopes, pine forests and misty moors by the time you've read it. I intend to work my way through tartiflette of Savoie (Reblochon is one of my favourite ever cheeses), Danish roast pork with pickled prunes and sweet cucumber Russian smoked fish pie with cream cheese pastry. The sugar snow of the title refers to Native Americans watching for the "sugar moon" before tapping the maple trees for syrup. It's kind of Joanne "Chocolat" Harris' French Kitchen meets Twin Peaks. All that's missing is some damn fine cherry pie. Warning: There is a fluffy ex-bunny hanging upside down on page 68. Roast Figs, Sugar Snow: Food to Warm the Soul by Diana Henry is published by Mitchell Beazley RRP £15.99.
With thanks to Octopus
Back to Part Five: Rustic Baking
Giveaway #31: Win an Interflora Christmas Cracker Hamper RRP £60

Interflora isn't just for flowers, it's the ideal place to find last minute gifts for her, gifts for him, hampers for all the family – especially those that live far away as you can get items delivered direct.

This Christmas hamper features:
• Willowglen Brut Sparkling Wine 75cl
• Healthy Ideas Christmas Fruit & Nut Mix 160g
• Border Deliciously Different Plain Chocolate Covered Brownies 175g
• Furniss Traditionally Baked Shortbread Fingers 150g
• Maxwell & Franks Round Top Iced Cake with White Stars
• Just Chocolates Chocolate Selection in Red Box 125g
• Barfield Bakery Mince Pies x 3
• Convivial Yorkshire Natural Sea Salt Crisps 100g
• Mondovino Bambino Spicy Moroccan Seed & Nut Crackers 45g
• Maxwell & Franks Christmas Pudding with Cider in Foil with Bow 454g

HOW TO ENTER

Complete the Rafflecopter form below to confirm your entries made via blog comments, Twitter, Facebook etc.
This giveaway is set to run until Sunday December 18th 2011.
Do read the rules below.
Winners are announced on the Rafflecopter form after claiming prizes.

No form showing? Hit refresh and it should appear
Complete the form – or your entries will not go into the draw
Mandatory entries to be completed first; i.e. leave a blog comment
Want more chances to win? Come back daily to confirm bonus entries via Twitter
Viewing this by email? You need to click through to enter.

Good luck!

Giveaway sponsored by Interflora.

RULES:

1. Open to UK residents over the age of 18.

2. The prize is an Interflora Christmas Hamper as pictured and described above, please note that exact contents may vary.

3. Instructions form part of the terms and conditions.

4. No fibs: each winner's tweet entries and subscriptions etc are cross checked, cheats will have ALL entries disqualified.

5. This giveaway is hosted on behalf of prize sponsor Interflora who will deliver the prize(s) following confirmation of winners' contact details.

6. The prize sponsor's decision is final and binding on entrants; no further correspondence will be entered into.

7. There is no cash or alternative to the prize stated.

8. The prize is selected in good faith, however the prize sponsor may substitute with one similar value/type if original one is unavailable.

9.Winners are picked by Rafflecopter using random.org and the site owner contacts them by the email.

10. Failure to claim prizes within 7 days will result in a replacement winner being chosen.

For another opportunity to win another one of these hampers, why not visit Fuss Free Flavours?

Come back next time when I'll be giving away this toy Kenwood mixer and a few days later for this Asda hamper.