…the decade when I became a wife, a home owner and a mother.
I hadn't planned on posting until next week but have been busy reading everyone else's round ups. Although I started this blog in July, it wasn't until around September that it started to take shape and look like a proper food blog (if it does now).
Truth be told I've not been in the mood for retrospection, I am thinking more of the future. People don't tend to say "Happy New Decade" but right now remarking that it's a new year seems well, a bit pithy to me as it seems fairly plain we are on the cusp of a new era altogether. Now that is something to get excited about.  The Abba song, "Happy New Year" is not one of their cheerier songs but it is a song about the end of a decade and so seems apt.
And I don't really "do" new year. I'm relieved to be at the stage in my life where there is no expectation that I should go out. My husband and I get something simple and pre-cooked from the supermarket (I've done all the hard work for Christmas), a nice cold bottle of something fizzy and watch the telly.  No extortionate prices to get inside my local pub. No struggling home in the freezing cold on jam packed public transport. I normally go to bed and listen to the fireworks as I drop off although food blogging has got me more accustomed to late nights so I will still be up.
January 1st sees me up with the lark and a clear head whilst it's all quiet and most people are still in bed nursing hangovers.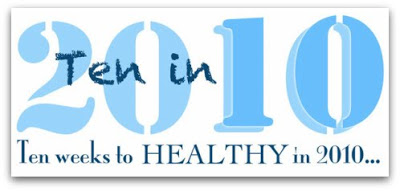 But I do do resolutions. This year I am taking part in Recipe Girl's Ten In Ten healthy life changes challenge where bloggers are spending at least the first ten weeks of 2010 focussing on healthy goals. My goal is to get fit and lose some weight. There may be fewer cakes and cupcakes for a while. I will only be baking stuff that is either for other people or for specific blogging challenges such as Mactweets and Daring Bakers (which I start in January).  Meanwhile I will be eating up my five a day and getting some exercise.
I will return to posting recipes next week.  In the meantime, I wish all of you a Happy New Decade.