Life is chaotic at Maison Cupcake HQ right now; my kitchen is in pieces and will continue to be that way for the next 3 weeks. The entire contents of said kitchen are festooned around the house in my vast collection of Ikea plastic tubs.
But I have squeezed in a moment to tell you about various other bits and pieces that have been/are going on.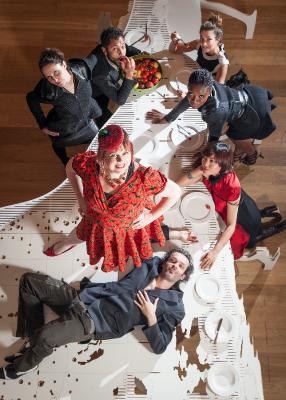 Global Feast
Supper Club Powerhouse Kerstin Rodgers AKA Ms Marmite Lover is executive chef behind a massive food event to coincide with London's 2012 Olympics. Global Feast will showcase a different nationality menu each night by the best of London's restaurant chefs and supper club hosts. It all takes place seated at "Worldscape" an art installation of a world shaped table.   Global Feast kicks off with a West African menu and runs nightly from July 25th to 13th August at Stratford Town Hall on the doorstep of the games. Tickets are available from GlobalFeast.2012.com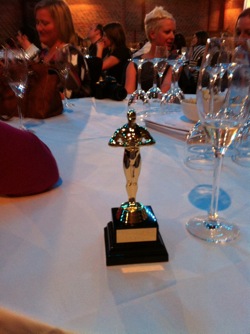 Best Tasty Blog Award
In the whirlwind of the past few weeks I attended and spoke at Britmums Live about What Makes a Good Food Blog alongside the aforementioned Kerstin Rodgers and Katie Bryson.  I also managed, to my surprise, to scoop the "Best Tasty Blog" award at  The BiBs. Huge thanks to everyone who nominated me, it was a genuine surprise. Tickets for Britmums Live 2013 are on sale now at the bargain early bird rate of £39.99.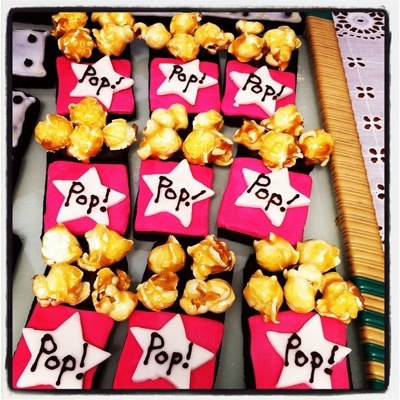 Bake Swap and Launch
Thank you to the seventy or so people who took part in the recent Sweet Bitesize Bakes Swap which was hosted at BakeMe.Com.  I also hosted a pop up tea shop with cakes from the book at Penny Fielding's Shop and Gallery in Walthamstow Village.  It was a bit of a wet day, clashing with the Andy Murray final and torrential rain but invaluable practice to see what doing this kind of thing on a regular basis would entail. My favourite item at the pop up were appropriately enough these popcorn cookies which I'll be showing you how to make at BakeMe.Com soon.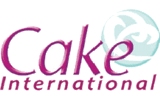 Cake International
Three new dates have been set for Cake International; 9-11 November 2012 at Birmingham's NEC, EventCity Manchester 8-10 March 2013 and at London's Excel on 12-14 April 2013. I will definitely be going to some or ALL of these wonderful events.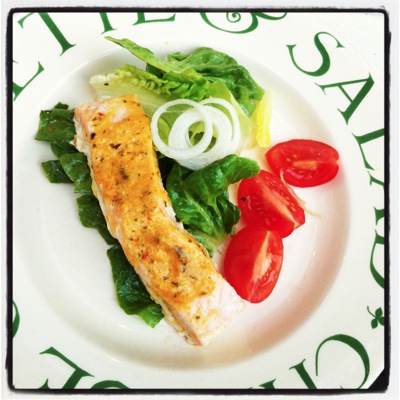 Saucy Fish Company
Sadly the weather isn't conducive to barbecues right now but when we had a chink of sunshine, what seems an age back in late May, I tried some Saucy Fish foil bake samples out. The boxes don't actually promote that you can use them on barbecues but it was extremely successful. Flavours in the range include tuna steaks with sweet soy and chilli and salmon with red pesto. They'd have been perfect for suppers whilst I have no cooker at the moment!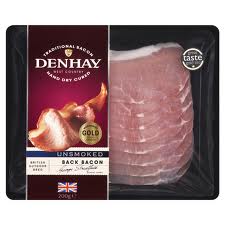 Denhay Bacon
Not only was this year the Diamond Jubilee for Queen Elizabeth but dry cure Denhay bacon have been celebrating their sixtieth year. Back in Dorset in 1952, they established the family business which has won awards for their West Country Farmhouse Cheddar and more recently dry cure bacon. I am pleased to vouch it made the ultimate bacon butty.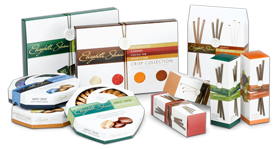 Elizabeth Shaw
Elizabeth Shaw, best known for mint crisps is adding various flavours to their range. The new flavours are butterscotch, honeycomb, cocoa crunch and caramel in milk and dark chocolate. You can send off for your own samples on their website here.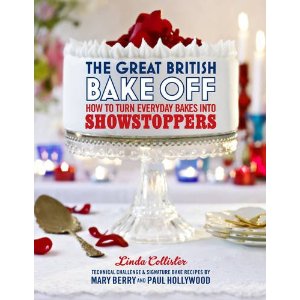 Great British Bake Off
Coming back to our screens this July is the new third series of the Great British Bake Off. To cash in on the show's success, there is a new Great British Bake Off book subtitled "How to turn everyday bakes into show Stoppers" and Sainsbury's are even launching a Great British Bake Off range of bakeware. As if that wasn't enough the second book by Edd Kimber is due to be released in September as the series climaxes. Phew. We're all going to go bake off mad again, I can see it coming.
Kenwood Disaster Chef
If auditioning for the Great British Bake Off is beyond you then why not take heart from the success of participants in Kenwood's Disaster Chef. Their latest video shows Emilia Fox being shown how to make quiche.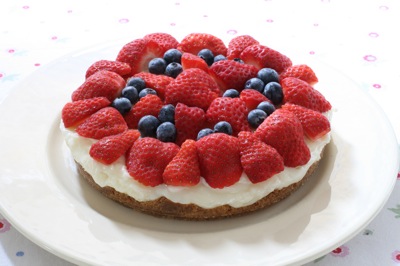 Sweet Eve Strawberries
The ladies from Sweet Eve Strawberries heard what chaos I was in and sent round a huge box of lush British strawberries to keep me going. I had so many I ended up dishing out red and juicy fruit to various neighbours even after I'd made my forthcoming Forever Nigella item and this lush no-bake cheese cake shown above.
Pink Lady Photographer of the Year
Pink Lady Photographer of the Year are back in the frame with their second annual celebration of food photography. Categories include pictures taken on mobile phones, wine related imagery and celebratory world foods. The deadline for entries is 31 January 2013 and judges include Jay Rayner, Antonio Carluccio and food photographer to Gwyneth Paltrow, Ellen Silverman.
Meanwhile, fingers crossed we're due for some sunshine this weekend and I'm off enjoying myself with Ted during the summer break. Now I've got my energy levels back I'll be back soon with some great new posts (at last!!).