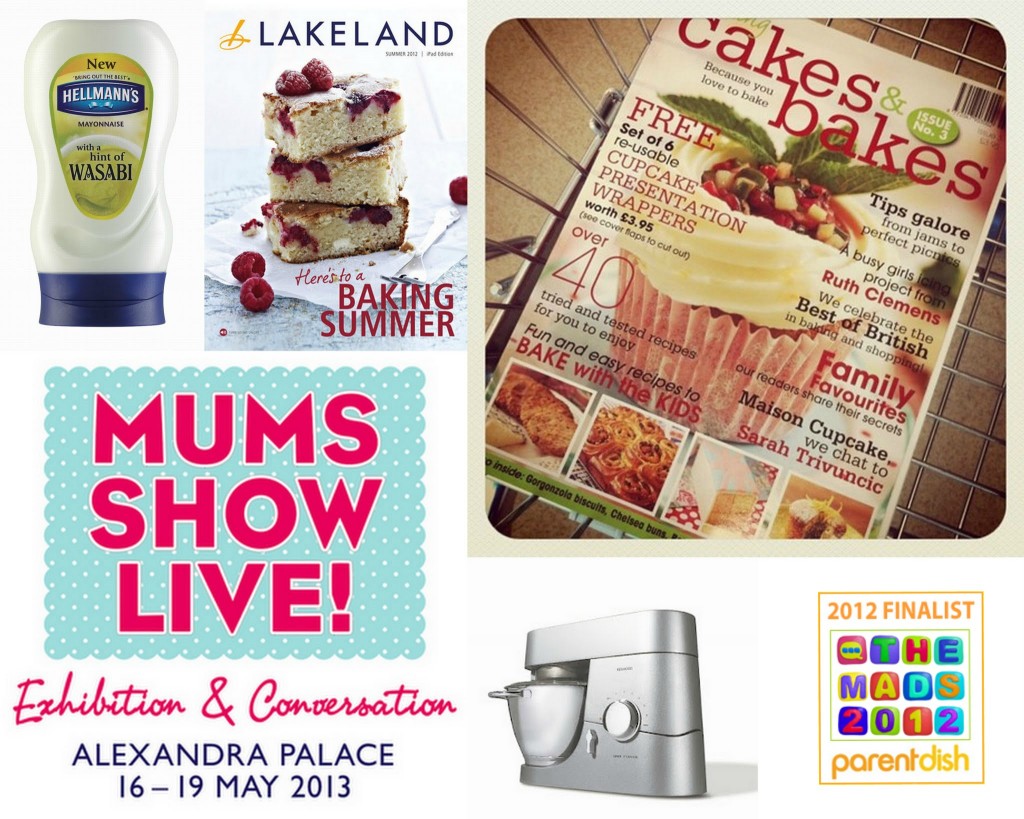 In what I suspect may be the first of two June Cupcake Crumbs posts, here is a round up of things going on this week:
Clockwise from top left:
Hellmanns have brought out three new flavoured mayonnaises in squirty bottles. Yesterday I revelled in a sliced beef tortilla wrap using their hint of wasabi flavour and the two went together perfectly. The wasabi mayonnaise is a pale green colour (looks a bit like toothpaste!) but I'll forgive it that as it tasted good. Other flavours in the range are hint of caramelised onion and twist of black pepper and they're priced at £1.69. More details at Hellmanns.
Lakeland have launched a free iPad magazine (available through the Newstand app) which I sat side by side with Helen on the train reading on our way to visit Yeo Valley this week. The navigation takes some getting used to but the content, a combination of 50+ recipes, videos and articles linked to Lakeland products is excellent and well worth a look. We were particularly smitten by the Zoku ice lolly makers that Katie featured on Feeding Boys recently. More details at iTunes.
Making Cakes and Bakes is a fairly new magazine and I'm fortunate enough to have been featured in it twice and it's only been going 4 issues. Last month I was in a general baking bloggers' feature and this month *drumroll* I am on the front cover, well not me personally but my name at least in reference to an interview with me to coincide with the launch of my book Bake Me I'm Yours… Sweet Bitesize Bakes which comes out this month (copies are already being dispatched sporadically from Amazon!). Copies are on sale at good newsagents, I picked mine up in Sainsburys. Follow them on Twitter at @making_cakes
The MADS 2012 have got just a few days left for voting – until June 6th at 5pm. Maison Cupcake is a finalist as best food blog and along with other finalists I took part in this fun video which is shown below. I'm amazed to be in it four times so do have a watch and see if you can spot me! (I'm the one who says they've tweeted ten times already that day). If you've not done so already, hop on over and vote for your favourite sites at The MADS 2012.
Forget MasterChef, Kenwood are holding a competition for the UK's Disaster Chefs. They want to help the UK's most hopeless cooks to brush up their act by giving them two months of training to transform their kitchen skills.  The competition opens on 21st May and flailing cooks have until 29th June to enter at Kenwoodworld.com
Finally I'm delighted to share news of my involvement with Dom at Belleau Kitchen's new project Mums Show Live. My long suffering husband Nick was kept busy in the evenings of a couple of weeks recently to design the logo for this new consumer show aimed at mothers of children who are beyond the baby stage. The show takes place at Alexandra Palace in May 2013 and I'm sure it will be a huge success as this is a massive gap in the consumer show market. Find out more at Mumshowlive.com
So I'll leave you with this video from The MADS and don't forget to vote! 🙂