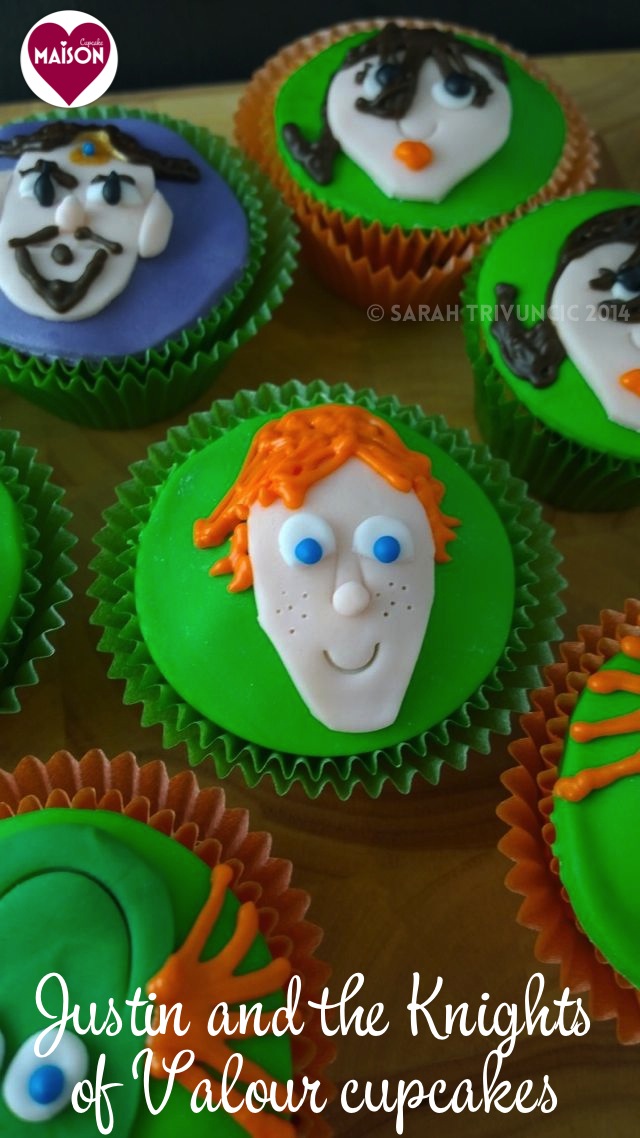 It's been a while since I did any sugarcrafting so when the film company behind kids' animated film Justin and the Knights of Valour asked me to celebrate the film coming out on DVD this week, the gauntlet was well and truly thrown down.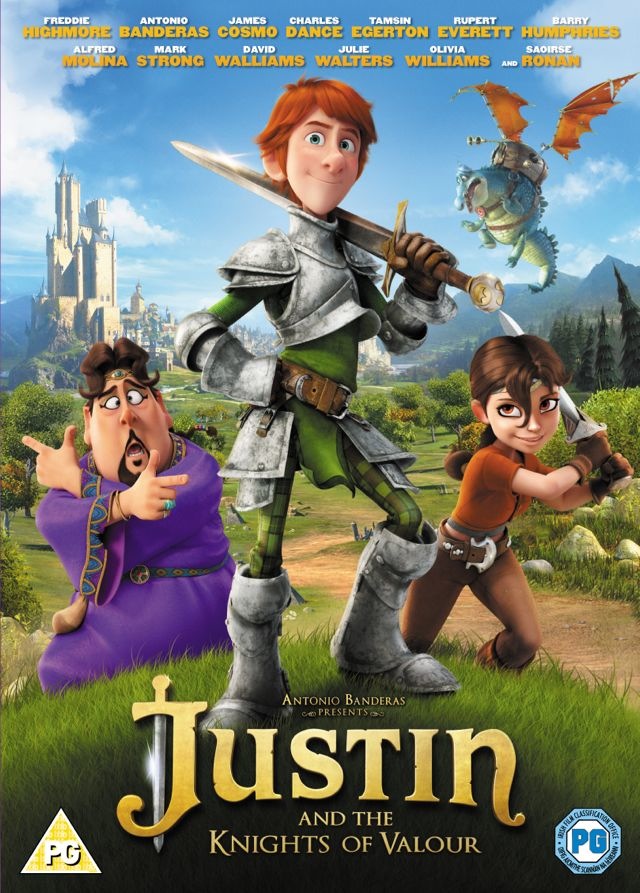 I don't know how this movie crept under my radar first time round, it's stuffed with top actors and fun characters.
Justin wants to be a real knight of valour like his grandfather and after various adventures involving wizards, monks and crocodiles… well it's a kids film so a happy ending is par for the course but there's plenty of action and peril along the way. I guess it's like Game of Thrones crossed with Shrek.
I decided to base a set of cupcakes on the characters on the DVD artwork.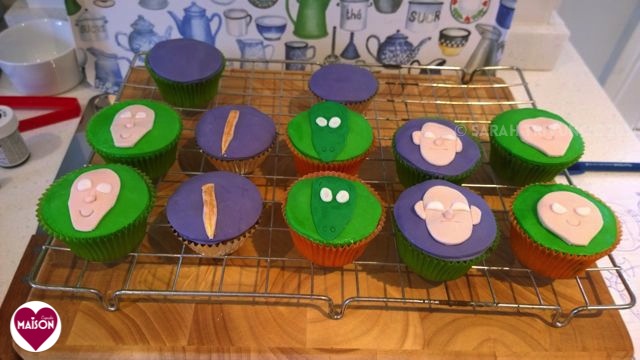 I worked on each of the designs in stages, topping the cake bases with complimenting shades of sugar paste, mixing up that tricky flesh colour and stamping out faces each with slightly different shapes.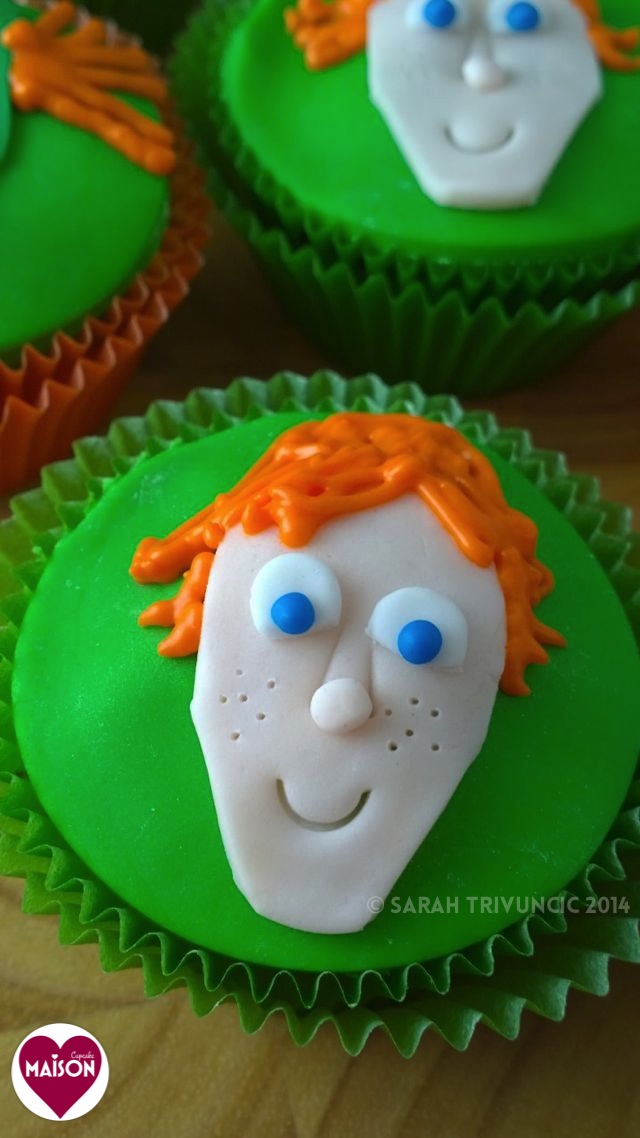 Our hero, Justin, voiced by Freddie Highmore (Charlie & the Chocolate Factory and more to the point, one of my all time favourite films, Ridley Scott's A Good Year).
The perfectionist in me was horrified afterwards to realise his eyes are actually green but hey ho I got the freckles and hair right!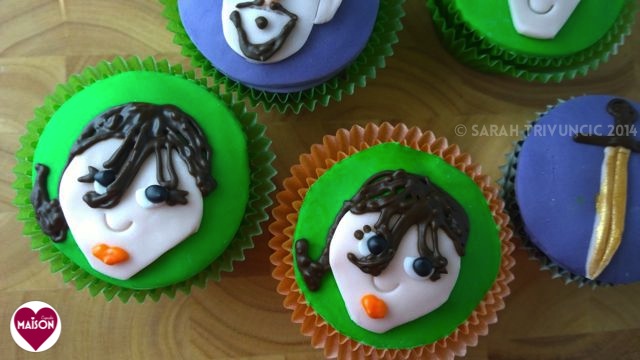 The feisty Talia voiced by Saoirse Ronan (previously in The Host and Atonement).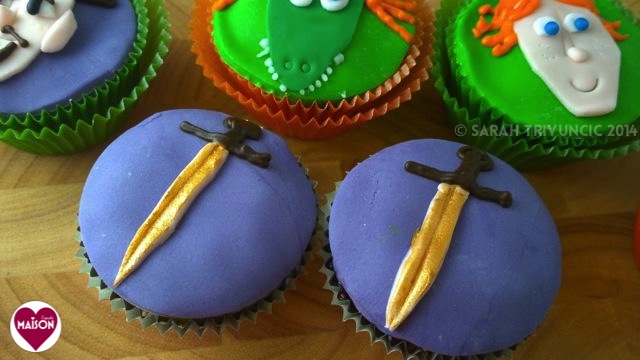 This being a medieval story we have long pointy dangerous swords.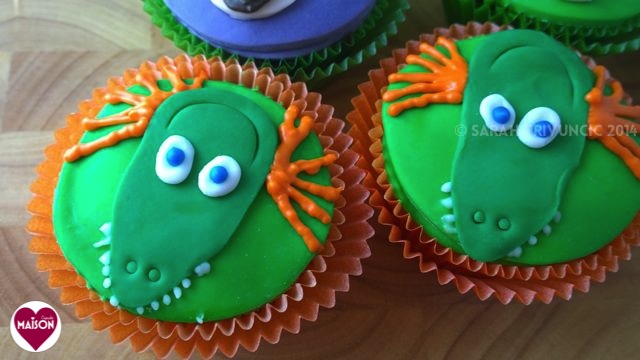 Ok so this is Gustav. At first glance he looks like a dragon but in fact he's a flying crocodile with orange wings.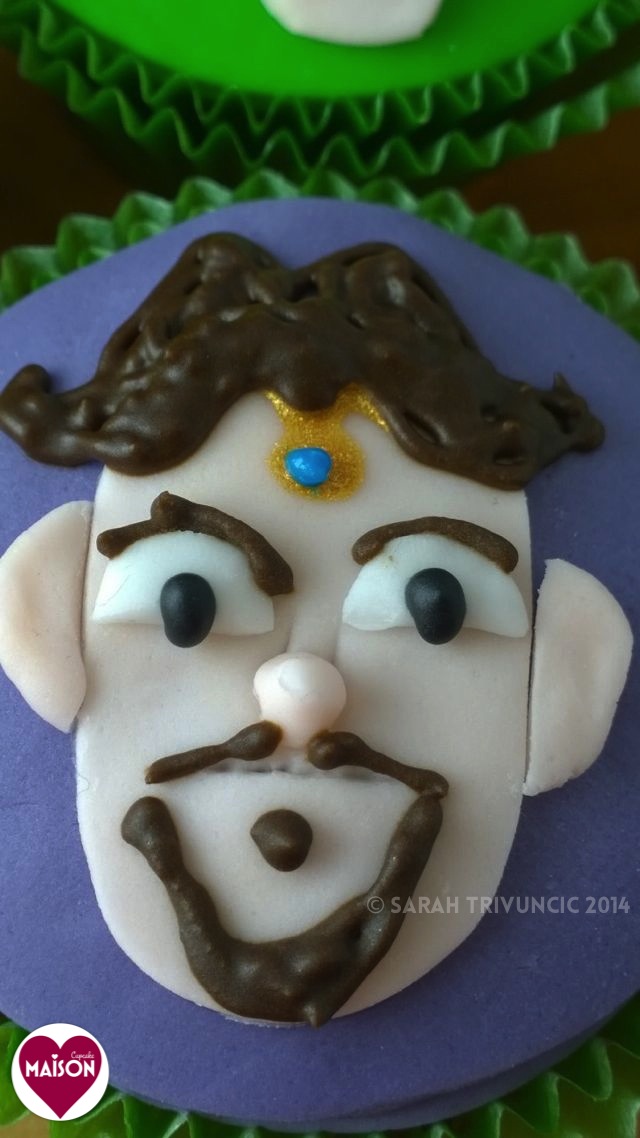 This is Melquiades, a wizard voiced by David Walliams.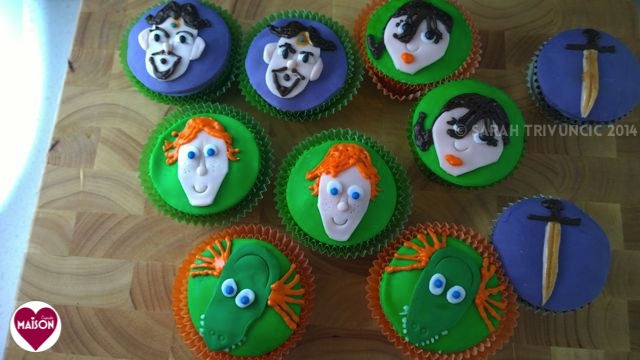 I use minimal equipment whenever I'm inventing designs such as these, the tools required were:
Non stick mat
Non stick acrylic rolling pin (these two aren't essential but do make life easier)
Small sieve with icing sugar to dust surfaces lightly
Gel food colours in green, violet, orange, dark brown, royal blue, black and for the fleshy sugarpaste a tint of ivory, pink and brown.
Gold food paint
Small food quality paint brush
Oval cutter
Table knife to trim edges
Sugarcraft tools with semi circular and blade edges
No 2 size piping nozzles
Disposable piping bags
Cocktail stick for freckles!
No4 piping nozzle for crocodile nostrils!
On this occasion I used white Dr Oetker sugar paste tinted with gel. The darker green on the crocodiles was pre-coloured green from a Dr Oetker mixed pack but found it drier and less malleable.
In future I'd stick to colouring my own although surprisingly Sainsbury's pre-coloured sugar paste has been my favourite over obvious sugarcraft brands such as Renshaw or Dr Oetker.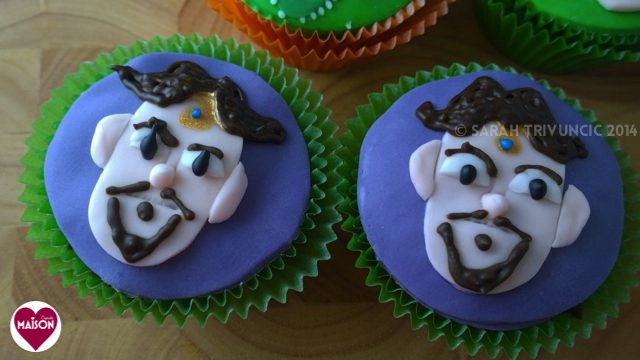 I try to keep them all the same but the little nuances with icing give each face its own character! The Melquiades on the left looks evil but the one of the right looks much friendlier!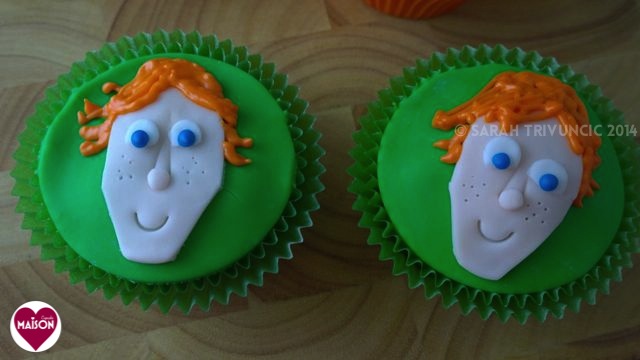 I think Justin looks like Rodney from Only Fools and Horses!
If you'd like to see a clip of the film I've embedded one below.
For further Justin and the Knights of Valour inspiration check out:
Helen's Easy Minecraft Castle Cake.
Katie's Green Dragon Ice Cream Milkshake.
Michelle's Knight's Shield Pizza (genius idea!)
Justin and the Knights of Valour is out on DVD and Blu-ray from 3rd February. This post and themed cupcake project was commissioned for a fee.
Photos in this post were taken with the Nokia Lumia 1020 Windows smartphone which I'm currently roadtesting and will publish a review soon.