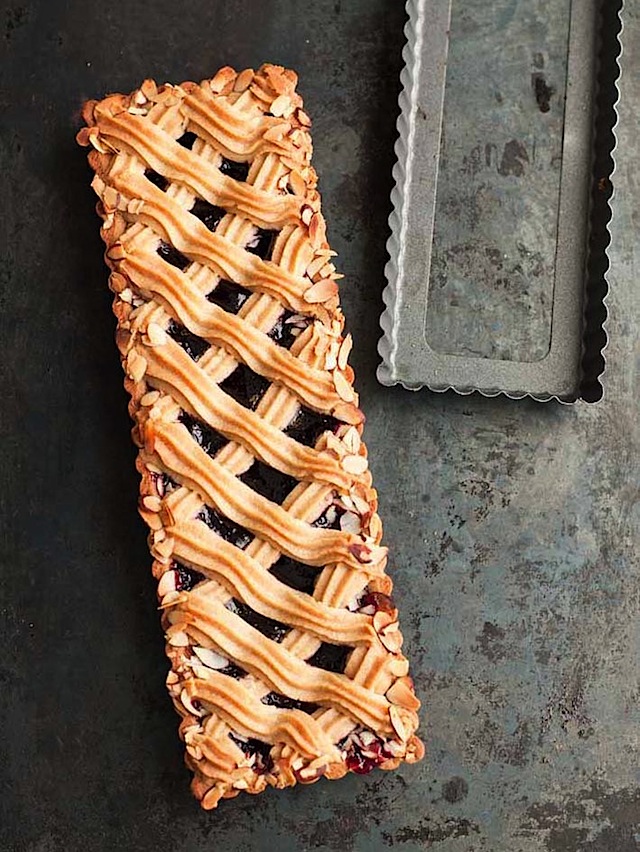 My Germanic roots are not something I've paid much homage to on Maison Cupcake but when I saw this Linzer Torte in Dean Brettschneider's book "Pie", it made me feel very nostalgic. Linzer Torte used to make a regular appearance on our school puddings counter, with criss crossed pastry just like this one.
I can almost taste the fruity jam just by looking at it… would it spoil the illusion to tell you most kids smothered theirs with custard? Not being a massive custard fan (I prefer an ice cold iles flottantes style creme anglais myself) I used to pick up my Linzer Torte from the bowl and eat it like a gigantic jammy biscuit.
I wish I could say our dinnerladies had the finesse to add toasted almonds around the sides but I'm afraid they didn't. The odd glace cherry upon a melting moment was kind of their limit when it came to garnishing their bakes although they did a good job of festooning the savoury dishes with compulsory curly parsley.
So I thank the Global Baker Brett for taking me back to my teenager Linzer Torte moments. I will shatter the illusion once and for all to point out that these occurred in Walsall and not Vienna. But they did teach me to say Ich mochte eine stucke torte bitte…. if nothing else.
Brett says, "This classic Austrian torte is famous worldwide for its delicate almond-based pastry fragrantly spiced with cinnamon and cloves, and jam filling that provides a light, fruity richness. Ensure you use a high-quality jam, abundant with fruit. I've added a melting moment piped biscuit topping; pure genius!"
And with that, here is his recipe.
Linzer Torte with Spiced Melting Moment Topping

Makes a 33cm x 9cm tart , serving 6–8 people

Ingredients:

Pastry
200g standard plain flour
1/2 tsp ground cloves
1 tsp ground cinnamon
75g ground almonds
100g caster sugar zest of 1 lemon
225g butter, softened
2 egg yolks
1/2 tsp vanilla extract

Filling
400g good-quality raspberry, blackcurrant or redcurrant jam

Topping
30g flaked almonds
40g icing sugar
125g butter, softened
2 drops vanilla extract
125g standard plain flour
15g cornflour
1 tsp ground cinnamon

Method:

For the pastry – Sift flour, cloves and cinnamon together in a mixing bowl. Add almonds, sugar and lemon zest. In a large bowl, mix together butter, egg yolks and vanilla using a wooden spoon and then add dry ingredients. Continue mixing until well combined and a mass is formed. Shape into a ball, flatten and cover with clingfilm. Place in refrigerator for approximately 1 hour or overnight.

Having made and rested the Linzer Pastry, to make the torte – On a lightly floured surface, roll out pastry to 3–4mm thick. Carefully roll it up on the rolling pin and unroll it into a 33cm x 9cm tart tin. Take care as the pastry will be rather soft. Carefully press pastry into the corners of the tart tin and patch any holes. Trim edges using a sharp knife to ensure they are smooth and even.

Stir jam until it is lump-free and spread evenly into the pastry base.

Crumble some flaked almonds between your fingertips until you have smaller pieces to sprinkle around the edge of the tart, then set aside.

To make topping, place icing sugar, butter and vanilla extract into a mixing bowl. Using an electric beater, beat until the mixture is very soft and fluffy. It is important that the mixture is well creamed and soft, otherwise it will be hard to pipe.

Sift flour, cornflour and cinnamon together and add to creamed mixture. Beat together until dry ingredients are well mixed, but do not over-mix. Place mixture into a piping bag fitted with a small star tube, and pipe over the jam filling diagonally one way then the other to create a trellis pattern. Sprinkle crushed almond flakes around the edge of the tart.

Pipe small shapes of leftover mixture onto a baking paper-lined oven tray and bake in a preheated 170°C (gas mark 3) oven for 10–12 minutes to make petit four biscuits to serve with coffee or tea. Bake tart in a preheated 180°C (gas mark 4) oven for 30–35 minutes or until golden-brown in colour. Take care as the base pastry will bake fast due to the high amount of butter and oil (from the almonds).

Serve chilled with rich cream or vanilla ice cream.

Recipe reproduced with permission from "Pie: Delicious sweet and savoury Pies and Pastries from steak and onion to pecan tart" (Dean Brettschneider)