Mackerel salad can be made either using canned fish or vacuum packs. Of course you can make mackerel salad with fresh fish too but the canned and vacuum versions are a fantastic healthy store cupboard standby.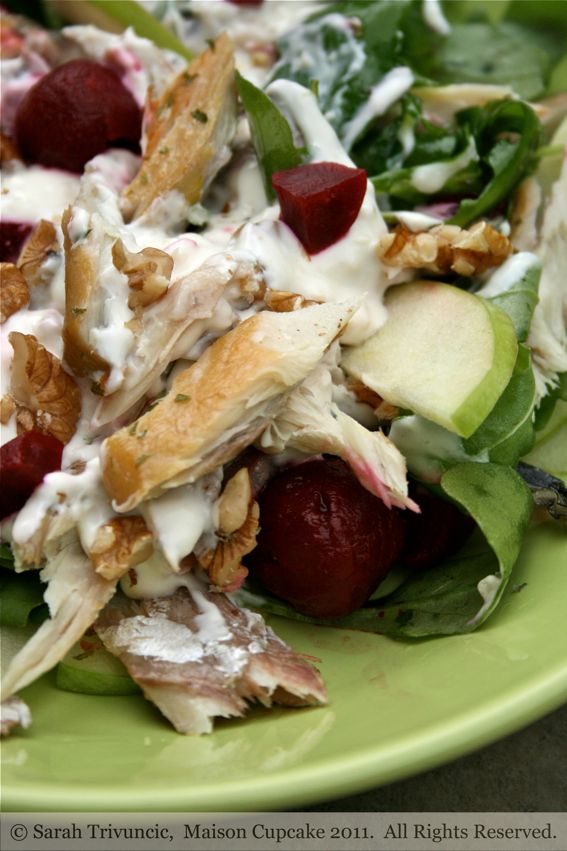 This mackerel salad recipe was shared with me by Scottish brand Baxters. It was developed by Michelin Star Chef Tom Kitchin using their products.
I won't be reproducing their recipes verbatim as I found, quantities of some ingredients were all over the place. I suspect they were written up by non-cooks so I have tweaked them to show you what worked for me.
Coming up I have some easy tapas recipes using beetroot and easy canapés using chutney but today let's kick off with this extremely healthy mackerel salad. If I'm feeling guilty about the packet opened sugar fest which accompanied my recent Peppa Pig Cake post then here is my penance.
Watercress is stipulated although I used rocket and you could just as well use one of those pre-packed bags of watercress, baby spinach and rocket combined.  I would serve this mackerel salad on a large flat dish or plate (my egg shaped Nigella platter would be perfect) for people at a party to serve themselves.
Mackerel salad
Mackerel salad is not something you'd expect to be popular but at Baxters' afternoon tea, it had everyone going back for seconds.  With walnuts and fresh apple slices here, there is a lot going on to stop this mackerel salad being too fishy. Try telling that to my neighbour's cat!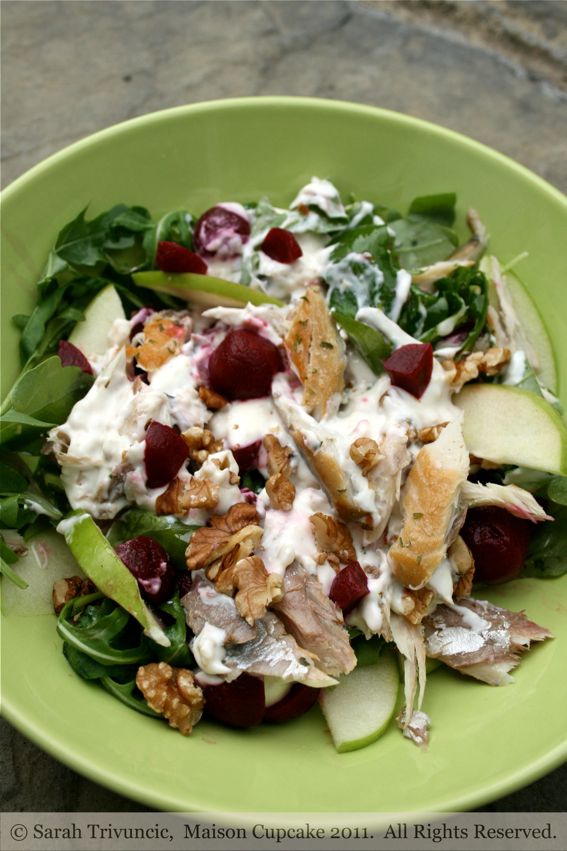 Mackerel salad recipe with beetroot, apple and walnut
Author:
Prep time:
Total time:
Ingredients
340g jar rosebud beetroot, drained
1tbsp extra virgin olive oil
Salt and pepper
10 walnut halves
100g of watercress
4 fillets smoked mackerel
1 apple, cored and sliced
½ x 210g jar horseradish sauce
100ml reduced-fat crème fraiche
Instructions
Place the beetroot in a mixing bowl. Drizzle with the olive oil and season with the salt and pepper. Then add the walnuts and watercress and toss together.
Divide the salad evenly between 4 plates and top with the mackerel fillets and apple.
In a separate bowl, mix the horseradish cream with the crème fraiche then drizzle over the salad.