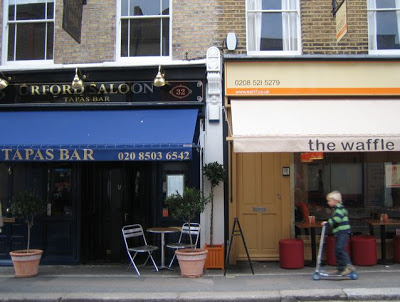 Not a guest post as such but today, Maison Cupcake is being profiled on Kristain's Londonelicious restaurant blog. Kristain is featuring profiles on a number of other bloggers this month whilst she takes a break so you might want to also check out some of her other recent and forthcoming posts about other food bloggers.
I met Kristain recently at the
bacon sandwich breakfast
.  We had both recently bought Canon G11 point and shoot cameras so I hope she is having as much fun with her as I am with mine.
We were asked to submit a photo representing where we blogged from.  I have chosen this shot of some local restaurants which you may remember from my 
Postcard from Walthamstow Village
.
I am taking a bit of a break myself this month, well – more a slow down really, longer gaps between posts – whilst I build my new WordPress site.  Things are coming along nicely and I am looking forward to sharing the backlog of cakes and goodies I have built up!