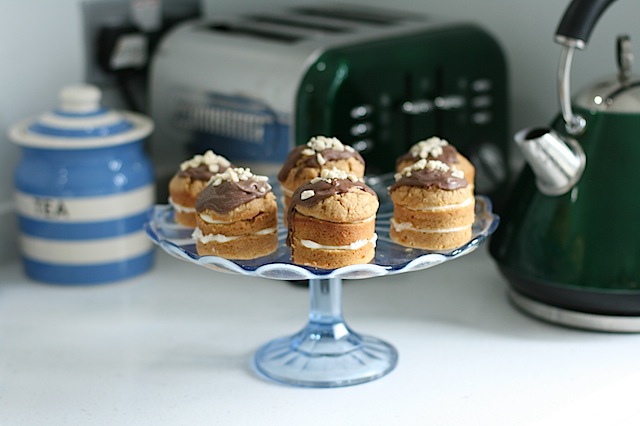 Last week I spent a day recording a video for Bing (the search engine) all about how to make basic cupcakes. They'd asked me to make a few things to have dotted around the kitchen to just generally look nice on set.
I haven't seen the finished video yet but it became a standing joke during the day that this glass cake stand of mini pumpkin layer cakes would appear to be moving around the kitchen by itself. Possibly they'll be seen in soft focus in every shot. Hopefully this will only be obvious if you've been tipped off!
They were decorated rather hurriedly with melted milk chocolate and chopped nuts on top. For slicker presentation I would like to try making them again with a darker sugar or addition of cocoa into the sponge so the buttercream contrasts more. Maybe I should learn to temper chocolate properly too but it doesn't feel like one of life's priorities if they're only being served at home.
These mini pumpkin cakes taste spicy and autumnal. In a sealed plastic tub they're still perfectly moist five days later.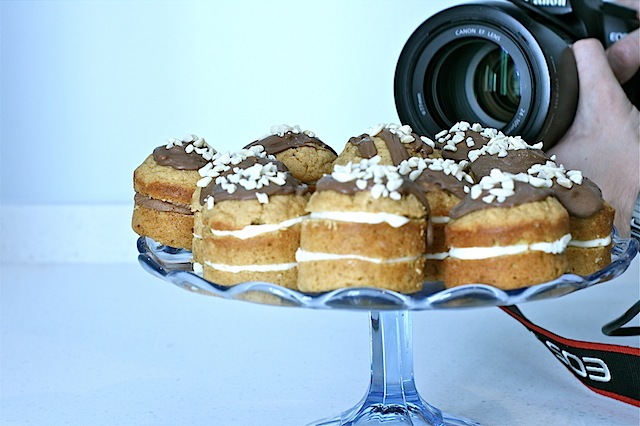 Mini pumpkin layer cakes
Ingredients
220g baking fat or butter at room temperature
480g soft light brown sugar
4 large eggs
1 tsp vanilla extract
150g canned pumpkin puree
250g self raising flour, sifted
240g plain flour, sifted
1 tsp ground cinnamon
1 tsp ground ginger
225ml buttermilk
(to decorate)
100g milk chocolate
2 tbsp chopped nuts
Instructions
Preheat the oven to 180c/ gas mark 4 .
Using an electric hand mixer, beat the butter and sugar in a very large mixing bowl until the mixture is pale and smooth.
Add the eggs one at a time and then the vanilla extract and pumpkin puree until just combined.
Sift over one third of the flour with the spices. Stir until just combined.
Add half of the buttermilk to the cake batter and stir until just combined. Repeat with a further third of the flour, then the second half of the buttermilk and finally the last third of the flour.
Spoon the mixture into the tin holes, filling them to about two thirds full. Bake for 18-20 minutes - this time is a guide, your own oven may vary.
Remove from the oven when a cocktail stick just comes out of the cakes cleanly. Leave them in their tins for 10 minutes then transfer to a wire rack.
When cool, snip a 1.5cm hole off the end of a disposable piping bag then fill with 3-4 heaped tablespoons of maple and cinnamon buttercream (separate recipe sheet) - around the size of a large fist rather than full.
Twist the bag at the end and expel air to push the icing towards the end. Keeping the end twisted shut, hold the bag with the end resting between one thumb and forefinger and the other gently squeezing the mass of icing.
Gradually squeezing the icing out, trace a spiral around the surface of each layer of mini sponge cake.
Sandwich the layers together with a gentle squeeze so it bulges out slightly in a pleasing fashion.
To decorate, melt the milk chocolate gently in the microwave or a double boiler. Spoon over the tops and sprinkle with chopped nuts before it sets.
Notes
If you don't have a mini Victoria sandwich tin you could slice through large muffin sized cupcakes - you won't have the straight vertical sides though.

Total time noted above allows 30 minutes cake cooling time however you may need longer than this.