Here are 10 day trips near St Remy de Provence in the south of France.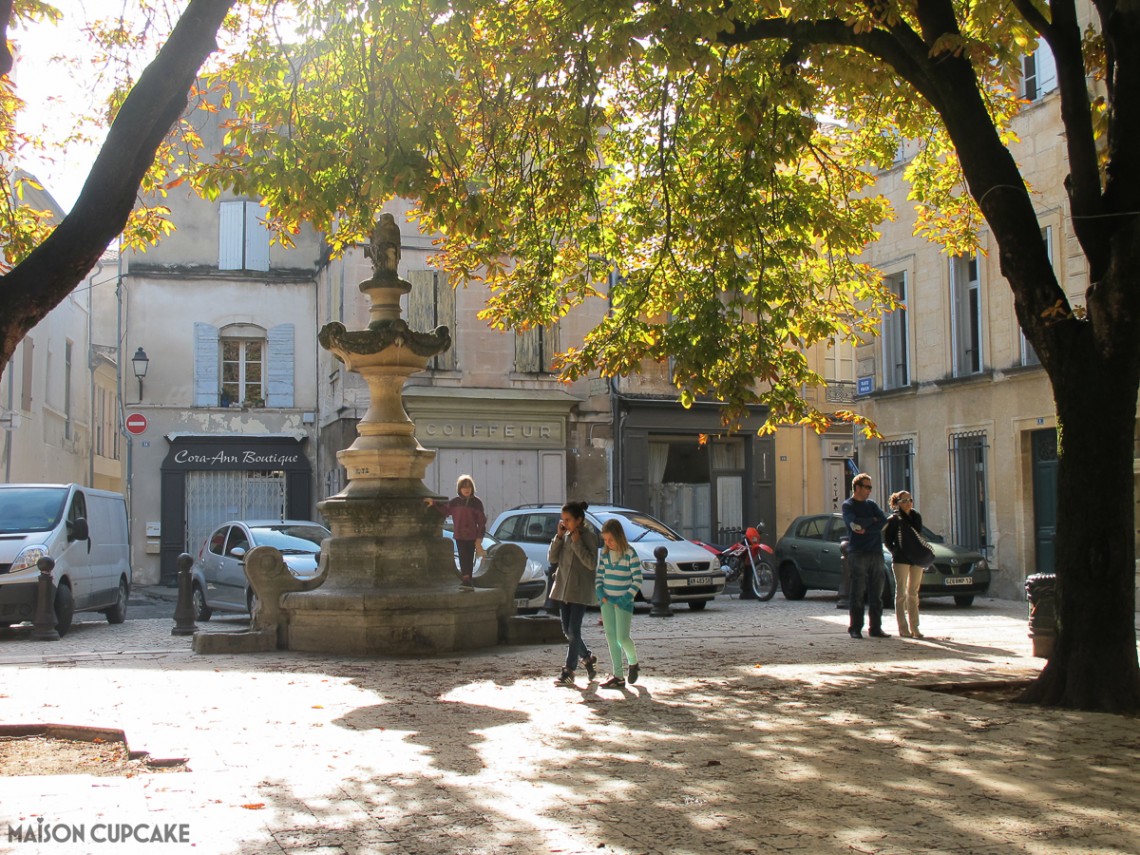 Whilst St Remy de Provence is an easy place to sit doing little, it would be a shame not to see more of the local area. St Remy makes the perfect base to explore the Bouche du Rhône and Vaucluse departments. We have made at least six trips to Provence doing so. This post is one of a series around our stay courtesy of HomeAway.
There are easily enough day trips from St Remy to keep you amused for well over a week. Read also reasons to stay in St Remy and below is a list of other stuff to see and do in the area. Most places below are under one hour drive from St Remy and nowhere is more than 75 minutes. We've made repeat visits to most and I'll add in links to more detailed posts to some in future.
Public transport between main towns such as Arles, Avignon and Aix is pretty good but you'll find life easiest with a hire car if staying in St Remy itself or other villages.
1. The Camargue
Sometimes called "Little Argentina", the swampy Camargue region lies 75 minutes' drive south from St Remy. The area's capital Les Saintes Maries de la Mer offers a day out on the beach, pony trekking and boat trips. You can climb onto the roof of the local church to get a 360 degree view of the area – just cover your ears at bell ringing time! Further west, the former capital of the Camargue, Aigues Mortes ("Dead Waters") a charming walled town and well worth a visit.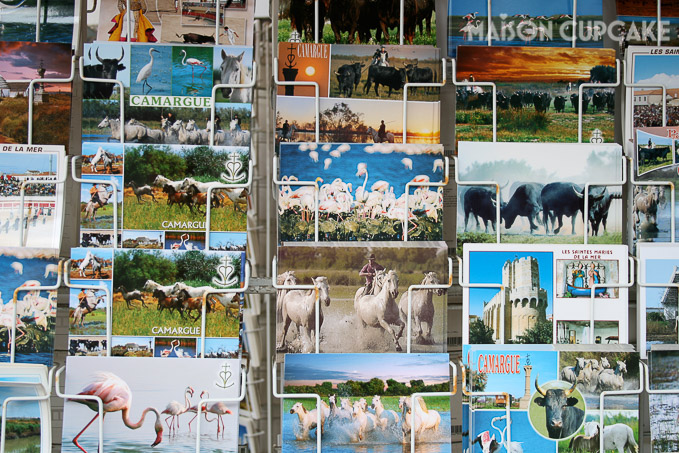 2. Arles
Arles lies 30 minutes south west of St Remy and just north of the Camargue. There are excellent markets on Wednesday and Saturday or you can visit the Roman arena. Don't miss the yellow night cafe homage to Van Gogh's famous painting. It's not the original scene but Van Gogh produced some of his most significant works whilst living in Arles so it's a fitting tribute. Another geeky fact for you – the cafe and its square was also a location in Robert de Niro's Ronin, an excellent gangster movie set in Provence and the Cote d'Azur.
3. Uzes
Uzes is a pretty town around one hour north west of St Remy. My former school French teacher had relocated here after retirement and I was curious to see where he lived now. Uzes is less prettified than St Remy but shares similar layout with a ring boulevard encircling an old town. Below is the market square which would normally be a hive of activity if you picked the right day! Close by outside Uzes is the factory where they make Haribo although we didn't manage a visit on this occasion.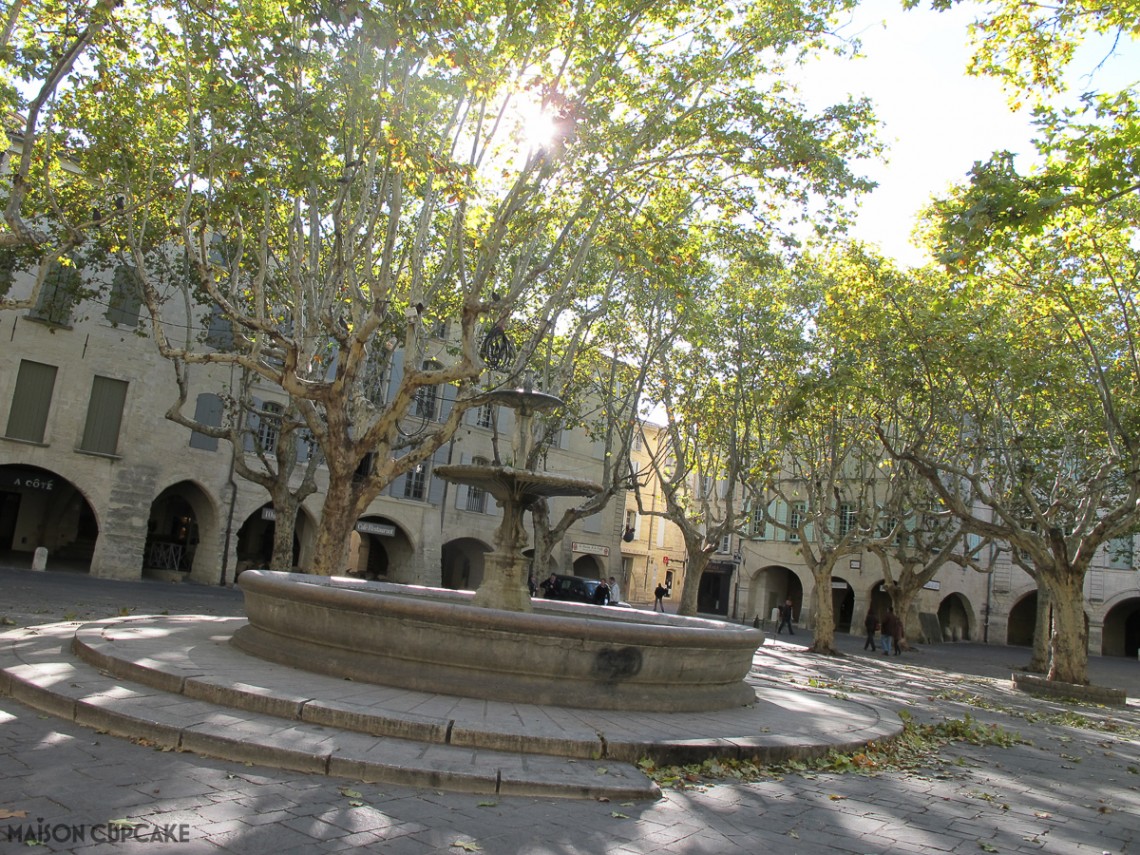 4. Pont du Gard
After Uzes drive south to Pont du Gard. This UNESCO heritage site is an aqueduct built by the Romans and still looking glorious today. You can walk along the bottom level and there's a visitors centre alongside. This is one of France's most popular tourist attractions so choose carefully when you go.
5. Isle sur la Sorgue
Isle sur la Sorgue is famous for its Sunday antiques market – unfortunately on this trip it was not a good market day and my existing pictures pre-date digital technology. I will bring Isle sur la Sorgue to you another time!
6. Les Baux de Provence
Within 15 minutes' drive south you'll arrive at UNESCO world heritage site Les Baux de Provence. Les Baux is the ultimate perched village with a 12th century citadel on top of a more domestic looking village albeit now only inhabited by a few dozen people and the tourist trade. Historically there's a link with Monaco whose royal family were awarded the title of Marquis de Baux after the Grimaldi family assisted the town in beating off a Spanish invasion in 1642. Princess Grace of Monaco also held the title Marquess de Baux and visited shortly before her death in 1980. I visited once when a photography exhibition by Paris Match magazine, dotted around venues in the village commemorated this low key state visit. There tourists a plenty but no casinos or glamour. Alongside Mont St Michel in the north, this is one of the busiest tourist sites in France so pick your time to visit carefully. Nevertheless, the stunning scenery overlooking the rocky Alpilles and olive groves is hard not to love.  Nearby the Cathedral des Images with its sound and light show built into the bauxite rock is the perfect shelter from rainy days and intense heat alike. These Baux caves would not look out of place in Star Wars and has featured in movies such as Jean Genet's creepy black and white Orphée.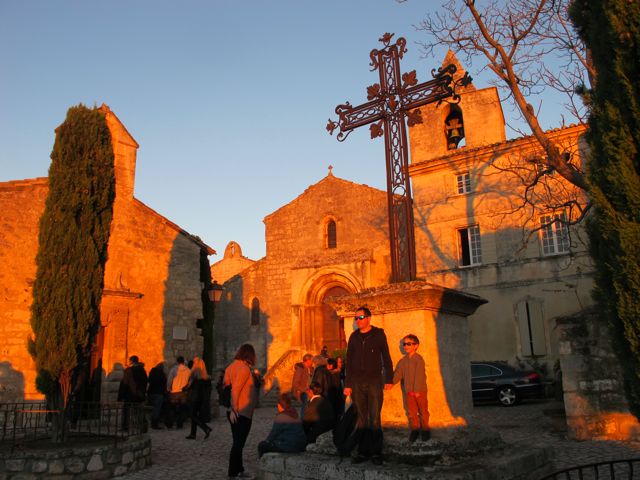 7. Avignon
If you're hankering to get back to a city, Avignon lies only 25 minute drive to the north. For a while in medieval times the Catholic church had two popes at the same time and Avignon's Palais des Papes (below) was the equivalent of St Peter's in Rome. Also worth a visit is the bridge celebrated in French nursery rhyme Sur La Pont D'Avignon – which stops before it reaches fully across the river. Avignon today is a bustling but attractive town famous for its July arts festival.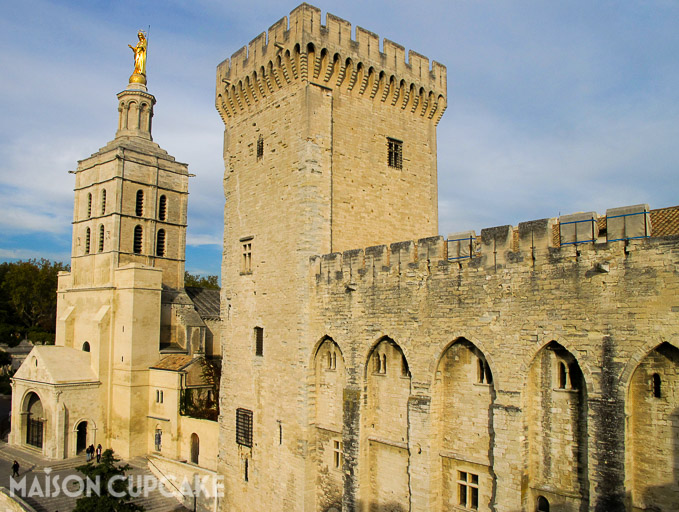 8. Aix en Provence
Aix-en-Provence is a stylish university city in similar stature to Cambridge or Oxford. The streets are packed with fountains and picturesque squares. Market day is always an event and the high street shopping for top fashion brands is amongst the best you'll find in the region. Aix en Provence will always be special to me as it was where my husband and I first went on holiday together. A long time before this little monkey appeared. We took the train in the days before budget flights but actually nowadays I'd sooner get the direct Eurostar to Marseille and connect to Aix some 30 minutes away. (I've not checked but very possibly the Eurostar services now stop at the new TGV station outside Aix – do comment below if you can confirm this).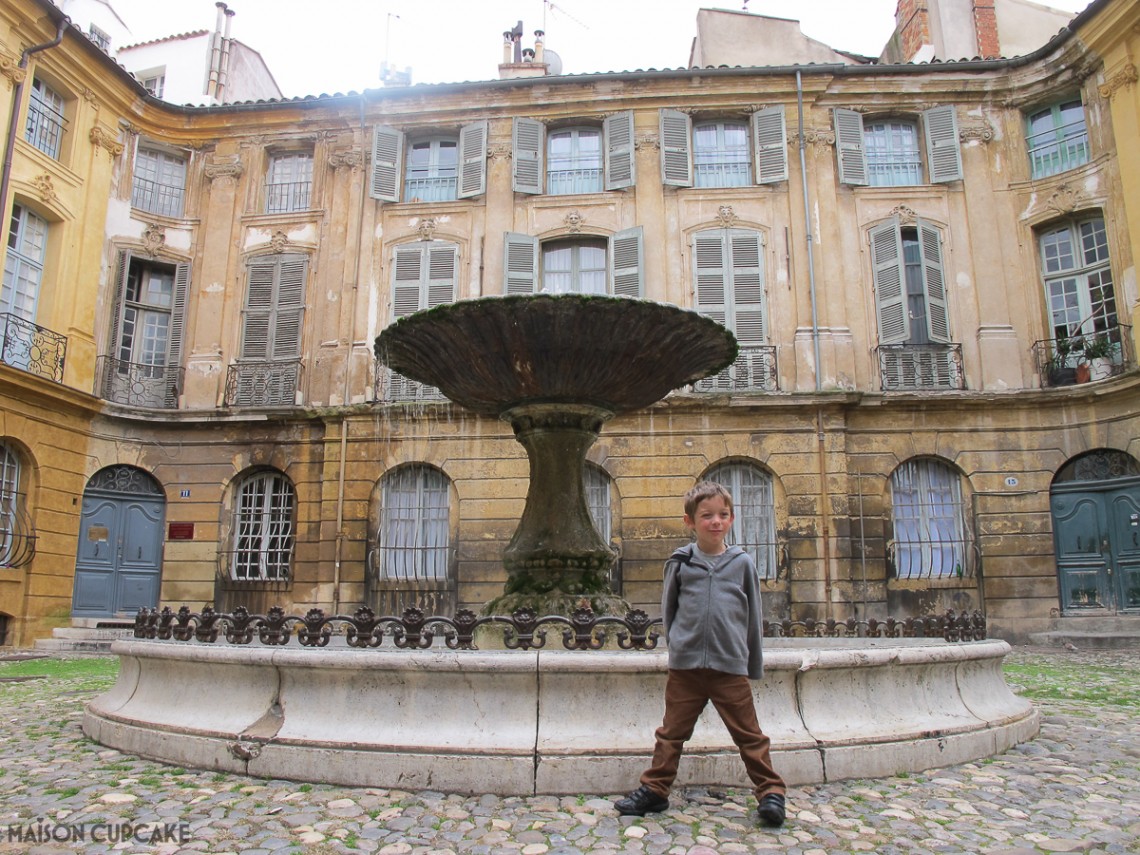 9. Fontaine de Vaucluse
This watery village has a chequered history and is popular with day trippers who want to see the scenery that inspired the poet Petrarch to write about his beloved Laura. Whilst very touristy and prettified, it makes a pleasant walk and there are plenty of cafes from which to people watch.
10. Gordes
Gordes on the nearest side of the Luberon valley is a stereotypical Provencal perched village on top of a hill. There's a stunning view from the road looking north east where it's well worth getting out of the car to take pictures. Gordes also featured in Ridley Scott's watchable Provence movie A Good Year. Beware of falling in love with Gordes, it's probably one of the most expensive villages in Provence.
More postcards from Provence:
A HomeAway from home in Provence
10 Reasons to Visit St Remy de Provence