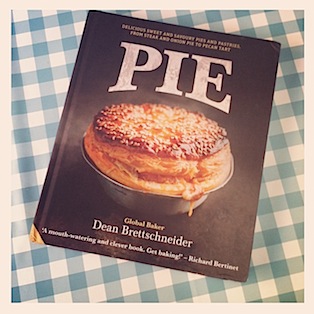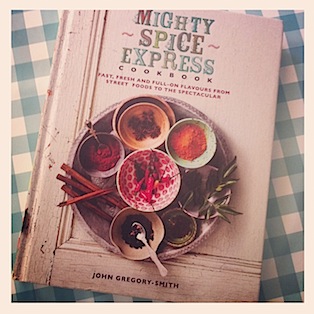 Pie by Dean Brettschneider features recipes for every type of pie and pastry dish, imaginable. From tarte tatin and pithiviers to empanadas and cobbler, it's an imaginative mix striking a good balance between classics and contemporary dishes that would not look out of place on a fashionable bistro menu. The inclusion of chocolate whoopie pies conversely feels incongruous. Dishes I've got my eye on include coriander chicken and yogurt curry pie, smoked paprika, chicken and bean pot pies and gourmet fruit-topped pies. The only thing I've attempted so far was walnut and Manuka honey tart – the filling of which sadly bubbled over the edge of the case in a messy fashion hence it's not been photographed for publication on the blog. But it tasted so wonderful no one in my household minded and I will definitely be attempting it again. Jacqui Small £25.
Mighty Spice Express by John Gregory-Smith gives a whistle-stop culinary tour around the world via spicy food. The pages throw you from Lebanese hummus to Moroccan lentils via Mexican Mole and Thai curry. It's both exhilarating and bewildering at the same time. It's not called express for nothing, dish after dish flashes past you, it's the cookbook equivalent of sitting on my son's plastic globe and been spun round wildly. Much fun and many flavours to be had. The first thing I made from it was Heather's Moroccan Lentils featured over at Dinner With Crayons and next I've got my eye on Beirut Ratatouille. Watkins Publishing Ltd RRP £20, out now. Say hi to writer John Gregory Smith on Twitter @mightyspice
Dress your cake by Joanna Farrow continues the series of cupcakes, cookies, both of which I've reviewed previously. Featuring 50 cake decoration projects for full size cakes celebrating birthdays and occasions for all the family. Stand out projects include a buzzing bee hive (fab for spring or mother's day), a whimsical vegetable garden and chef's apron ideal for father's day or male birthdays (or indeed lady cooks too!). Dress Your Cake is my favourite in the "Dress Your" series so far. Spruce, RRP £9.99, out now.
Cakes Galore by Valerie Barrett is apparently the "one stop guide to baking the cakes of your dreams!" I'd not come across Valerie before it turns out that alongside the aforementioned Joanna Farrow she was a contributor to one of my go-to baking classics, The Cookie and Biscuit Bible Cakes Galore is a cute book that would make an ideal gift. My favourite things inside are cappuccino truffle cake, Devonshire honey cake and Choco-malt cake. The ratio of pictures alongside recipes is a little disappointing compared to similar books of the same style/price bracket but the presentation over all is lovely. A companion book, "Cocktails Galore" by Kate Moseley also came out in September. Spruce, RRP £7.99, out now.
With thanks to the various publishers above for review copies. Post contains affiliate links.
Other new cookery books out around now include:

A lighter way bake by Lorraine Pascal, Harper Collins RRP £20. Presumably to accompany a TV series.

My Little French Kitchen by Rachel Khoo, Michael Joseph RRP £20, Ditto, presumably telly tie-in.

Mary Berry's Christmas Collection by Mary Berry, Headline, RRP £20.

The way I cook by Lisa Faulkner, Simon & Schuster, RRP £20.
Giveaway: 2 copies of PIE by Dean Brettschneider
How to Enter
Complete the Rafflecopter form below to confirm entries made via blog comments, Twitter, Pinterest, Facebook etc.
Closing date: 26th November 2013.
Read the "Terms and Conditions" link at bottom of Rafflecopter form.
Winners are contacted by email and announced on the Rafflecopter form below once they claim their prize.
Tips for entrants 

No form showing? Hit refresh and it should appear (your computer needs to be running Javascript)
New to Rafflecopter? Watch this short video How Rafflecopter works
Complete the Rafflecopter form – otherwise your entries cannot go into the draw.
Entries are verified and all cheats' entries disqualified.
Complete mandatory entries first – usually to answer a question by leaving a blog comment below the post. Comments from new visitors are approved manually so your comment may not be visible immediately. Return to the Rafflecopter form to confirm you've left a comment and this will unlock other entry options even if your comment is still awaiting approval.

For how to find the URL of your tweet read this helpful post here.
Want more chances to win? Bookmark https://maisoncupcake.com/giveaways and come back daily to register bonus entries!
Viewing this giveaway via email newsletter? Click through to to site to enter.
Good luck!