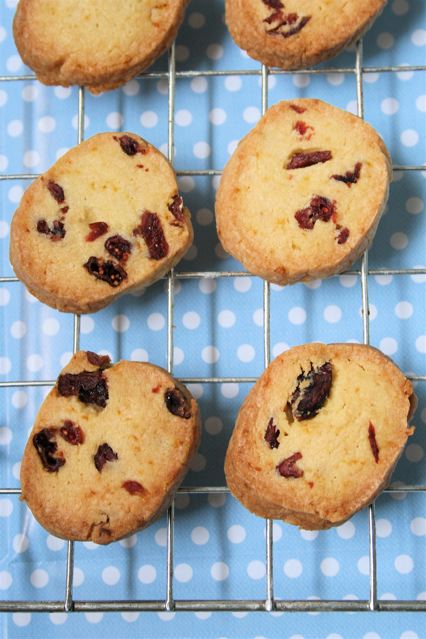 More very lazy cookies following on from my recent post about Pecan and Cinnamon Slice and Bake Cookies. I baked these in two halves – one batch for friends and toddlers coming round to play, one batch of dough left in the freezer for an emergency.
Boy did I have an emergency last week.  Self inflicted of course, I allowed myself to be coaxed at the eleventh hour into auditioning for the BBC's new baking show Great British Bake Off. I worked from 8.30pm to 2am last Friday to produce a sweet and a savoury item to take in to be judged.  As a bonus I sliced up some of these cookies and threw in some cake pops too.
I will do a separate post shortly about what else I made for them and how the audition went (clue – you won't be seeing me on tv anytime soon, at least not in that show).  
Another reason for a lazy post today is that I was up last night burning the midnight oil on this weekend's "Postcard from…"  It's a bit of a whacky one so I hope you will enjoy it.  You won't enjoy the food there – and when you read it, you'll see why.
So today at least, enjoy these fragrant orangey biscuits. Out of the three batches of slice and bake biscuits I've made recently, these have disappeared the fastest. The original recipe from Australian Women's Weekly was for lemon and cranberry but fan as I am of lemons, I think orange tastes much more comforting in this biscuit here.  And I'm in need of a bit of that this week.
Orange and Cranberry Slice and Bake Cookies
Adapted from Australian Women's Weekly "The Complete Book of Cupcakes, Cheesecakes and Cookies" (I would give you a link but bizarrely, Amazon don't appear to stock it)
Makes approx 48 cookies


250g butter, softened
200g icing sugar
1 tsp vanilla extract
300g plain flour
75g rice flour
50g cornflour
1 tbsp finely grated orange zest
100g coarsely chopped dried cranberries
2 tbsp milk (you may need slightly more)
A little extra sugar for sprinkling (optional)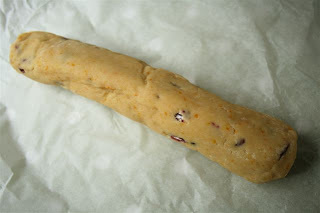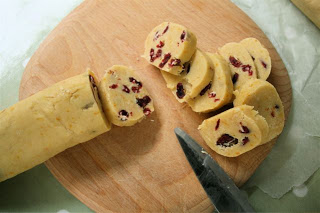 1. Using the food processor, mix the butter, icing sugar, orange zest and vanilla extract until light and fluffy.  Tip into a large bowl and add the sifted flours, cranberries and rub mixture as if making shortcrust pastry until the mixture resembles bread crumbs.
2. Spoon over the milk and bring the breadcrumb mixture together into a ball.
3. Divide into 2-3 balls to make the mixture easier to manage. Knead the balls of dough on a floured surface until smooth then roll into logs around 6-7cm in diameter.  Wrap each log with parchment paper and place in a freezer bag in the fridge for about 1 hour until firm or freeze until needed (up to 1 month).
4. Meanwhile pre-heat the oven to 160c and line a couple of baking trays with parchment paper.
5. When the logs have firmed up, unwrap them and using a sharp knife cut into slices 1cm thick.  Place about 3cm apart on the baking trays and bake for around 18-20 minutes until just golden.  Cool on wire racks.