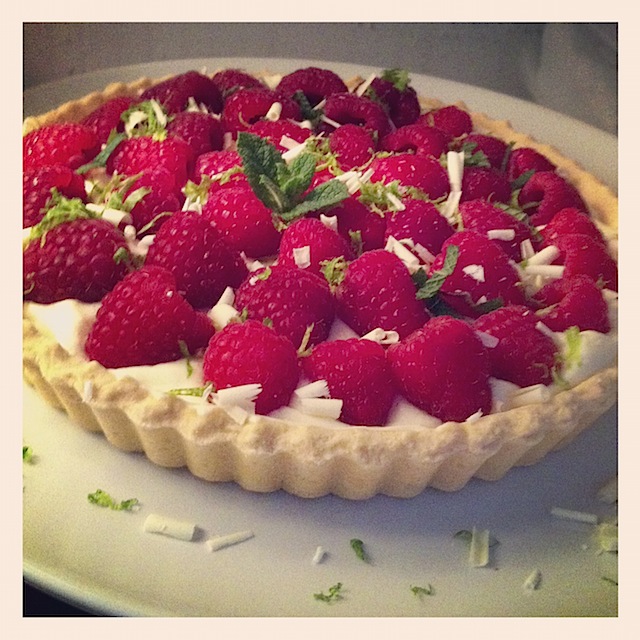 I have raspberries coming out my ears right now. My garden has an overgrown raspberry bush (offcuts from my former neighbour gardening writer Martyn Cox) currently producing at least a punnet of fruit per day.
Whilst we were away in Venice last week (more on this soon) my mother froze three bags of the things because she couldn't keep up eating them as fast as they ripened.
So today I am sharing a lightning speed dessert, showy enough to impress party guests but easy enough to bash out in under ten minutes' work and under half an hour total preparation time.
Best of all, I have discovered a cheat's way to make creme patissiere (custardy pastry cream) without mucking about with any eggs or cooking whatsoever.
Creme patissiere is used to fill pastry cases for tarts or choux buns for eclairs in many many French patisserie dishes. (I used the real thing and demonstrated how to make it my recent coffee and walnut eclairs). It uses lots of egg yolk and sugar but my cheat version is low fat and low sugar. Remember you read it here first.
You will need:
A shop bought pastry case (or make your own if you have time)
60g white chocolate
100g 0% Greek yogurt
100ml Devon Dream by Ambrosia (it's like a cross between single cream and custard)
200g raspberries
grated zest of half a lime
small sprig of fresh mint (optional)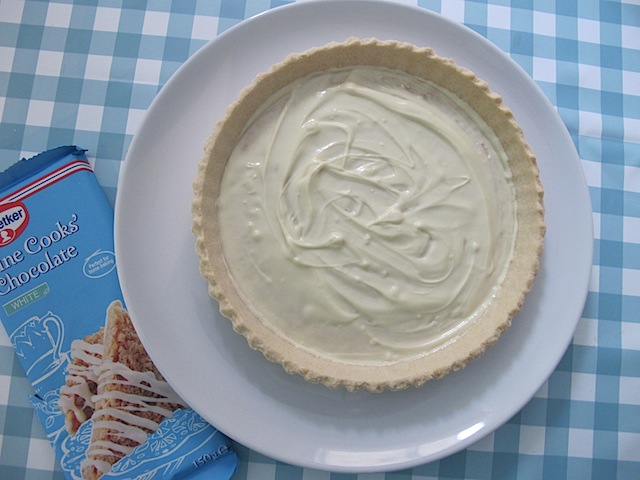 First melt 50g of the white chocolate in the microwave. Give it one 30 second blast followed by 45 seconds on lower setting to avoid sudden scorching.
Cover the base of your pastry case with chocolate and leave to set in the fridge for 10-15 minutes. The layer of chocolate stops the wetter filling from making the case go soggy.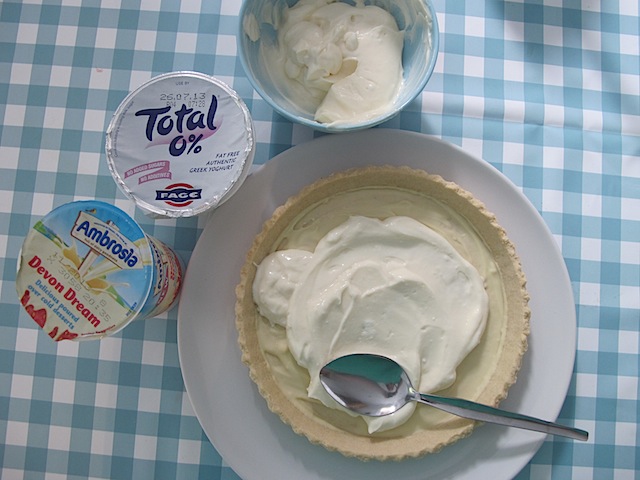 Take 100g 0% Greek yogurt and 100ml Ambrosia Devon Dream (both found in chiller cabinets) and gently fold into each other in a small bowl until smooth textured. It's exactly the same consistency of creme patissiere but with less of the sugar, fat and hard work. I am very proud of myself with this discovery and instead to use it in many more desserts!
Cover the white chocolate layer with spoonfuls of the fake creme patissiere. Spread towards the edge evenly.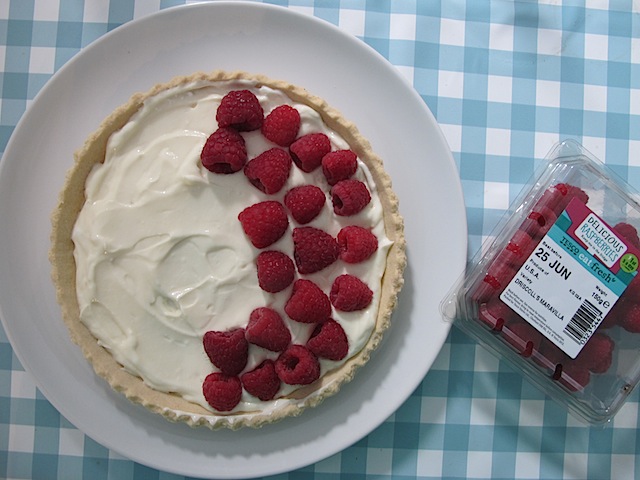 Dot raspberries all over the tart filling.
Drat. You caught me out with the pictures of Tesco raspberries I used for this a few weeks ago before the fruit in the garden was ripe.
But I swear my raspberry bush outside is heaving right now, honestly!!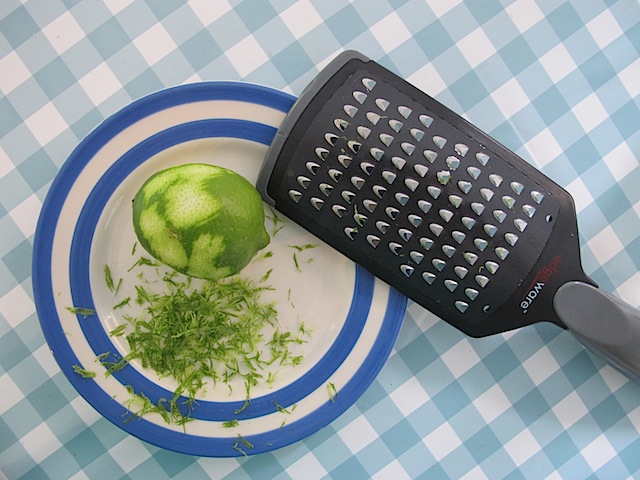 Grate the zest of half a lime onto a plate.
Scatter lime zest over the raspberry tart along with gratings of the remaining 10g of white chocolate. Finish the tart off with a sprig of mint.
Ta-dah! A dessert table worthy tart that will keep chilled in the fridge for up to 2 days.
So you can make it ahead if you like or be like me and throw it together 30 minutes before everyone arrives.
What would you do with a glut of raspberries?
With thanks to Tesco Real Food for samples of raspberries, pastry case and Ambrosia Devon Dream. The mint came from my garden as did the mountains of raspberries that have been produced ever since.